The power of advertising through a recession or period of uncertainty
Advertising and marketing are the departments your Financial Director is likely to want to pull back on as soon as cost cutting measures come in to play, but this is against conventional wisdom in many ways. In short, money goes further in a downturn. You get a higher share of voice as competitors back out of your market, and of course: downturns end and you want to come out stronger than ever.
As management consultancy McKinsey published in their 2002 Quarterly Special Edition on Risk and Resilience, which has time and time been proved true:
"Thus, when other companies simply battened down the hatches, seeing only risk during the recession, the more successful competitors found opportunity and pressed their advantages."

Dobbs, Richard F., et al. "Learning to love recessions"
Here we look at the economic uncertainty and the looming warnings around a 2022 recession, I make my case for diversified investment at this tricky time, and also share some specific ideas for you to consider across your paid and organic digital advertising channels.
Economic uncertainty in 2022
Economic uncertainty has been a constant since early 2020 when the impact from the Coronavirus pandemic was first felt, but as we now look towards the remainder of 2022 and beyond, with the current news stating the UK is likely to face a larger recession than our EU peers, preparing to face the recession head on is now very much front of mind.
Note: The composition of the S&P500 (USA) and the FTSE 100 (UK) stock markets are different and therefore they sometimes produce different results, which the UK saw in 2016 briefly. However in a more global economy and context the below graph still delivers the point that perhaps an economic rebalance is overdue.
Looking back at the graph above, some economists had high hopes for a rebound in 2022 after the short-lived recession triggered by the pandemic, and for a while this seemed true by the end of 2021:
2022 will be a critical year in which the imbalances wrought by the pandemic will likely begin to resolve.

Lisa Shalett – Chief Investment Officer, Wealth Management. Source.
Despite things looking like they were back on the up in January 2022, from what we've seen so far this hasn't been the case. The War in Ukraine, rising cost of living & energy crisis, labour struggles, further lockdowns in China and supply chain disruptions and the risk of stagflation are hammering growth. For many countries, recession will be hard to avoid.
As of June 2022, the S&P500 fell into a bear market with the stock market falling drastically from the previously positive outlook from January's high.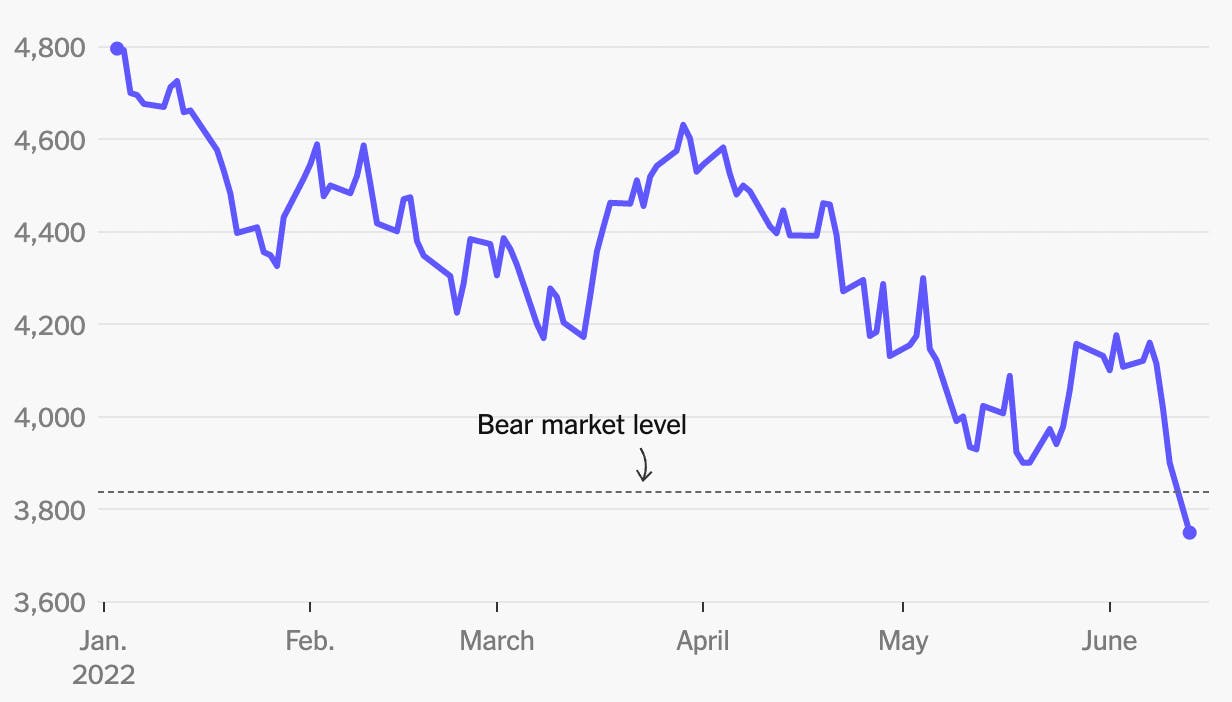 On the other hand, here in the UK, the FTSE100 has produced different results. Whilst it isn't in a bear market yet, consumer confidence is weakening overall. This fall in consumer confidence has been emphasised by the news coverage of a potential recession, leading to all-time low in brand loyalty also.
This blog is based on theory, studies and popular opinion. It doesn't take into account your individual business' current product demand, competitive action, staffing abilities or financial situation. Understandably, many businesses in the UK and those countries harder hit will be seeing decreased demand right now, and staff are likely to have been laid off across your supply chain.
For the duration of this article, I'm putting aside the devastating humanitarian, personnel and HR impacts that both the cost of living crisis and a recession has and will have. I'm focusing only on marketing strategy, facts and the data that have come from previous recessions to make the case for continuing to invest and advertise through them.
As is often written on the topic, "no two downturns are exactly alike" and as we've tired of hearing, we've been through, or are certainly in "unprecedented times". However different this period is, there will always be similarities with other recessions: decreased consumer spending, lower market confidence, growing unemployment, less travel, fewer speculative business purchases and more.
Issues with the current SME digital advertising landscape
Small and medium companies often don't have the data density available to them that larger organisations are fortunate to have. With the additional data, PLCs and larger businesses can effectively analyse different attribution models and utilise data science-driven analyses like econometric modelling. Without that data the analysis, even with non-last-click attribution, is somewhat limited (though improving).
This has been a growing disparity between enterprise and SME businesses. In many ways, with the late noughties fanfare around digital advertising and it being the answer to all businesses' marketing problems, coupled with the rudimentary attribution tools available in the early days of internet advertising, it's easy to see how inbound performance advertising has seen such growth. (In the early days, and until quite recently, the last touchpoint always took the credit for the sale – usually Paid Search).
The result of this issue is that many firms, especially SMEs and those not in the enterprise space, are over-invested in performance paid media. By performance, here I refer to Paid Search and Paid Shopping activity — all bottom of the funnel advertising, far away from brand and audience building work. When the economy is on the up, or the company is running a price promotion, sales from performance channels are good, and incremental gains in these activities are to be celebrated. However, with little brand reinforcement during the marketing and sales experience, little residual brand equity and loyalty remain.
Digital advertising has grown exponentially over the last decade, of which Impression has been around for most of that period. We've also witnessed the steep growth of other brand eroders, such as shopping comparison sites, marketplaces and coupon affiliate sites just to name a few.
That's not to say each channel doesn't have a place, or that I'm against Paid Search (clearly not the case!) but the important point here is that if we as marketers chase the final attribution channel (affiliate, Paid Search, coupons, remarketing, etc) then in a time where such advertising is pulled back, then there's no fallback in place.
In this article, I want to make the argument for branded display and video advertising (often simplified to just 'programmatic display'), and I suggest that now is the time that your business might strategically use it to grow your share of voice in your market.
As a quick aside, check out this telling article by Simon Peel, global media director at Adidas, and read here (premium) the recommendation of infamous Peter Field on his "60/40" rule, weighted in 60% brand 40% performance of budget allocation.
We had an understanding it was digital advertising driving ecommerce sales and as a consequence we were over-investing.

Simon Peel, Adidas. Source.
Advertising in a recession
Henry Ford is frequently quoted saying "a man who stops advertising to save money is like a man who stops a clock to save time" and this has time and time again been proven true. In fact there are numerous analyses of individual studies, following some of the developed world's most recent and famous recessions. A great roundup is available here by Guy Consterdine in which he reviews 9 studies and makes reference to many more. (These are really worth a read – it's a short PDF.)
In just one example, ahead of the 2008 IPA seminar, marketing consultant Peter Field was able to show that during an economic downturn, brands whose marketing share of voice was higher than their share of market tended to grow their share of market. This was from a meta analysis of 880 case studies from the IPA Databank. He concluded that a share of voice increase of 10% during a recession resulted in a share of market growth in real terms of one percent.
Consterdine (emphasis mine) noted that:
"By modelling a series of scenarios, Field showed that when cutting budgets in a recession, the short-term improvement in profitability was rapidly overtaken by a severe decline in profitability in the medium and long term… Because of the partially lagged effect on sales of marketing investment, the short-term result of cutting expenditure looks attractive for a short while but masks the considerable damage being done to longer-term profitability".
Peter Field in The Long and the Short of It famously argues that there are two communication types which impact many buying decisions. These being Rational Messaging – system 2 logical reasoning that requires attention and interest at the time of research, and Emotional Priming – long lasting system 1 triggers where marketing messages require less attention to absorb and which grows deeper after repeated exposure.
When mapped like in the graph below, you can see over a period of time, Emotional Priming wins over any short term Rational messages — so get creative, consider wider advertising formats, and consider a long term brand building approach.
Marketers should think twice when considering cutting budgets during a recession. Considering both the advertising lag and the impact of emotional priming in the long run, pauses or decreases in advertising budgets when share of voice can be bought at lower prices seem disingenuous. Time lag associated with advertising then means in the period following the downturn, the latent brand value is diminished.
However, all decisions depend on the company's ability to make such investments in the economic climate.
Data2Decisions was also a frequent data publisher of studies following the last recession and was also present at the 2008 IPA Seminar. The graph below shows modelled reports on real companies who cut advertising and marketing budgets – in this example for one year – to demonstrate the time lag effect of advertising. What Data2Decisions stated was that a pause in advertising spend does provide a misleading short term boost in profitability however the time lag can take several periods to recover. Half the budget also took more than half the time to recover.
Further essential reading in this section
In the links below, see further arguments and case studies from companies like De Beers in the '08 financial crisis recession. Read how advertising is always cut at a higher percentage than real GDP growth (well, contraction), and how share of market can be grown in recessions simply by holding ground and effectively growing your share of voice in the market simply due to competitors exiting.
The general consensus across marketers more famous than me is; when the recession ends, your return on your marketing expenditures will be multiplied":
Digital advertising through a recession
Now, of course, the above is general marketing theory and not necessarily digital advertising, by which I'm mostly now talking about paid advertising (search and display).
Organic search engine advertising and digital PR, although some it feeds inbound searcher intent like Paid Search advertising, is a longer term investment a brand should be investing in. As such, I wouldn't class this as performance marketing. Organic search activity, with the time lags associated with it, should be a year-round investment, as I make the case for in the next section.
Digital Paid Performance, Paid Search, Social Display and Video
Paid Search advertising by its very nature is incremental but in many cases does not cannibalise organic performance, where there is no comparable organic result for an ad query. In 2012, 50% of clicks on ads where a position 1 organic ranking was achieved were incremental in a study produced, ironically, by Google itself. Ad formats and the number of ads have changed since then, but it stands to reason that paid activity on Search still delivers approximately an additional 50% of incremental click throughs to your site.
(Note, Nike's study as mentioned above placed significantly lower value on Paid Search but they arguably had a much larger brand than your average Google Ads advertiser.)
Non performance activity, such as paid display, paid social and video advertising will not necessarily result in direct visits and direct purchases in the same way that performance advertising will do. However, this is more reminiscent of the studies observed in the 2008 IPA seminar where the outputs were familiarity and price insensitivity with a brand and its products and services.
These channels, when crafted carefully, play on the emotional priming of a consumer and therefore are best suited to products and services that have longer decision making timespans, on products for the home, or more costly investments be that at home or work. Whilst in many cases these channels work with performance paid media, they can also work standalone.
When paired with Paid Search, ensure your attribution model considers view-through conversions and longer look-back windows to account for display, social and video in the initial touchpoint.
WordStream has broken down data from Google to create an article for the average cost for Google Ads & Trends and a benchmark for Google Ads & Microsoft ads across industry for 2022.
With better attribution tools now available to small and medium enterprises, the subsequent over-investment in Paid Search now becoming apparent, and the cheaper clicks and views now available in the current economic downturn, all as discussed above in this article, I am making the argument that:
Now is the time SME advertisers should be diversifying their paid media strategy beyond Paid Search, building prospecting audiences, and taking this period of lower cost to connect with their future customers more.
Paid Search activity should continue at levels where performance isn't diminishing but beyond that paid display, paid social media, and perhaps even some YouTube video advertising is the next logical step.
Some simple steps, and our current advice, for paid media campaigns in the current climate are;
Ensure your call to actions are relevant for the current economic climate.
Test your creative. Edit your message. Make your creative work harder for you.
If you expect delays in shipping or availability, don't make ad copy promises that cannot be kept.
Remain authentic; customers are people too, and will understand changes in your proposition.
Check in on the effectiveness of your social/search audience matching, now more users are using home devices, or work devices at home. The line between work and home life is blurring and that may be beneficial for audience targeting.
Review your attribution modelling, and look at the impact of assisted and view-through conversions to get a wider view on where your sales/leads are coming from.
Ensure you are maximising opportunity within your existing performance campaigns that may be capped, look for dropping cost per clicks, or increased search volumes.
Ensure that you're making your product or service offer accessible. If anything the last few years has taught us is that digital transformation should be a key part of your digital strategy. Where possible, your product should be easy to access online, or at least you should have a more accessible version of an offline-focused product/service.
Launch into more display, social and video activity as soon as you can, whilst visibility is cheap and your competitors may be paused.
Reach out to your Google and Facebook reps for more industry information, or get in touch with our team to help you do so.
Organic media, SEO and Online PR
When it comes to SEO investments in recessions, or specifically during this current cost of living crisis, the argument is similar. SEO as a channel naturally has time lags associated with its return on investment — this can be for many reasons, not least that it is dependent on so many third parties, including Google's software.
Investments in SEO will continue to rise over the coming years and competitor activity will only increase. The law of supply and demand tells us that the cost of appearing at the top of Google's organic listings will increase simply because there is a limited supply of these position #1 locations.
Competitor activity is therefore strong for almost all "head terms" — those being your most competitive and most profitable.
Some simple steps, and our current advice, for SEO campaigns in the current climate are;
Prepare your link building campaigns for the inevitable economic bounce back — get on the front foot early.
Continue to build and consolidate optimised content on your website, as this work should be "always-on" anyway.
Avoid short term reactive activity unless it fits with your business offer, in which case act quickly and sensitively to capitalise on the opportunity.
Consider hygiene link building work rather than 'hero' link building work, considering the media is otherwise engaged in economic news (or in any period where the news focuses on long-term issues, i.e pandemic, crisis, etc).
Consider 'hero' or 'hub' style content projects ready to launch prior to economic recovery, so you come out of the period stronger than before.
Continue monitoring competitor activity and be sure to capitalise on any emerging gaps. Not all competitors will continue their investment in SEO over this period so it stands to reason some performance from this channel is up for grabs in a shooter period of time than usual.
If your primary SEO task(s) may be hampered by resource or the news agenda due to the situation, take the opportunity to audit aspects of your SEO strategy that may not be the usual day-to-day focus, including local SEO presence and performance, E-A-T considerations, backlink audits, competitor audits and gap analysis.
What you can do next
If you are currently considering decreasing your digital advertising activity, I would strongly recommend looking into the data presented here to understand whether or not your brand could stand to grow market share despite the circumstances.
This is specifically useful for brands not currently engaged in paid display, social or video advertising, but also for those seeing increased performance opportunities in Paid Search & shopping, or those engaged in SEO.
Digital advertising will continue to bring its same benefits; measurability and exposure despite most social or economic issues, but with a lower cost at this particular point in time.
Perhaps take some inspiration from the channel-specific activities mentioned above and consider how these can be rolled into your existing digital marketing planning. We, our partners, Google, and McKinsey are noting particular increases in the following categories, just to name a few;
Online gaming, streaming, media
Consumer electronics, software and home entertainment
Beauty and cosmetics
Clothing, accessories & apparel (fashion)
Fitness products and sports apparel
Pet supplies
Real estate
Travel & Leisure
Of course, if Impression can help you during these times, please get in touch to speak with our amazing team.

---