How can your business maximise performance in what's going to be a very unique Q4? STOP preparing for Black Friday and the holiday season. Instead, use this year's peak period as a chance to capture market share and drive first-party data collection.
During a time when consumer spending is dropping like there's no tomorrow, I'm going to explore why you should focus on long-term strategies vs short-term quick wins.
"Short-termism: an excessive focus on short-term results at the expense of long-term interests."
Proactively build internal data capabilities and systems
A short-term view would be to use separate, unjoined data sources, whilst being unprepared for a cookieless future. A long-term strategy would be to proactively build internal data capability and systems, gathering first-party data as a priority. As we begin to lose a lot of cookie tracking data, building first-party data is more important than ever, and the peak retail season gives you a really good opportunity to do this.
Here's an example of why that's so important. Most of us, whether we're using Facebook, Google Ads, YouTube advertising, or Programmatic buying, are using some form of automated bidding to direct our ads and ensure they are presented to the right user at the right time in their journey. If you can increase your first-party data pool, the amount of data that's needed to be modelled by bidding algorithms decreases and you'll have more accurate data, better bid strategies and better results.
First-party data
You should be building your first-party data before AND during peak. You should start to use first-party data capturing techniques now so that during peak, you have more data to utilise. The peak season comes 6 months before cookies are removed, so this is a really good opportunity to build your first-party data pool.
Here are a few creative ways to collect first-party data that span beyond newsletter sign-ups:
Mutual brand partnerships
One example that Google gives is that if you're a beer seller, you might want to partner with a home meal kit. Another example is that if you're a trainer retailer, you might partner with a brand that sells trendy t-shirts. Where there's audience overlap between yourself and another brand, you can team up and share relevant first-party data. An important thing to note, however, is to make sure that the brands you partner with are trustworthy. If they are not collecting data in a privacy-focused way, you risk ruining your reputation.
Gamification agency Leadfamly uses interactive ad content such as calendars and quizzes to creatively collect first-party data. Another creative example is from Fabletics which has been offering exclusive products to its subscribers. On the Fabletics website, some of their products appear blurred and this is because you need to sign up to receive access to even see what the products are.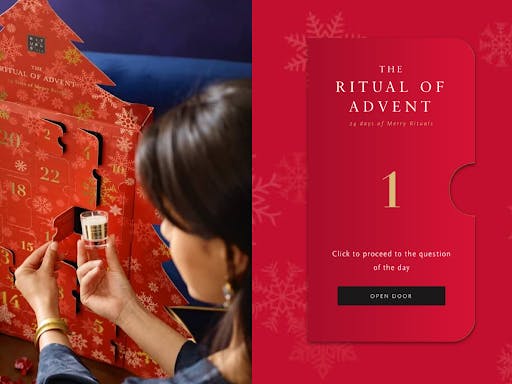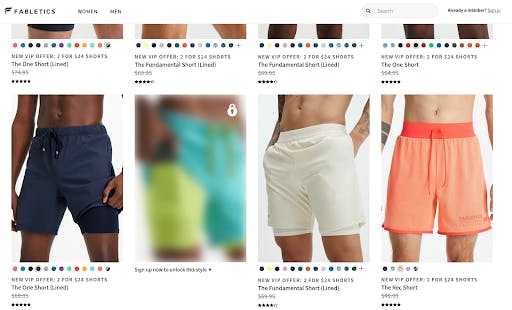 The above examples of how to collect first-party data are mutually beneficial. They provide value to both the brand and the customer.
Third-party data
It's not just first-party data that you could invest in to get ahead this peak season, third-party data is also really important. In the short term, we're going to be utilising third-party data a lot more as we start to lose data from cookies. Some examples of useful third-party data tools include:
GWI. In-depth survey data that provides us with insights into our audience personas, helping us understand who they are, how they consume media online and what they care about
SimilarWeb. A competitor intelligence tool that allows us to identify and understand competitor traffic metrics, audience demographics and behaviours
Brandwatch. A social listening platform that builds an understanding of what our audiences are talking about and engaging with online
Simon. Utilises a combination of web analytics data, as well as insights from your CRM or customer data platform (CDP) to understand user behaviour
Product data
With the future of shopping campaigns being Smart or Performance Max, it's never been more important to segment your catalogue based on what matters the most to you. For example, that could be segmented by "On-Sale" products or by "Margin Group". It's also important to ensure that your feed is in the best possible condition.
For ecommerce marketers, price is everything. Tools like Merchant Centre can help you monitor price and you can feed that data back into Google Ads or any other platform to influence your bidding.
Set smart, future-focused customer acquisition targets
A short-term view of this would be to maintain or restrict efficiency targets during difficult external economic situations. A longer-term strategy would be to set smart, future-focused customer acquisition targets.
How to mature your target setting
Campaign ROAS allows you to set a specified return on ad spend if you're wanting to achieve a certain return on investment from your campaigns. Right now, a lot of brands are using a variable ROAS model. This is where they have a fixed ROAS they want to achieve across the channel but they are varying this by campaign, e.g. prospecting might vary slightly differently to more high-intent terms.
Profit Maximise allows you to utilise margin to maximise the profit you've got and Customer Lifetime Value Integrated utilises customer data to bid agile, long-term profit growth by looking at future profit.
A basic example of how you can start to incorporate margin data into your target setting would be to:
Push margin brackets into your feed via a custom label
Segment campaigns accordingly
Set ROAS targets based on desired Net Profit (this doesn't have to be the same for the entire account)
You can be more advanced with this by:
Being product-level granular. In Search Ads 360, there's a cost of goods sold metric which can be used to target profit.
Introducing fixed costs which may vary based on product
Customer Lifetime Value is much better than bidding for profit because you're bidding for future profit. At the most basic level, you can analyse past data and assume a CLTV, for example, you can look into what your customer has spent with you over a year or two-year period.
Segmenting customer types
Target setting becomes even more interesting when you start segmenting your customer types, for example:
High propensity to convert
Low propensity to convert
Users who have not purchased
Users who have purchased
From this, you can create audience groups such as:
Aspiring: Users who have not yet converted, but currently have a high propensity to do so
Engaged: Users have converted and currently have a high propensity to do so again
Potential: Users who have not yet converted and currently have a low propensity to do so
Lapsed: Users have converted, but currently have a low propensity to do so again
The reason that customer groups are most useful, aside from assigning ad content, is to assign KPIs that relate to each of them. The goal for the example above is to drive more users into the 'engaged' category where they are regularly buying from you and you're targeting them based on customer lifetime value. In order to move users through different stages, you need to use slightly different models and this reflects their role within the media mix.
A key tip here is to measure which quadrant needs the most attention and you can do this by analysing your first-party and third-party data. Your first-party data will tell you how many engaged and lapsed users you've got and your third-party data can tell you how many potential or aspiring users are in the market. Use these insights to determine where you should focus. You can also segment your customers based on when they last purchased to inform your marketing mix as well.
Put growth-oriented targets in place before the peak season and then you'll benefit from search volume increases.
Strategically invest in brand-led activity
A short-term view here would be to reduce investment in top-of-funnel activity to prioritise bottom-of-funnel conversion campaigns. A longer-term view would be to strategically invest in prospecting and brand-led activity.
Some of your competitors will be investing in their marketing efforts but many will be dialling back on upper-funnel spending, so now is the time to invest selectively to reap the rewards at a later stage. This is especially true for peak or even pre-peak when there is higher search volumes and more engaged users in the market. You can use this as an opportunity to build your brand.
The first strategic point to highlight is ad sequencing which is at the heart of all of our upper funnel campaigns, no matter the channel, but it's particularly useful for video-based creative. Data from a Google-sponsored Ipsos study demonstrates the consistent improvement you get from a varied, dynamic multi-ad campaign.
In a nutshell, it's storytelling. YouTube's tease, amplify, echo framework (recently renamed to action and discovery) consistently demonstrates a high increase in brand awareness, ad recall and even purchase intent.
The power of creative
The second strategic point to highlight is creative-first campaigns. Creative is fast becoming the single most important campaign attribute whether it's YouTube, paid social or Programmatic display. The importance of creative is only increasing as we begin to lose access to data and targeting capabilities. Essentially, your creative becomes your targeting and your ads will be shown to users that are interested in your creative so the more engaging and targeted you can make it, the better.
Similar to brands that are leveraging first-party data, brands that are leveraging creative will win. It's the brands that are able to consistently innovate and iterate creative that's both native and engaging that will outperform even the smartest targeting capabilities on the market.
Proving the value of brand awareness to senior stakeholders
One approach would be to run geo-targeting and incrementality tests. This is setting a control group across part of your target audience and setting a test group elsewhere. So you might, for example, take a few cities in the UK, run some upper funnel YouTube activity and measure the impact on performance. This will help you answer questions such as:
Is my prospecting campaign generating value?
Which YouTube's campaign strategy is delivering the best results?
Is it worth spending on branded search?
You can use this data in combination with brand health and market share to get a really good overall picture.
Brand health looks at the searches for your brand in relation to the search for all brands within the same category. Combining that with a third-party data source like SimilarWeb will help you determine traffic share and share a voice as well. Using those together along with the geo-targeted tests will really help you to demonstrate the value of brand awareness activity.
Summary
Using Q4 2022 as a chance to capture market share is going to be a strategy employed by a handful of brands in your market and they will see good results from it.
Yes, you'll likely make good revenue during Black Friday, although probably not as much as usual, but those brands that are willing to take a long-term view, to take a hit on efficiency in the short term for the medium and long-term gains will benefit in the long run.
In summary, I know the advice that I've outlined will not be suitable for every business as some will be trying to survive rather than grow but those with budgets and capabilities will see the benefits from approaching the peak season strategically to grow the market share.
I also delivered this blog as a webinar, watch the recording here.
---