One of the busiest times for ecommerce is just around the corner – Black Friday and Cyber Monday. With people expected to be spending less this year, it is crucial to ensure your product pages are optimised for search.
This year Black Friday falls on the 24th of November with Cyber Monday happening on the following Monday, the 27th of November. 
Below we've listed the things you'll need to be thinking of when optimising your product pages in the run up to this crucial ecommerce period.
Content
The power of good copy is often overlooked when it comes to conversions. The text displayed on your page, the photography and the media you use, all play an important role in the user journey and on your conversion rates.
You want to create copy that tells a compelling story and to do this do some research on your target audience for the product whilst thinking "what do they want to know?".
If your product is technical with lots of numbers and figures, make sure to display that clearly, or if your product is more visual and creative, then be very descriptive with your language.
You can use the product content to target the long tail phrases. Start with your main keyword and think about what else a user would search for when they were looking for something a bit more specific.
Google Keyword Planner is a great tool to find phrases related to your product that have search volume around them. Utilise the related phrases and keywords you've found in your content, it will give your products a better chance of ranking for a wider variety of search terms.
Read our blog to find out more about how to prepare your on-site content for Black Friday.
Metadata
Having optimised meta data along with high quality content is key for ecommerce product pages, as this is what your organic traffic reads at the top of the funnel.
Below are the two key elements you need to have in mind.
Title tag
The primary keyword goes first in the title, in most cases this will be the product name so you are matching your users search intent. Alongside this you will need the brand name and a call to action or unique selling point if you can fit this in
As we are talking about Black Friday and Cyber Monday you could also add in specific CTA's for the duration, "Save this Black Friday" or "Don't miss our Cyber Monday deals!" as these can help increase your click through rates. This will take some forward planning and is very dependent on how many categories or products you have on your website. If it's not feasible to add to all of your categories you could look into adding it your most visible.
Make sure your titles aren't duplicated, too short or too long! These will be truncated by Google which means you are missing out on your sales message being displayed in full.
Description
Each page should contain a unique, descriptive and accurate meta-description.
Don't be afraid to use sales language! Things such as "Discover why", "Save by" and "Order today" are all great tools to increase click-through rates and conversions.
Meta descriptions should be written for human beings so think about the user first. The description should be written as an introduction to the page as that is what the user is reading when looking at your result in the SERPs.
Make sure that your keyword for the product is in the description as this can be bolded in the SERPs when using that term.
Although both the meta title and description are truncated this is still a great example of effective use of language. Argos have added a CTA, keyword and brand name in the page title, as well as some enticing language in the description, "discover all the possibilities" is a very aspirational phrase which can cause a user to click through.
Return and refund policy
Make sure that your return and refund policy are displayed clearly. Users want to have the trust signal of a great return and refund policy, even though this may take up space on the page, it's important in terms of driving conversions.
Video
If you have any relevant videos you can add to the page, this can be huge for your product. There has been research that shows users who viewed video on a product page were 144% more likely to add to cart than others.
Creating videos that show your product in action and letting potential buyers see the benefits can bring a much higher conversion rate, a well executed video can also have huge recall value.
Calls to action
Your calls to action should be the most eye catching part of the page, these are the buttons that bring conversions. Your most prominent CTA should be the "Buy Now" button, you don't want to have too many other CTA's as this will water down the impact of your conversion button.
Test your call to action by trying different colours, words and positioning. There is no set way this should be done for each industry, so make sure you are constantly monitoring conversion rates and seeing which versions are successful. This kind of optimisation is a great candidate for some A/B testing.
Imagery
Product imagery is what a user uses as a visual point of reference when on the site, there are multiple things you need to take into consideration when optimising your product pages, for both the user and the search crawler.
High-quality imagery
Using high-quality product imagery gives off a strong signal that the product is also high-quality. The added benefit of having high-resolution imagery means Google may rank you in the SERPS (providing you include relevant alt tags). If you are expecting people to buy your products make sure they can see all the details.
With high-resolution imagery comes a bigger file size, ensure the images are compressed correctly and being served at the size relative to their width on the viewport.
Multiple angles
Multiple angles are important, if I was buying a t-shirt and could only see the front, I would be left wondering what is on the back. Ensure that each angle of your product is covered, so you aren't leaving the customer without any questions.
Hover zoom
Add a hover zoom feature to your product pages which will let a customer zoom in on your products. If you are using high-resolution imagery this should be no problem. This lets a potential buyer have a detailed look at all elements of the product you are offering.
Cropping
Having your images cropped in the right way is important for the visual impact of the page. If you have imagery on a carousel and your product imagery goes from left-aligned to right aligned to centre aligned this creates a messy visual and doesn't look like you've put thought behind your product imagery. Each product image should have equal matching margins away from other elements of the page.
Descriptive file name
Having a descriptive file name is important for search engines. Make sure that your product imagery is called something relevant rather than the item code! The added bonus of this is you may appear in the SERPS for a search result. This could be your opportunity to appear on page 1 in organic search just through the quality of your images.

Social proof
Reviews are a powerful tool. If you have product reviews available make sure you display them in a prominent position, as this gives the user a valuable trust signal. Not only does it give the potential buyer an insight into the product quality and you as a seller but search engines may use reviews to determine where a website or product ranks in the search results using E-A-T, which stands for expertise, authority and trust. Having positive reviews shows search engines that your product has authority, expertise and trust and can help improve organic visibility.
Always display ALL reviews, be it good or bad, if there is an issue with the product a user would find it anyway and having all reviews displayed shows confidence in what you are selling.
There are many services which offer great product level reviews, such as Trustpilot, reviews.co.uk and Feefo.
More than 60% of online shoppers would prefer to buy from a site with product ratings and reviews, so making sure your product pages have them is a great idea.
Schema markup
With the information you have on a product page you can use schema to leverage this into rich snippets to make your result in the SERPs stand out.

Take a look at the product listing of Pokemon trading cards as an example, we can see how well ASDA have used the product schema to create a search result which is full of informational rich snippets that will increase CTR.
Product review
The 5 stars and number of reviews are created using the Aggregate Rating schema. If you have product-level reviews available then get them marked up! There are some great guides here on how to get started.
Price
Over Black Friday you can have your price showing directly in the SERPs, this is a strong call to action as a user can already see what prices you are offering.
In stock
This enables the user to see if you have the product in stock. This is a much better experience for the user, as clicking through at the top of the purchase funnel only to find there is no stock is very frustrating.
All of these things together create an environment which will guarantee an increased click-through rate, meaning more conversions!
URL
The URL a product page uses should follow a very simple structure, here are a few of the main points to take into consideration when planning your product URLs.
Keep them simple – The URLs should be clean and contain the main product keyword, try to avoid adding complicated SKUs and query strings as this can harm conversions.
www.thesite.com/category/subcategory/98566/product_winter_red_scarf123459.aspx
vs
www.thesite.com/winter-red-scarf
Product URLs should not sit within a category, this is often asking for trouble, as products could appear across multiple categories which causes duplication issues.
Site Speed
A 1 second delay in page load can result in a 7% loss in conversions. With so much traffic around the Black Friday period, it's key that your pages load fast. We recommend using the tools below as a starting point to speed up your page.
Test a few of your product pages and look for any issues. We'd recommend looking at your most popular product pages in Page Speed Insights and reviewing field data. This is real-time user data from your users so it is a much stronger data set than lab data.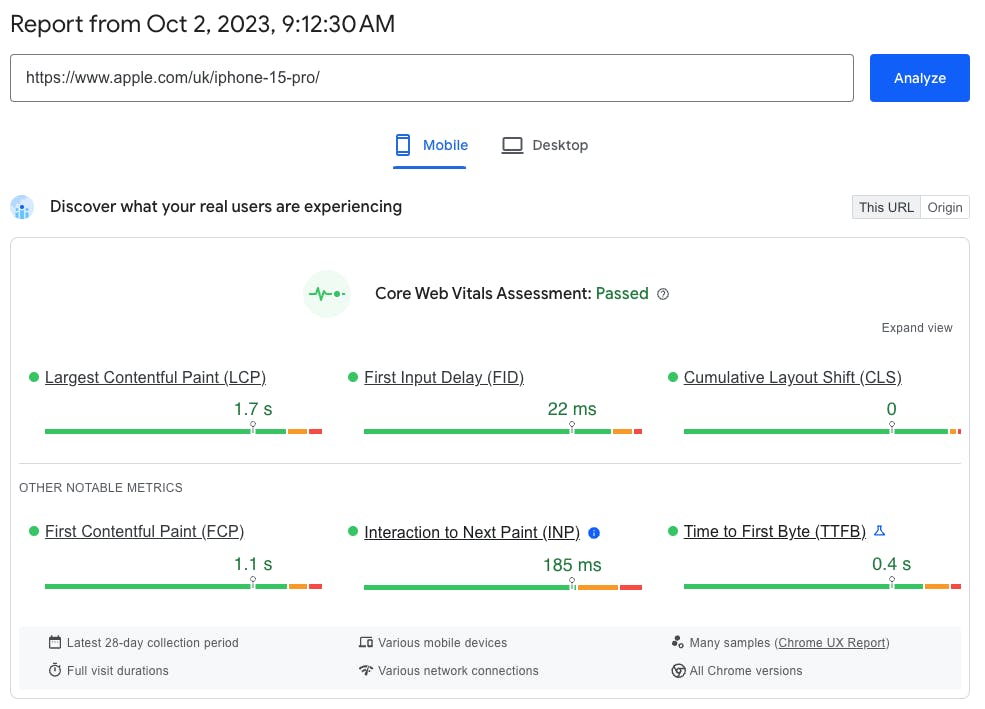 Here you can see that this URL passes the threshold for field data so you're seeing real user metrics for this page.
Core Web Vitals
We recommend reviewing the core web vitals of your most popular pages to ensure that users have a strong experience when visiting your site from search.
One of our favourite tools to measure this is Google Search Console as this groups common URLs together. This allows you to look at product pages specifically to see if there are issues by template.

You can see Google effectively group our templates for LCP issues between blogs, service pages and our homepage template. Taking this approach for an ecommerce site will help you plan any technical changes that need to be made to priority pages during the Holiday period.
---
For more SEO and digital marketing tips for staying up to date with the latest strategies to maximise your Black Friday sales, visit our blog or check out our latest resources.
---