Local SEO is a key part of marketing for any business that's looking to sell its products to the local community. With local search results accounting for a significant amount of all search queries, it's more important than ever for businesses to have a well-structured local SEO strategy in place.
But what exactly is local SEO and how can you leverage its power to get your business in front of more customers? In this guide, we'll explain the fundamentals of local SEO and provide actionable tips to help your business climb local search rankings.
Getting started with local SEO
Before you dive in, it's important to understand the foundations of local SEO. While some of the principles that apply to more general SEO are important, there are other factors to consider when devising a local SEO strategy.
To begin, I'll briefly explain what local SEO is and why it's important, before walking through some of Google's specific algorithms and features that are designed to deal with local SEO alone.
What is local SEO?
In essence, local SEO is the art of ensuring your business can be found on SERPs by customers in your local area, subsequently boosting traffic, leads and brand awareness. For example, if you were to search "coffee shops near me", Google will produce a list of relevant results that match this query, with the top-ranked businesses appearing first.
There's no single answer when it comes to boosting your local SEO performance – instead, a wider plan should be constructed, considering tactics such as link building, local keyword optimisation, and proper use of your Google Business Profile listing (more on this later). Businesses that can benefit from local SEO include those that have a physical presence in an area, as well as those that serve a geographic region.
Why is local SEO important?
With 76% of people using their smartphone to find and visit a business in their local area (Search Engine Journal), local SEO has become a tremendously important step for business marketing. As these queries are completed by potential customers who are searching for specific products or services that your business offers in their local area, the likelihood of a conversion is high. Of the 76% of users searching for and visiting local businesses, 28% of them went on to purchase a product.
Smaller businesses in particular can capitalise on the opportunities presented by local SEO thanks to Google's initiative to favour small businesses as long as their offering is relevant to the user's search intent. For example, generic search queries such as "best coffee" can be more difficult to rank for as they're often dominated by bigger names or popular blogs, whereas search queries with local intent, such as "sports bar near me", will favour businesses that are relevant and nearby to the user's physical or searched location.
The Google Map Pack
Google's Map Pack (or Local Pack) is a prominent feature of a local SERP that displays the best ranking business for a given search term. Within the Map Pack, users are able to see key information and are provided with an exact business location through Google Map pins. The Map Pack appears ahead of traditional SERP results and usually features the top three most relevant businesses for that query, meaning competition is fierce.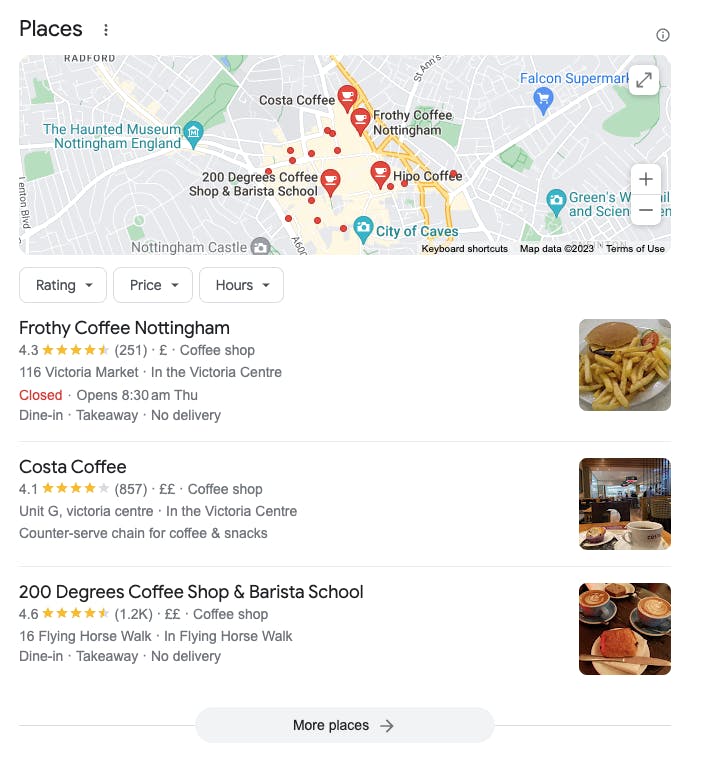 A large proportion of traffic will head through Map Pack results, so it's certainly the place to be, especially if your potential customer is on a mobile device as it can take up a significant amount, if not all, of the screen. To appear in the Map Pack, you'll need to implement a well-planned strategy that considers the ranking factors specific to local SEO.
Key local SEO algorithm updates
While plenty of generic SEO factors influence your performance locally, Google has introduced specific algorithms throughout the years that are dedicated to the local SEO space. These algorithms had quite the impact when they launched and should be considered as part of your strategy.
Google Pigeon
Introduced in July 2014, Google Pigeon sought to provide more useful and relevant results for people whose search intent was to find nearby businesses. This algorithm update shook up local SEO and proved to benefit small and medium-sized businesses (SMEs) with well-optimised websites in particular.
Before its release, Google had already been trying to help local businesses rank through other algorithmic changes, but Pigeon brought a range of updates in its own right. By looking at hundreds of ranking signals for Google Search and Google Maps, the algorithm update tied local ranking factors with 'traditional ranking factors' to bring more synergy between Maps results and traditional SERP results.
As local-specific results became more intelligent, many businesses saw their rankings improve (or deteriorate) dramatically. Those that were more specific with their information were rewarded, while general information no longer cut it. Google's Map Pack also played a key role in showcasing businesses and driving traffic – the highest placed businesses reaped the rewards, especially when Map Pack results were cut from up to 10 results to just 3 following a series of updates to Pigeon.
Google Possum
After Pigeon took flight, Google wasn't slow to introduce a second animal to the conversation in the form of the Possum algorithm update. Introduced in 2016, Google Possum brought a raft of changes to shake up the local SEO space, with 64% of local SERPs being affected almost overnight.
The heaviest changes were found within Google's Map Pack and the Local Finder. Firstly, the impact of a business' physical location became less of a factor. Those that were based just outside of a city's limits found it easier to rank for relevant searches related to that city, whereas before they were ignored.
Businesses that were affiliated through factors such as their business information and category also found that they may have been filtered out of local results. For example, if multiple law firms shared the same building, only one is displayed within the Local Finder, whereas all could have been shown before.
Whilst the business' physical location became less important, the Possum update saw the user's physical location take on more weight than ever before. If you search 'car garage' you may find that you receive location-based results even if you don't ask for them.
Important local SEO ranking factors
When determining local search results, Google will place a focus on what's known as the three pillars of local SEO: Proximity, Prominence, and Relevance. While physical locations are important, they're not the be all and end all, as a business that's slightly further away but more prominent or relevant may outrank one that's the nearest, for example.
Proximity
Proximity is the distance between the user and a business's physical store or service area, and is calculated by Google in one of two ways:
The search query contains the location's name.
The location is calculated based on existing information Google holds about a user's device.
This can prove difficult when optimising for local search, as moving shop to match a local market isn't easy or even possible. Proximity is also a barrier for ecommerce stores that are looking to enter a local market.
Prominence
Prominence is all about how well-known your business is to those in and around your local community, and there are a number of factors taken into consideration by Google within this area. Business information from across the web will be gathered in order to determine rankings – this can include details within directories, backlinks from other websites, and mentions by customers on social media.
Online reviews are also key within the area of prominence, as they allow the algorithms to detect whether customers enjoyed their experience and would recommend your business to others. Essentially, prominence is about creating a business that's known and loved by those in your local area.
Relevance
Relevance is how closely related your business is to the user's queries and end goals, and Google understands this by reviewing the information you have published online to match your business to relevant searches.
For example, a generic search for "car wash" will display a variety of different options nearby, whereas a more specific search for "car wash open on a Sunday" will only display the businesses that have explicitly stated they're open on a Sunday, as those that aren't won't satisfy the user's end goal.
Tips for improving your local SEO strategy
Now that you're familiar with what local SEO is and how it works, I've put together a local SEO checklist in order to assist in your quest for better local rankings.
Complete a local SEO audit
One of the first steps you should take when devising a local SEO strategy is to complete a local SEO audit. This will allow you to gain greater insight into current rankings, as well as existing strengths and weaknesses.
A thorough local SEO audit will include a variety of elements, such as:
Local keyword research
In-depth competitor analysis
A review of your Google Business Profile(s)
Website factors such as page speed, schema and duplicate content
Once you've thoroughly reviewed the local SEO landscape you'll be in a much better position to implement a holistic strategy that will see you make gains. It's worth completing a local SEO audit every 6 months or so, as this will allow you to keep on top of further improvements or refinements.
Utilise your Google Business Profile
Formerly known as Google My Business, your Google Business Profile (GBP) is an invaluable tool for people looking to manage and improve the way their business appears on local SERPs. Business owners are able to add all kinds of information to their GBP including Name, Address and Phone (NAP) details, opening hours, and features about the services/products they provide. You can even add images to your GBP to show off your shopfront and help potential customers to confirm they've found the place they're looking for.
When setting up your GBP, you need to pay close attention to the accuracy of the information you're entering. All of your details need to align with what can be found elsewhere on the internet, so double check for discrepancies before you publish.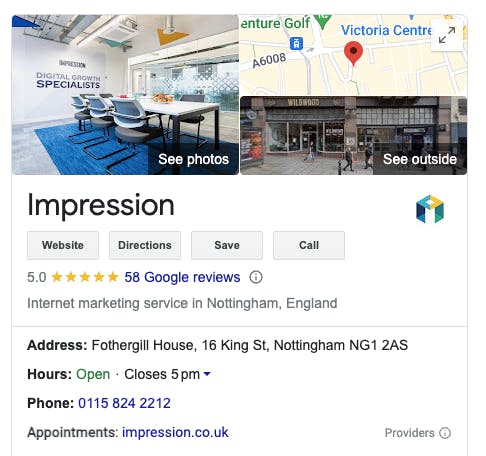 Once your account is set up, it's crucial that you keep on top of it. For example, if a bar started to serve food, the GBP categories should be updated to reflect the expansion in service offering. This way, the likelihood of ranking for relevant search queries is greatly increased.
Ensure your website is mobile friendly
As Google uses a mobile-first approach to indexing, making your website mobile-friendly is no longer just recommendable – it's a crucial tip for any local SEO strategy.
When people are out and about, they may use the internet to find information such as directions, contact details or opening hours, and the device used more often than not is a smartphone. So, it's vital to ensure your website is mobile-friendly, as the last thing you want is a customer not completing a purchase or booking due to a slow or painful website experience.
There are a variety of things to consider to ensure your website is mobile-compatible. Firstly, you'll want to make your website's design responsive, as this will allow for better viewing on devices of differing shapes and sizes.
You'll want to consider page speeds too – the longer a page takes to load, the more likely a searcher is to bounce off your site and head to a competitor's. This could mean compressing large images to a more suitable size, or efficiently writing Cascading Style Sheets (CSS) to reduce loading times. Check out our guide on how to improve page speed to learn more.
Establish NAP consistency
Establishing your business' Name, Address and Phone (NAP) details is a fundamental step that any local SEO strategy should include. NAPs let Google's crawlers (and potential customers) work out who you are, where you are, and how you can be contacted, helping to increase the likelihood of you appearing for relevant search queries.
As a starting point, you should ensure that your NAPs can be found on your website. They can technically go anywhere, but common practice is to include them within the header, footer or contact page.
Whenever your business information is shared online it's vital for you to bear NAP consistency in mind, as this is another sign that search engines look out for. Every site that mentions your business should show the same, up-to-date information – you don't want customers turning up to an old location hoping to find you.
Leverage citation opportunities
A citation is any mention of your business' NAPs across the web. Gaining mentions from credible, authoritative sites leads to additional signals being sent to the search engine, making you more trustworthy.
There are several types of citations to consider, including structured and unstructured citations. A structured citation is a mention of your business' details within directories such as Yell.com and Yelp. In comparison, unstructured citations are mentions of business details on a site that's not specifically a business listing directory. For instance, if a business is organising an event and another website mentions the business' NAPs in the event invite, Google's crawlers will see this and consider it in its local ranking algorithm.
You should seek out and leverage these citation opportunities to benefit your business. However, you'll need to keep NAP consistency in mind, as previously mentioned.
Encourage genuine feedback from your customers
Customers will always be looking for the best quality service, with 98% of consumers reading online reviews hosted on websites such as Tripadvisor, Yelp, and Yell to find feedback on local businesses and their service. When ranking, Google will aggregate the reviews it finds across the internet to determine its own five-star rating.
As long as you're providing a great service you've got nothing to worry about, as these reviews will benefit you as you receive more glowing appraisals online. However, when things aren't going quite so well, it's important for you to engage with negative feedback online in order to show potential customers (and Google) that you've acknowledged and taken the criticism on-board.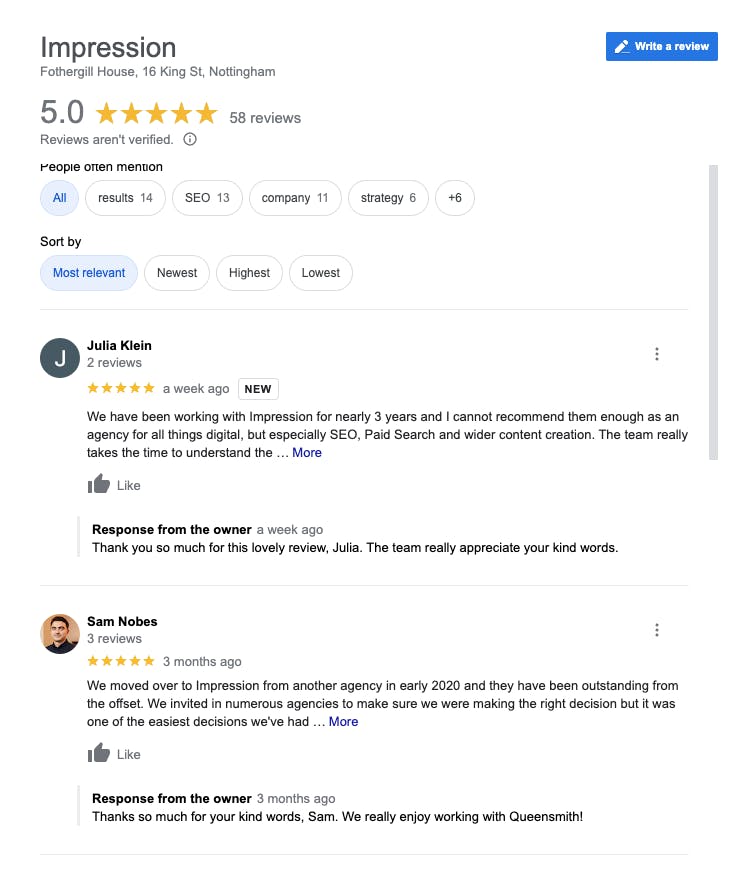 Create high-quality local content
High-quality, original content has long been a key component of any well-structured SEO strategy, and its benefits within the local SEO space are widely-known too. Local content allows you to stay at the forefront of your audience's mind and is an effective way of improving SERP rankings when done correctly.
There's no magic solution though, as there are a variety of approaches that you can implement. One option is to start a blog and write about various topics that are of interest to the local community, or you could begin to optimise your service pages to rank for more specific, but less competitive local keywords.
Ultimately, you need to ensure that the content you're generating offers the customer additional value while being aligned to your wider goals. Irrelevant or low quality content can do more harm than good, so think about the reasoning behind an article or page before you get started.
Devise an effective link building strategy
Another component that's worth considering is a link-building strategy that will complement your other local SEO efforts. Inbound links let Google know that other people find your site authoritative, relevant and useful and, just like in normal SEO, they're a ranking factor in Google's local algorithm.
However, unlike normal SEO, you should focus your link building efforts on gaining links from local businesses and websites. The location of the linking website serves as an additional sign of trust for Google's ranking signals, so you should prioritise gaining relevant, local links to boost your search rankings.
While backlinks from local businesses or websites are super beneficial for local SEO, it's worth noting that they usually have low Domain Authority or Domain Ranking. This can have negligible effects if you're hoping to rank nationally or internationally, so an effective link-building strategy that matches the aims of your business is always superior to a scattergun approach.
Implement local business schema markup
Local business schema is a type of structured data markup code that helps search engines identify who an organisation is and what they do. Essentially, structured data allows for pages to be crawled more efficiently which can aid rankings, providing the content is good. Local business schema can provide information such as:
Opening hours
Geographic area that the business serves
Type of business
Images
Company logo
If you're a beginner to schema markup you're able to generate schema through use of Google's Structured Data Markup Helper before adding it to the back end of your website. Once implemented, you can check if the schema is set up correctly by heading to the Structured Data Testing Tool.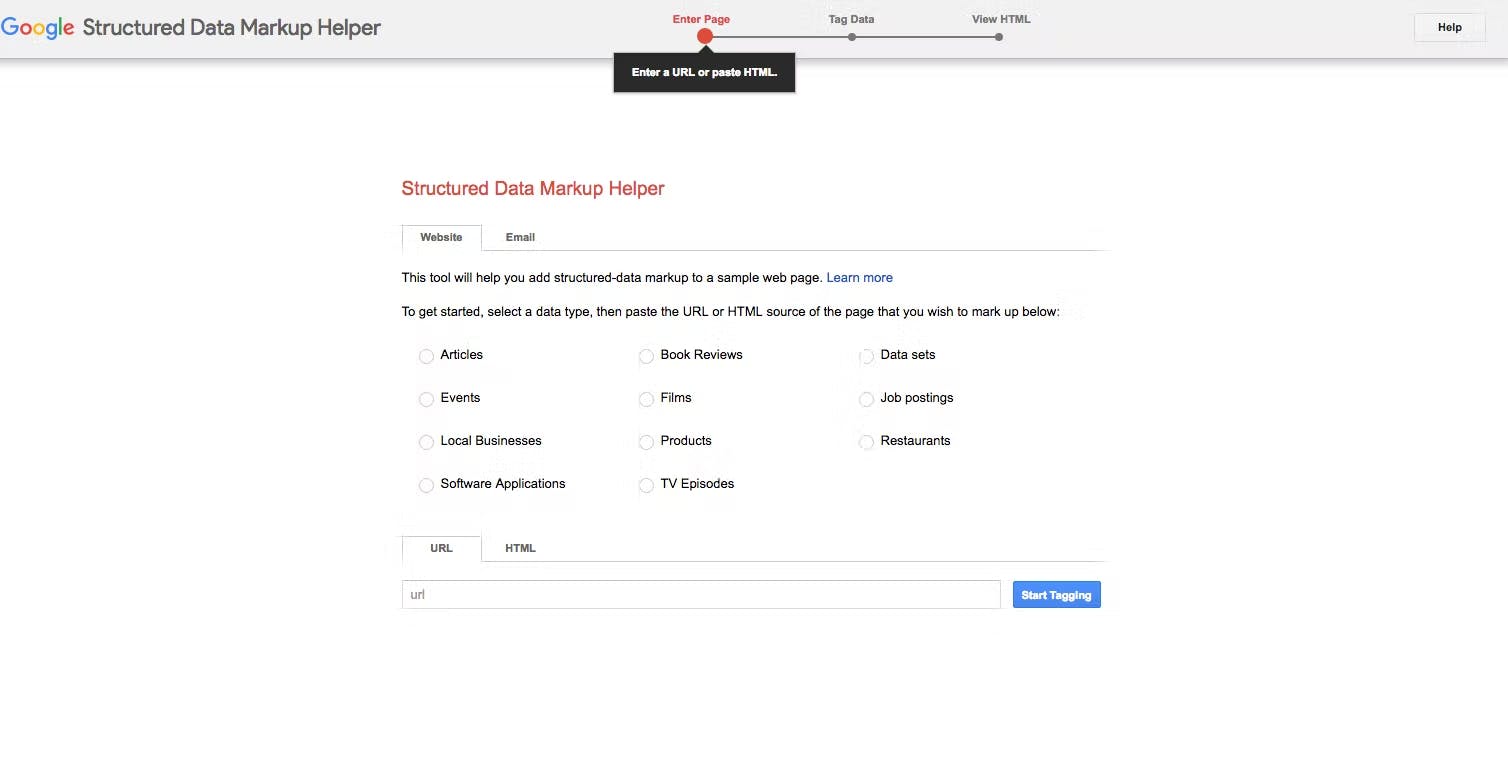 Our favourite local SEO tools
There are various tools out there to help with optimising your local SEO, offering features such as rank trackings, competitor analysis and keyword research. Which tool is the best for you depends on personal preference, but some of the tools we love to use here at Impression include:
SEMRush
SEMRush is a paid SEO platform that offers an extensive range of features. Within the local SEO section, you're able to gain insights into your local visibility, track ranking positions on a local level, and automatically distribute your information to authoritative directories.
The wider SEMRush package also offers features for paid media, PR and technical SEO, allowing you to stay ahead of your competition across the board.
SEOMonitor
SEOMonitor is another example of a paid SEO platform, allowing you to build and track local SEO campaigns. Within its dashboard, you're able to monitor website performance for specific and groups of keywords, compare existing rankings with competitor's, and view data such as current volume, metadata and search volume for your highlighted keyword.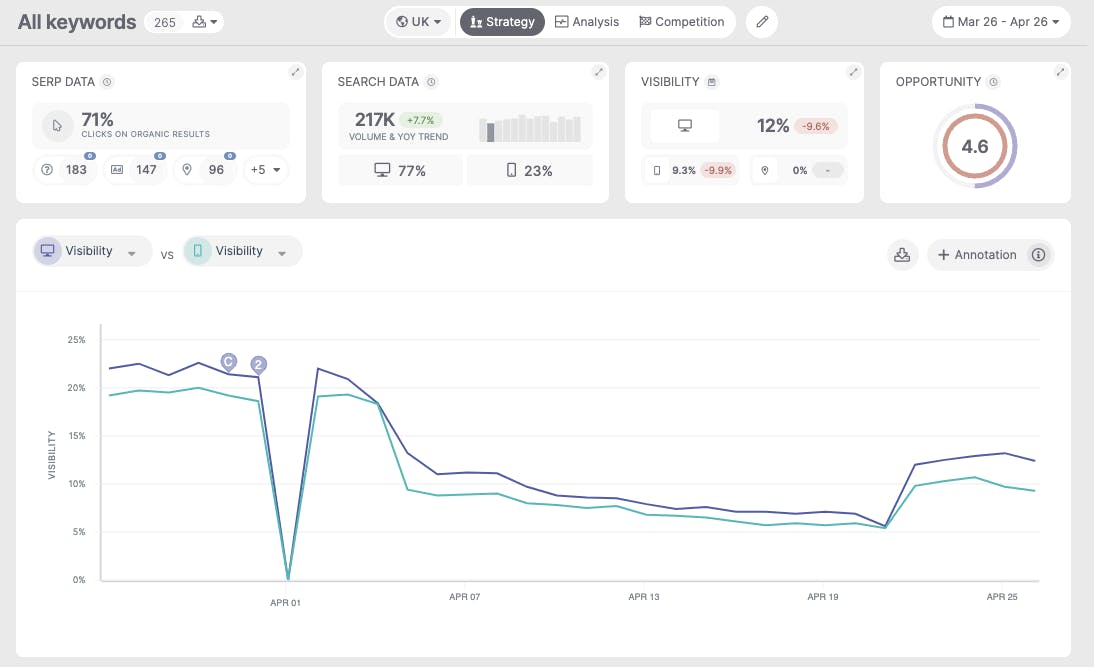 From our experience, SEOMonitor is a powerful tool when it comes to forecasting future performance, too. Within the Forecasting tab you're able to set targets related to traffic, conversions and revenue, allowing you to better predict how your SEO activities will aid your wider business goals.
Google Analytics and Search Console
As a free tool, Google Analytics provides digital marketers with a range of data and insights for accurate reporting on performance. You're able to see data such as where your audience is based, what device they used, and how they reached you, letting you pinpoint focus areas easily.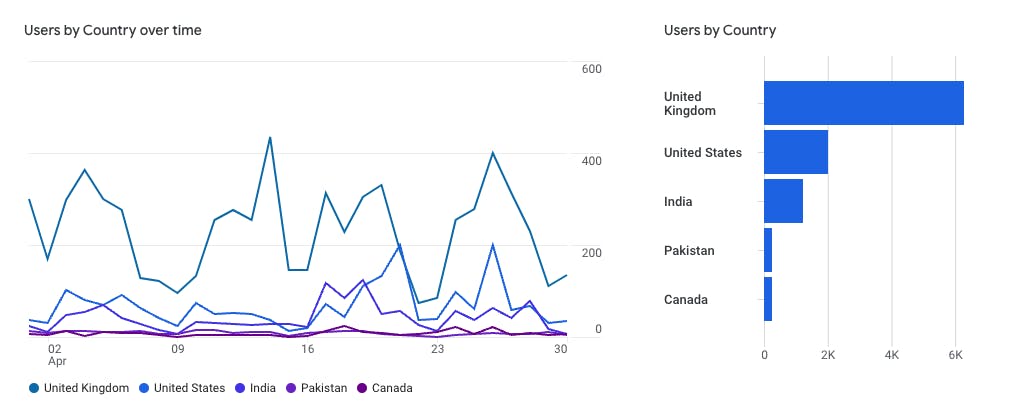 It's also worthwhile connecting your analytics account to Google Search Console, as this provides further information about your users.
Local Search Results Tool
If you're wanting to take a look at what the SERP landscape looks like in different destinations, an easy way to do so is by using the Local Search Results Tool. Simply set your desired destination, punch in your query and hit go – the tool will emulate your location and feed back the relevant results page.

By studying the competition and content within potential target locations, you can better calculate which steps you need to take to enter new markets or improve your existing rankings for these geographic areas.
Local SEO FAQs
How can I learn local SEO?
There are plenty of helpful guides, videos and articles available online to help you get stuck in with local SEO. You could also consider attending a local SEO workshop or event to further your knowledge.
However, getting the most out of your local SEO strategy will take time and expertise, so you may want to consider hiring a dedicated agency to help out.
Who needs local SEO?
Local SEO can benefit any business that has a physical location or serves a geographic area. Whether you're a small business or part of a larger organisation, local SEO can assist in driving traffic, leads and revenue.
Is local SEO profitable?
Absolutely. With a significant amount of local searches each day, local SEO is an effective form of marketing that can get your business in front of potential customers.
How long does local SEO take?
Local SEO isn't an exact science and there are various factors that can influence how long it takes for your actions to make a change. Technically, you can see changes in as little as 1 to 2 weeks but it can take much longer, so don't be discouraged if this is the case.
How to find a local SEO expert
Improving your local SEO ensures that potential customers in your nearby area can easily find and shop with your business. If you're looking to improve your search rankings, we'd recommend seeking expert advice by:
Browsing online resources. There are a plethora of helpful guides and articles available online that can assist in expanding your knowledge.
Consulting your network. You may know someone that's experienced in search optimisation and can lend a helping hand.
Finding a freelancer or larger agency. There are various freelancers and agencies that can help in optimising your business for local search.
At Impression, our local SEOs have decades of experience in helping our clients optimise their business and web presence in order to rank higher in local SERPs. If it's a particular challenge for you, then get in touch with us today.
---