For any business, of any size, in any sector, it's vital to consider what your competitors are doing and how their activity could influence yours. To conduct a thorough yet succinct analysis, follow our simple 3-step approach and learn about different tools each with different benefits.
What is a competitor analysis & why is it important?
It's the exploration of your competitor's marketing activities to benchmark your brand against what consumers see as alternatives. It allows you to assess the strengths and weaknesses of those that offer a similar solution as you and, as a result, highlights growth opportunities and aids strategic decision-making.
Conducting a competitor analysis helps to
Gather detailed insights about your competitor's activities and the wider external factors impacting your industry
Understand competitor spend (via tools like Similarweb), market share, utilised channels, audiences and their potential overlap
Find areas of improvement and growth for your own marketing strategy
How to conduct a competitor analysis in 3 steps
There is no right or wrong way. You can follow certain models (see the end of this blog for guidance), or, as we recommend, you can adopt a more bespoke approach built from these three steps:
Define your competitor set
Gather competitive insights
Combining and evaluating the above information to put it into context
This approach is easily adaptable for different industries or marketing channels that you may want to particularly focus on. Let's take a closer look at each of these stages.
Define competitor set
In order to do this, identify the competitors relevant to your business and industry. It should include all of the key players in your market i.e. those selling similar products, as well as companies targeting a similar audience.
There are several tools that can help you, such as Similarweb or SEMrush, but if you do not have access to these, resources such as press reports for similar products, local chambers of commerce, industry directories and industry events are also valuable.
Gather competitive insights
Next, gather competitor information about the metrics that are most important to you.
To gather an omnichannel overview, it's helpful to begin with top-level metrics that will allow you to compare competitor performance for each channel at a glance. What you choose to analyse will be unique for your business. Here are some examples of insightful metrics:
Your share of search vs competitors
Total traffic share vs competitors
If you want to take your analysis to the next level, once you have identified the overarching metrics, you can start digging deeper into granular channel-specific metrics. Taking PPC as an example, you should pay attention to spending habits, impression share or ROAS. For SEO, you should conduct a keyword gap analysis.
Bring back your wider insights & evaluate
After gathering all this data, it's time to evaluate. Taking your initial findings, spend time contextualising them against the wider marketing situation. Your goal here is to infer competitors' strategies, identify opportunities for growth and see if and where your strategy might need adjusting.
We recommend starting to compare your data with wider market metrics first, such as total traffic share, to understand whether the market is growing or declining. Afterwards, you can become more granular and focus on specific channels or competitors.
As an example, the overall traffic within the market is declining and search volumes for key products are also decreasing, therefore the market is not currently growing. However, at the same time, your key competitors' total traffic share is increasing. From this, you can conclude that they growing are and gaining share from others in the industry – maybe even from you.
The next step is to become more granular, taking a look at specific channels or individual competitors, as this will help you determine your next action. Taking the above example, you have already identified that the market is declining. Now, you are seeing that competitors are reducing their PPC spend but at the same time, acquiring more social media traffic. This might infer that they could be reallocating their PPC budget to social media because paid search might no longer drive results in the declining market. Insights like these will equip you with the knowledge and opportunity to move forward.
These three steps will give you a deep understanding of the market and competitor landscape and will allow you to identify the next steps for your strategy.
Competitor analysis models
There are plenty of competitor analysis models you can utilise. We have hand-picked a few key frameworks that are helpful when engaging in analysis. Ultimately, the best model is the one that suits your specific business goals.
If you want to identify your unique selling proposition against competitors, the Points of Parity & Points of Difference model will be appropriate, or if you are looking for new opportunities within the market, a SWOT analysis might better meet your needs.
Points of Parity – Points of Difference
Keller's Points of Parity and Points of Difference model is an easy way to position your brand against your competitors. It helps you to identify three key factors:
Frame of Reference: this is the segment or category to which the business belongs and competes in, for example, gyms.
Points of Parity: These are the elements that a business or product needs to have, in order to even be taken into consideration by the target audience. Going back to our example of gyms, the target audience might not consider your gym as a suitable alternative if it doesn't have a cycling studio or a cardio area.
Points of Difference: These are all the elements that make your business different from your competitors, ultimately, your USPs. Again, using gyms as an example, a point of difference could be that on top of a cycling studio, your business offers massage chairs, a swimming pool or free post-workout protein shakes.
The analysis could look like this:

SWOT Analysis
The SWOT analysis has been around for a very long time, and for good reason! It categorises business information into four categories.

Strengths: Internal components that are beneficial to a business (e.g. brand equity, marketing budget, internal culture)

Weaknesses: Internal components that are a disadvantage to a business (e.g. team structures, lack of quality tools and tech)

Opportunities: External factors that show an opportunity to a business (e.g. product innovations, partnerships)

Threats: External factors that are a threat to a business (e.g. replicable products, barriers to entry, the economic situation)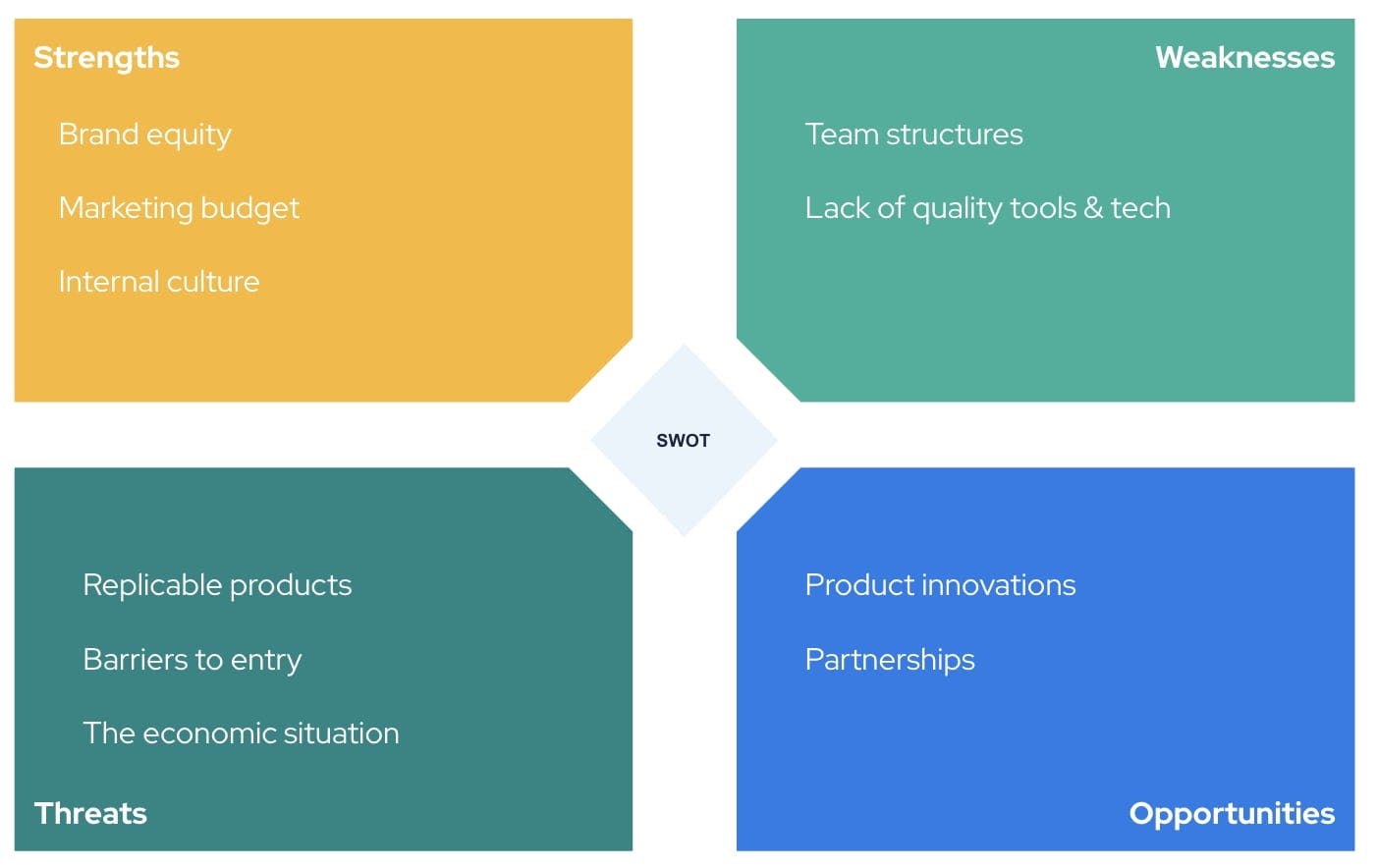 You can complete this for your own business and your competitors to gain a wider picture of the opportunities available within your market.
Porter's Five Forces
Porter's Five Forces is a framework that allows you to analyse competitors by focusing on five segments.
New entrants – the ease for new businesses to enter the market.
Substitutes – how many substitute products are within the market.
Buyers – the number of buyers within the market and how this might affect pricing.
Suppliers – the number of suppliers in the marketing and how this might affect pricing.
Competitors – the number of competitors a business has, as well as their strengths.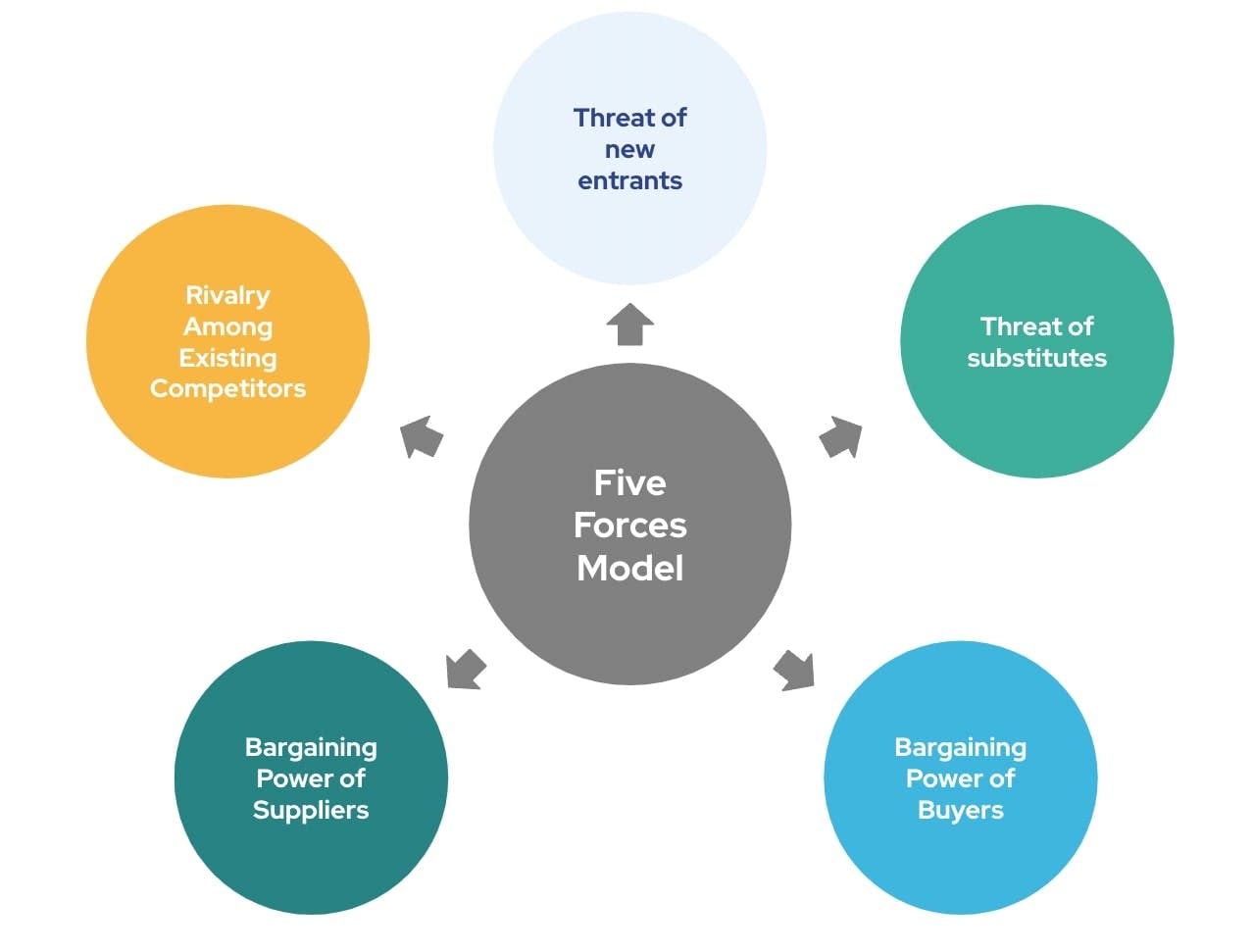 The benefit of Porter's Five Forces is that it allows you to analyse an entire market or industry. This, in turn, can help you with objective setting. If you know that there are a lot of similar products within the market, you can focus on making yours more unique.
PEST & PESTLE
This model takes external factors into consideration and helps you determine your standing or your competitor's standing within the market. This can help identify how you might want to act when facing changes within each of the quadrants. This, in turn, can inform strategies natively, or when you are looking to expand into new markets abroad.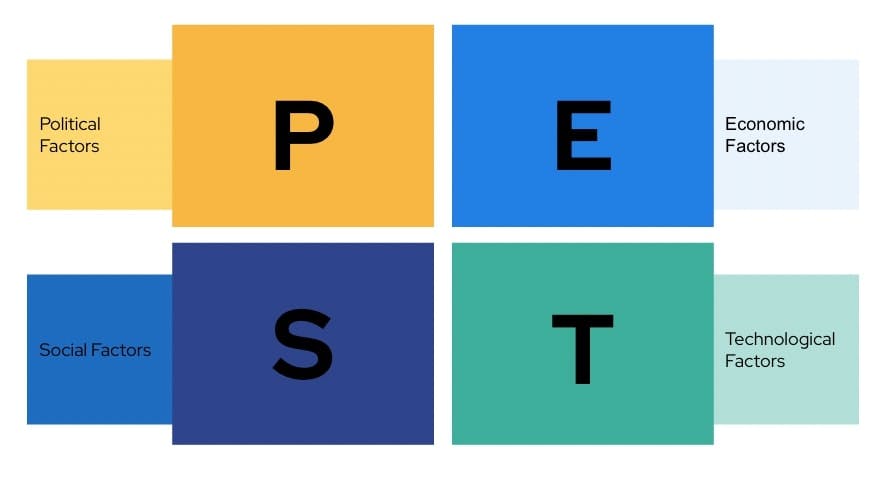 Here, you are looking to gather information about the following external factors:
Political: Government type & stability, tax policies or regulations.
Economic: Labour costs, the impact of globalisation, business cycles or the general economic environment.
Social: Population growth, lifestyle choices, demographic identifiers, attitudes and education level.
Technological: Emerging technologies, the level of digitalisation, and research and development activities.
Additional factors you may want to consider are
Legal: This includes potential upcoming changes to industry regulations or identifying differences in employment laws abroad.
Environment: This looks at both the practical and legal aspects, such as climate, environmental laws and consumer reactions to your business (i.e environmental NGOs and movements).
Tools for competitor analysis
There are plenty of tools which help you gather all of the necessary data and insights. We have created a list of some of our favourites. Ideally, you will utilise a mix of tools and research to validate your findings.
Similarweb
This is a powerful tool that allows you to gather insights about your competitors. It will help you determine how much traffic they generating and from which channels. Are you or your clients outperforming or underperforming in comparison to competitors?
AdLibrary
AdLibrary allows you to see ads that are, or have been, running on your competitors' Meta channels. The best part, it's free!
Google Trends
Google trends is a free service provided by Google, through which you can compare search data. By using Google trends data you can identify seasonal trends and currently trending topics by certain geographical regions.
Semrush
Semrush is used for keyword research and allows you to not only track and research your own keywords but also your competitors.
Ahrefs
Ahrefs is an SEO and digital PR tool, allowing you to check competitors' backlinks, keywords and domain ratings.
---
Learn more strategy insights from our digital marketing blogs, or if you have any questions, get in touch!
---