SEO training is a powerful tool for sparking interest in your SEO strategy and earning buy-in from your senior stakeholders.
I've seen the appetite for SEO training grow in digital teams in the past few years for two reasons:
SEO in general has come under the spotlight since the pandemic as businesses try to maximise online visibility.
A shift to a culture of remote working and video calls makes it easier to arrange sessions for a large number of people across different locations.
Your SEO training programme should be tailored to your specific objectives and can encourage both direct collaboration and indirect support from wider digital teams. It can also educate other departments about how SEO can support them, or demonstrate the value of SEO to senior management.
What does SEO training look like?
SEO training works well delivered in multiple short sessions. It is possible to deliver an effective, longer workshop but if you want to reach a large number of people in your organisation, it can be tricky to get buy-in for a whole-day event attended by people from multiple teams. (That's not to say we haven't delivered sessions like this, though!)
I have had recent success with ongoing monthly training sessions and with weekly or bi-weekly sessions over a period of six weeks to three months.
Short sessions have a clear focus and give members of a large, diverse team the option to attend the sessions that are most relevant for them. I recommend identifying a group of people who would benefit from the whole programme (e.g. a copywriting team or ecommerce managers), then a larger group of optional attendees who can choose the sessions that are relevant to them (e.g. senior management or a paid media team).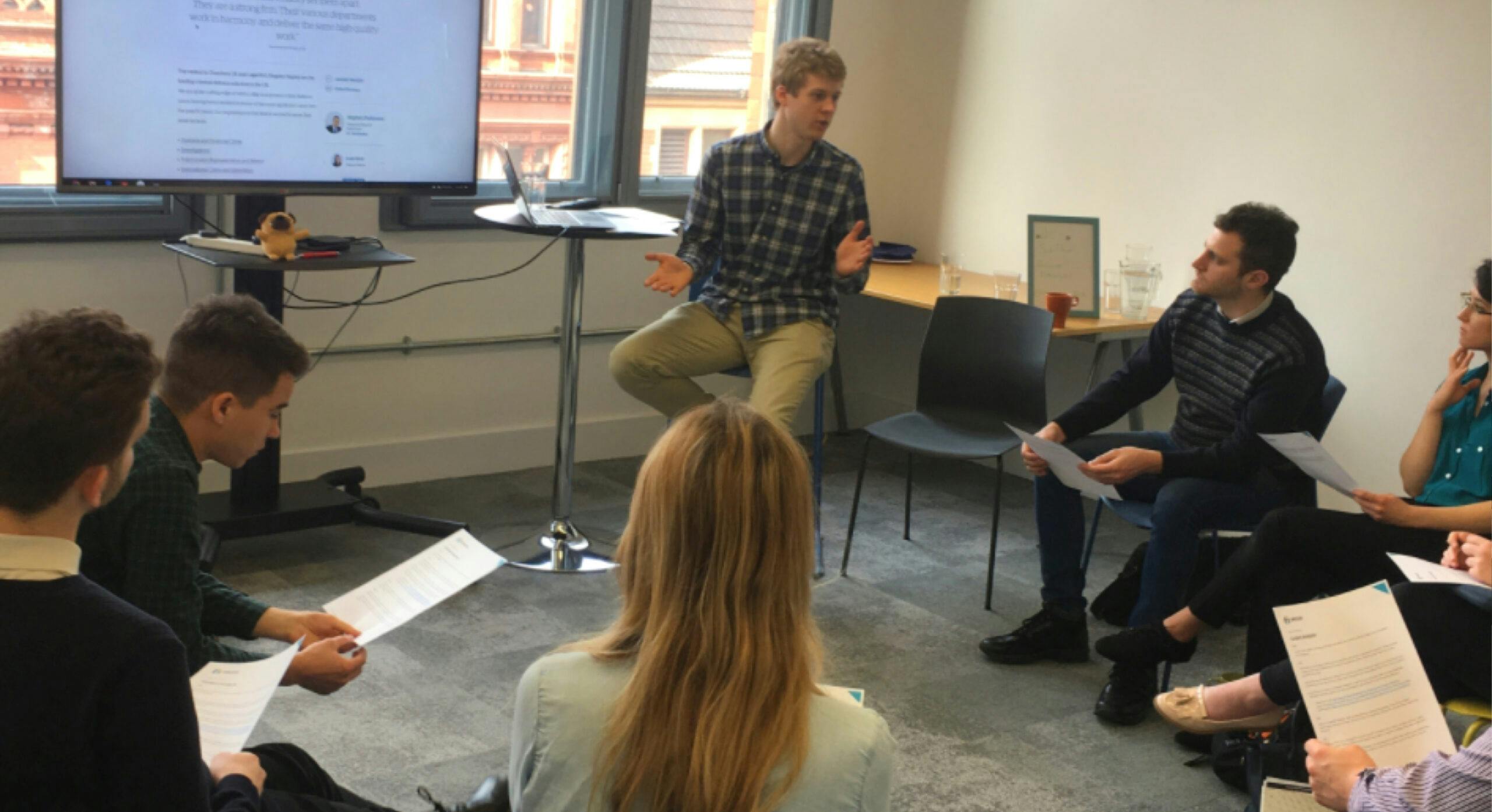 What topics should your training cover?
A training programme can be tailored to whatever needs you've identified in your business but there are a number of topics that I have found useful for multiple clients I've worked with.
---
The fundamentals of SEO
Even if members of your non-SEO teams have some knowledge of SEO, it's helpful to ensure that everyone has been given the same information at the start of a training programme.
I like to use this session to give a clear, practical definition of SEO, and then break down key components of a successful strategy. It's important to discuss the main activities that your business wants to pursue and to cover:
Technical SEO. Explain that a good technical foundation ensures that search engines can find all the pages that you would like to appear in the SERPs. It can be helpful to add a note on who is responsible for implementing technical changes, especially if a development agency is involved.

On-page optimisation. Content optimisation and creation is likely the main area in which your wider teams can support your strategy. Discuss why optimisation is important for search rankings and reassure your audience that more practical tips will come in future sessions.

Link acquisition (and digital PR). If any area of SEO is shrouded in myths and misconceptions, it's link acquisition. Communicate the importance of earning high-quality, relevant links, and explain the difference between actively building links and earning them naturally over time. Like technical SEO, it's also important to communicate where responsibility for this sits in the business and whether or not it's something you're strategically pursuing.
---
The importance of search demand and intent
I have run a session on how to understand and optimise for search demand and intent in every SEO training programme I've been part of. No other topic makes the link between SEO activity and real user behaviour so clearly. I find it incredibly useful for showing digital and marketing teams how SEO can help them reach their target audience.
Discussing search intent allows you to make a clear connection between what your target audience wants and what content your site delivers. It also encourages a conversation about how search engines identify intent, and why we need to be able to create content that ranks well and meets the needs of our target audience.
Reinforce any general SEO theory with concrete examples from the business's website and illustrate how different page types naturally address different intents, then give practical tips on how to optimise them. If there's time, include some general keyword targeting tips to help people see how search intent considerations overlap with optimising for each page's target topic.
This session also lends itself to an encouragement that anyone who is involved with content can contribute to the business's SEO performance by considering what needs their page is meeting and ensuring that it is serving a unique purpose on the site.
---
How to understand SEO metrics
SEO professionals have access to first and third-party data that could help other teams work more effectively. A training programme is a perfect opportunity to show this data to those teams and encourage greater collaboration to make the best use of it.
The tool that I have found to generate the most interest in training sessions is Google Search Console. It is so compelling to be able to show people exactly what users are searching to arrive at the site. Search Console encourages in-house teams to think about the language that customers are actually using, rather than focusing too much on the language the brand uses (which isn't always the same).
Third-party competitor data is another way to generate interest in what SEO can do. Short demos of tools like Ahrefs and Sistrix to show how your brand compares to competitors are a great way to motivate teams to get involved with SEO.
If you have the time, follow up this session with another that specifically looks at the SEO tactics your competitors are employing, because stoking that rivalry almost guarantees that non-SEOs will want to help you compete with those other brands.
Using training to promote organic growth
SEO training encourages non-SEOs in the business to incorporate SEO-friendly practices into their daily work. It can also encourage more proactive collaboration between teams.
When planning a training programme, consider what behaviours you want to encourage or change in the business. You can then ensure that each session includes practical tips to promote those behaviours.
It is important to communicate SEO best practices as opportunities to improve the overall quality of work in the business, rather than additional tasks you're adding to someone's plate. For example, encouraging a copywriter to consider keyword targeting and search intent is a way to ensure that their content matches what a user is actually looking for, and greater visibility will help demonstrate a better ROI on the time they spend writing a page.
Try to tie your recommendations to the activities that key stakeholders want to be doing anyway. If they can see SEO as an exciting opportunity to achieve wider business goals, they will be much more likely to get involved than if it seems like another list of tasks.
---

---
Using training for stakeholder buy-in
Training sessions can be used to show senior management and stakeholders what value SEO is adding to the business. Getting senior figures excited makes it easier for you to secure budget and sign-off, and could provide you with allies when trying to motivate other teams to support your strategies.
The key to stakeholder training is respecting their time and priorities. Unless they want to be included, I don't recommend asking them to attend every session. I have seen more success in the past by running a separate session for senior management in parallel to the wider team's training session that includes key points from the rest of the programme and spends more time dwelling on questions of resourcing SEO and how to get a good return from it.
It can also be helpful to give a more senior digital or marketing manager visibility of your training proposal before running a session for more seniors. They will be able to help you focus on the areas that matter to their peers and cut out what isn't needed.
It's also important to alter your practical takeaways. It's unlikely that senior management will be uploading content or running paid ads, but they will be interested in seeing how SEO contributes to wider business goals and in understanding what SEO needs from other teams in order to succeed.
I like to deliver these sessions to a smaller audience and make them slightly longer to facilitate a good discussion. Senior managers likely know more about the business than we do, so it's important to invite their input as well as give them information.
If you have clear objectives for the training going in, and respect the time and expertise that your senior stakeholders have, these sessions can be highly collaborative, encouraging workshops that will increase your management's confidence in SEO and their interest in your work.
How to set up a training programme in your business
You need to answer three questions before you deliver a successful SEO training programme:
Who will attend these sessions?
What do I want them to learn?
How much time do they have?
The first and second questions go together. Whoever attends needs to have a reason to be there and needs to be given something practical to take away, whether they're a junior marketer or a senior manager.
The answer to the third question is much more unique to your business. When I've run ongoing monthly sessions in the past, I've had success with both 30-minute sessions for large groups of people, and 60-minute sessions for smaller groups.
It can also be helpful to get people to agree to training for a fixed period of time. For example, I have run one successful programme with six 30-minute sessions, delivering one a week. When that programme was rolled out to APAC teams in the same business, they asked for bi-weekly 90-minute sessions instead.
It helps to have champions within the other teams who will help push others to sign up. Those people could be influential stakeholders, line managers, or simply team members with an enthusiasm for SEO.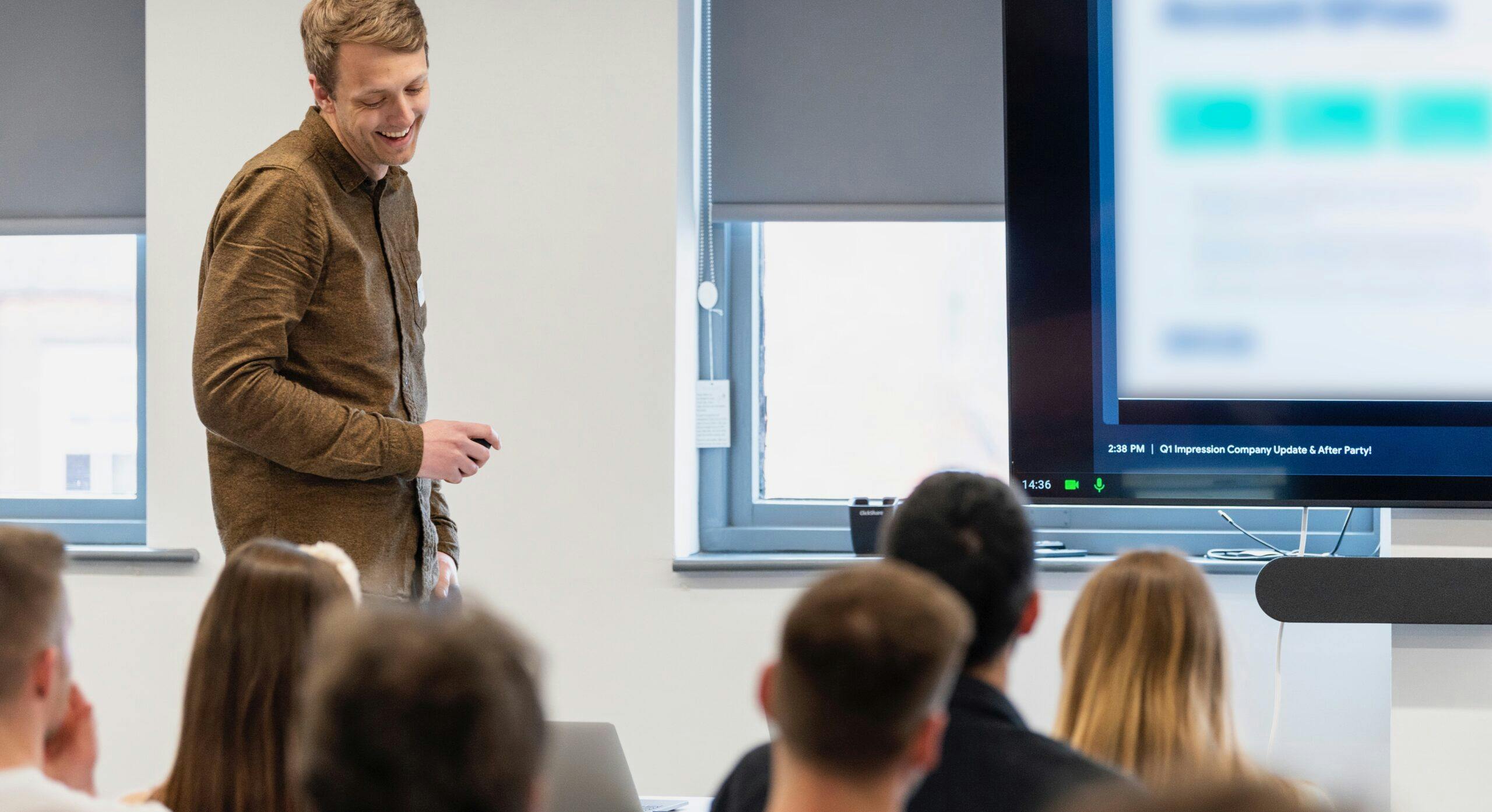 Working with an agency partner to deliver training
I have written this guide with the intention of helping in-house SEO teams to run sessions for their colleagues, but my own experience is that of an SEO agency working with clients. The process that I have described can be the same regardless of who delivers the training, but working with an agency allows you to benefit from experience across their organisation, not just the knowledge of one individual.
When arranging training with an agency, be careful to ensure that the materials they deliver align with the goals you want to achieve. I recommend going through a planning meeting in advance of the training in which you discuss the answers to the three questions above and talk about how to shape the sessions in response.

If you would like to learn more about SEO training with Impression, get in touch. We'll be happy to speak to you about what that could look like for your business.
---