Whether you call it Generative AI, or Search Generative Experience (SGE) – at the time of writing this, Google appears to be somewhat unclear on the "official" name for it yet such as BART in Bing – this refers to the use of advanced machine learning techniques to generate organic search results and recommendations that are tailored to the specific needs and preferences of individual users.
Traditional search engines use keyword, site speed and domain authority-based algorithms to retrieve and rank results, which may not always capture the user's intent accurately or provide personalised recommendations.
Here's a video from Google that shows examples of what SGE will look like:
---
---
SGE leverages natural language processing (NLP), deep learning, and neural networks to understand context, semantics, and search intent in order to generate more relevant and personalised search results. It can consider various factors such as user behaviour, browsing history, location, demographics, and even sentiment analysis to deliver more accurate and contextual results.
By incorporating SGE techniques, Google can understand user queries in a more human-like manner and generate responses that are coherent and aligned with user expectations. This can enhance the search experience by providing more relevant and tailored results, improving user satisfaction, and increasing engagement.
What does SGE mean in practice? 
Users historically might've asked Google lots of little questions, such as:
What is the best skincare for combination skin?
What is the best cleanser for 30s?
What is the best daytime moisturiser for combination skin?
What is the best serum for early fine lines and wrinkles?
What age do I need to start using retinol?
With SGE, they could instead ask "What is the best skincare routine for a 30-year-old with combination skin?" and expect a fully formed answer from Google.
What does this mean for digital marketers?
SGE presents both opportunities and challenges for digital marketers:
Adapt or rethink your content strategies
As search engines become more capable of understanding user intent and generating diverse results, digital marketers may need to adapt their content strategies to focus on providing value and relevance rather than solely optimising for specific keywords. Creating high-quality, engaging content that aligns with user intent will be crucial. Moving forward, it'll be key to not be dictated by the monthly search volume. SGE will make long-tail, low-search volume searches much more common. Client-side, collaboration between SEO partners and in-house teams will be key for making sure all possible questions have been answered in the user journey.

If your content strategy already looks like this, then great! Carry on with the user at the forefront of all minds and make sure that your content is marked up with all the relevant schema to make it as easy as possible for search engines to understand.
Consider the shrinking search real estate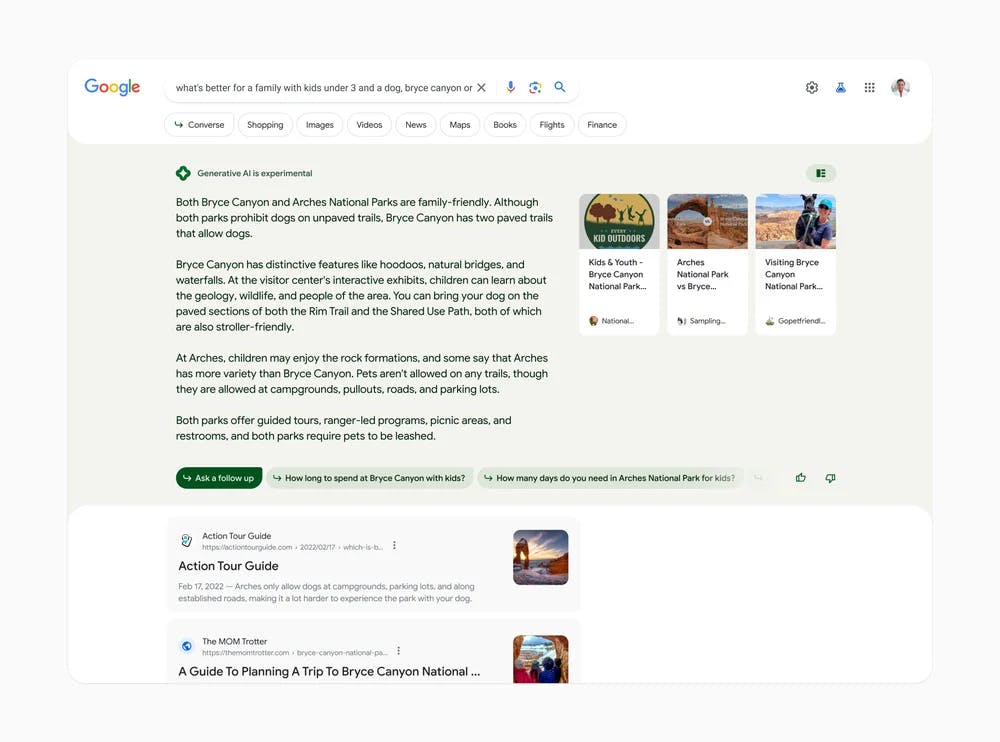 The rich results that SGE brings to search will mean that real estate for "traditional" search results will be limited on page one. This will impact paid and organic visibility, and potentially click-through rate in the future. Whether you are agency-side or in-house, communicating these changes to your stakeholders will be key. 
The best action here is to keep a close eye on the search landscape for your priority keywords. Digital marketers might've been able to report that your rankings position #1-10 in the past were on "page one", however, you will need to closely monitor whether that stays true as this update is rolled out.
In practice, digital marketers will need to take an "in it to win it" approach with SGE so your site can be featured in these new results:
Revisit top-performing guides and articles: Are you offering unique and genuinely useful information that your competitors do not? Providing a fresh take with valuable intel could help you get sourced.
Clearly communicate product uses and USPs: Are your reviews marked up and pulling through? What about delivery and returns information? Is it crystal clear to users and search engines the purpose of your products and their benefits?
Is your Merchant Centre fully optimised for? This will be key for ensuring that your shopping listing appears in the new rich results.
Acknowledge the ethical implications
SGE raises ethical concerns and challenges related to data usage, and algorithmic bias. Digital marketers must be mindful of these issues and ensure compliance with regulations and ethical frameworks to build trust with their audience.
In the US where SGE has started rolling out, digital marketers have already noticed significant errors and flaws in the update:
Avran Piltch @geekinchief spotted SGE "offering legal advice" which it "culled from user comments"
Here's a quick video that Avran put together to show what he's spotted:
Lily Ray @lilyraynyc highlighted some significant harmful flaws in SGE too:
Lily also pointed out that Google has already stated that SGE should not appear at all if the answers are of this nature:
As SGE is currently in beta, we're hopeful that these harmful results will be removed as tests continue. If you ever spot an error or flaw in SGE, you can provide feedback to Google via Quick Settings in the right-hand settings icon when you do a test (shown to the right).
Overall, SGE has the potential to revolutionise the way digital marketers reach and engage users. It offers opportunities for more targeted and personalised marketing strategies but also requires adaptability and an ethical approach to ensure optimal outcomes for both marketers and users.

What can you start doing now for SGE?
To start utilising SGE, you can consider the following steps:
If you're in a country where SGE has rolled out, familiarise yourself with its applications in search. For SEO, keep an eye on the search landscape for your priority keywords to see how it may impact your visibility.
Monitor industry Twitter for updates from digital marketers in SGE-first markets and Google updates to familiarise yourself with the new search landscape to get ahead of the curve.
Hone in on your first-party data. Understand where users are navigating after they land on your website, areas for attrition, or what queries are not resulting in clicks. This should give you insight into the gaps in your existing on-page content or topics that need to be covered.
Prioritise creating genuinely helpful content for your target audience, not simply chasing high search-volume keywords.
Look at how you can demonstrate E-E-A-T (experience, expertise, authority and trustworthiness) on your site. If you have no in-house expertise, look at utilising industry experts to review your content.
Report and feedback on any hateful, harmful or discriminatory results that you might see in SGE.
Remember that adapting your marketing strategy to fit with SGE will be an iterative process. It requires a deep understanding of AI technologies, data analysis, and user behaviour. Consider working with an SEO partner and leveraging external resources to enhance your capabilities in SGE and maximise your potential in search.
---