With Universal Analytics sunsetting on 1st July 2023, marketers now have a deadline to migrate over to Google Analytics 4.
Originally announced as App + Web, Google Analytics 4 was quietly released to the public two and a half years ago. As the fourth version of Google Analytics software, it was inevitable that it was going to replace the current version, Universal Analytics.
Firstly, there's no need to panic – but if you like to measure year-on-year comparisons, you should be setting up your new Google Analytics property before 1st July 2022 to start to build historic data.
If you want a full list of what's new in Google Analytics 4, our Performance Director, Aaron has covered this in his blog here.
Here's what you need to know about Google Analytics 4 and what you should be doing now.
Use Universal Analytics and Google Analytics 4 together
Avoid 'switching' to Google Analytics 4 and completely abandoning Universal Analytics. Running both in conjunction with each other and having access to historical data is incredibly important. Universal Analytics also currently has reports available that are currently not available in Google Analytics 4, such as organic landing page reports.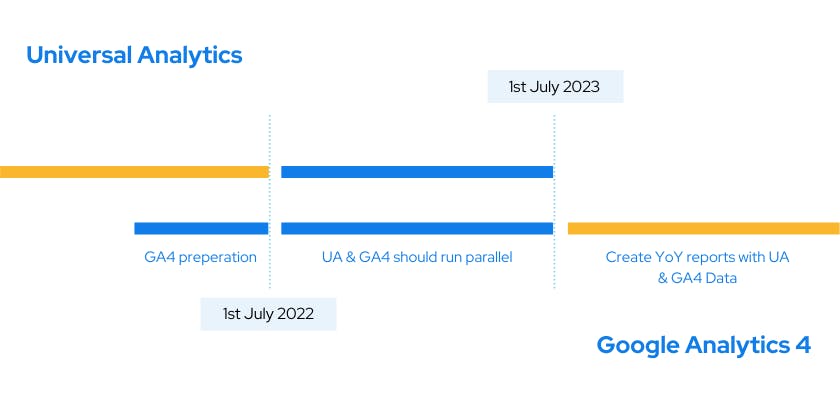 Universal Analytics still has over a year until it is sunsetted, but you should set up Google Analytics 4 before 1st July 2022 if you value historical data in order to make YoY reports, as gathering as much data as possible will help you make the most informed decisions.
Maximise 1st party data but make the most of cookies while you can
We recommend making the most of third-party cookies whilst you can. Google Analytics 4 will not allow you to collect this data, so utilise Universal Analytics right up until the end to collect the best quality third-party cookie data for your marketing.
At the same time, you should really also be thinking about how you can gather 1st party data in a post-cookie world. Once you've migrated to GA4, this is where you should be focusing your efforts. Having accurate data that's your own will be more important than ever.
Much like with cookie data, 1st party data can be uploaded to third-party platforms, such as LinkedIn ads, to enrich your audience targeting. CRM integrations and website micro-conversions such as newsletter signups and content downloads are reliable examples of ways to collect 1st party data – if you need help exploring this further, get in touch.
To learn more about maximising your 1st party data in a cookieless world, see the relevant section in our ecommerce whitepaper.
Think about what you need to be tracking
We strongly recommend setting up Google Analytics 4 as quickly as possible, but don't just replicate what you're doing currently.
Whilst this isn't a 'great reset button' for your analytics, it's definitely the time to review what you're currently tracking, if you need it, and what you can remove. Analytics can get messy if you're tracking too many properties that hold little to no value whatsoever.

Inform people that changes should be made and data will look different
You should be encouraging those within your business to set-up Google Analytics 4 as soon as possible. It will be important to inform stakeholders that analytics and reporting will look different once UA has been sunsetted and GA4 becomes the default.
Due to how Google Analytics 4 is built on a technical level, it's possible that data, such as the number of sessions, recorded in Universal Analytics and Google Analytics 4 will be different. Measurements may be higher or lower in GA4 when compared to data in UA. In Aaron's Google Analytics 4 blog, he explores further into why this occurs.
This is another reason why we recommend that you use UA and GA4 in conjunction with each other before UA is sunsetted. This will not only save you some raised eyebrows when reporting GA4 data, but it will also provide you with the time to customise and configure your GA4 reporting to ensure you're tracking what you really need.
This also provides a great opportunity to carry out a Google Analytics health check to check your current implementation is correct and your data is accurate.
Getting support
Even though Universal Analytics is being sunsetted next year, you should be thinking about setting up Google Analytics 4 before 1st July 2022 in order to gather historical data to create YoY reports. If you need assistance in setting up GA4 to meet your needs, we suggest talking to some digital experts, such as your internals developers or your external agency partner.
If you're looking for an official guide to setting up Google Analytics for, we recommend you start here.
If you need help migrating to GA4, we have experts on hand via our Analytics Agency Support. If you have any further questions about Google Analytics 4, such as tagging and implementation, please get in touch.
---