It's no secret that 2023 is going to be a challenging year for ecommerce stores, high-street retailers and consumers. With consumer confidence remaining low, the financial pressure of the cost of living crisis, and retailers reviewing their marketing strategy, now more than ever is the time to really understand your customer.
So, what can you expect this year?
Based on industry insights and data reports, we've compiled a list of 10 of the biggest global trends that we believe will shape 2023's consumer landscape.
Consumers will refocus and reinvent
Refocus
This year, consumers want to re-focus themselves and brands can give them that much-needed confidence boost.
The pandemic disrupted daily routines, allowing us to explore new opportunities and resulting in some redefining themselves. Now, consumers want to learn new skills, build resilience and break away from old routines.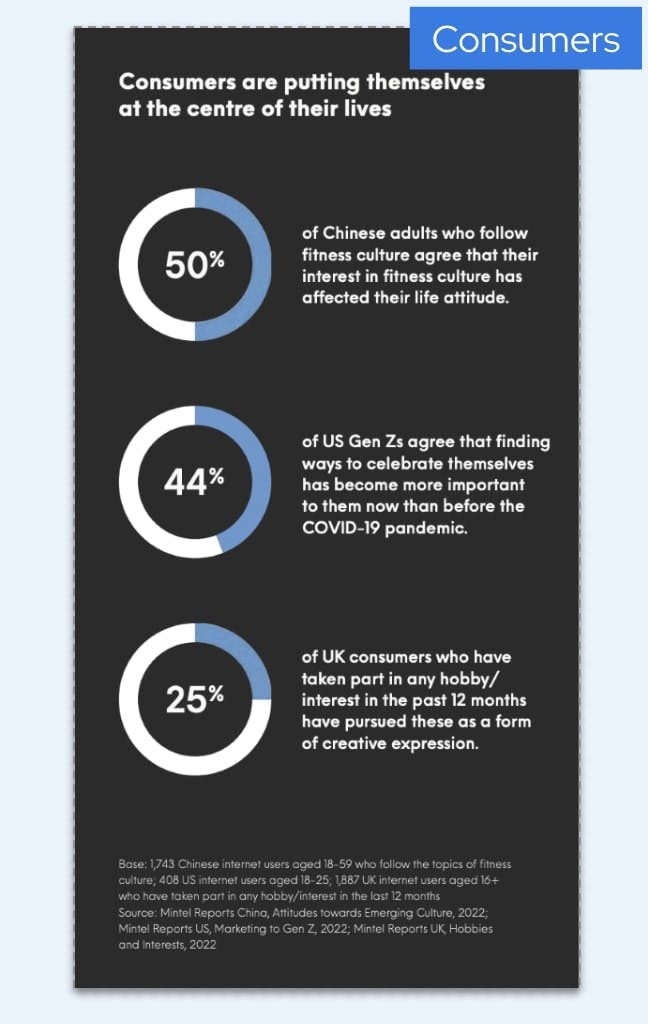 Unsurprisingly, in 2020 the digital fitness and wellbeing sector experienced significant growth worldwide. Since then, millions have invested in fitness or activity-tracking device in an ongoing effort to improve their health and well-being.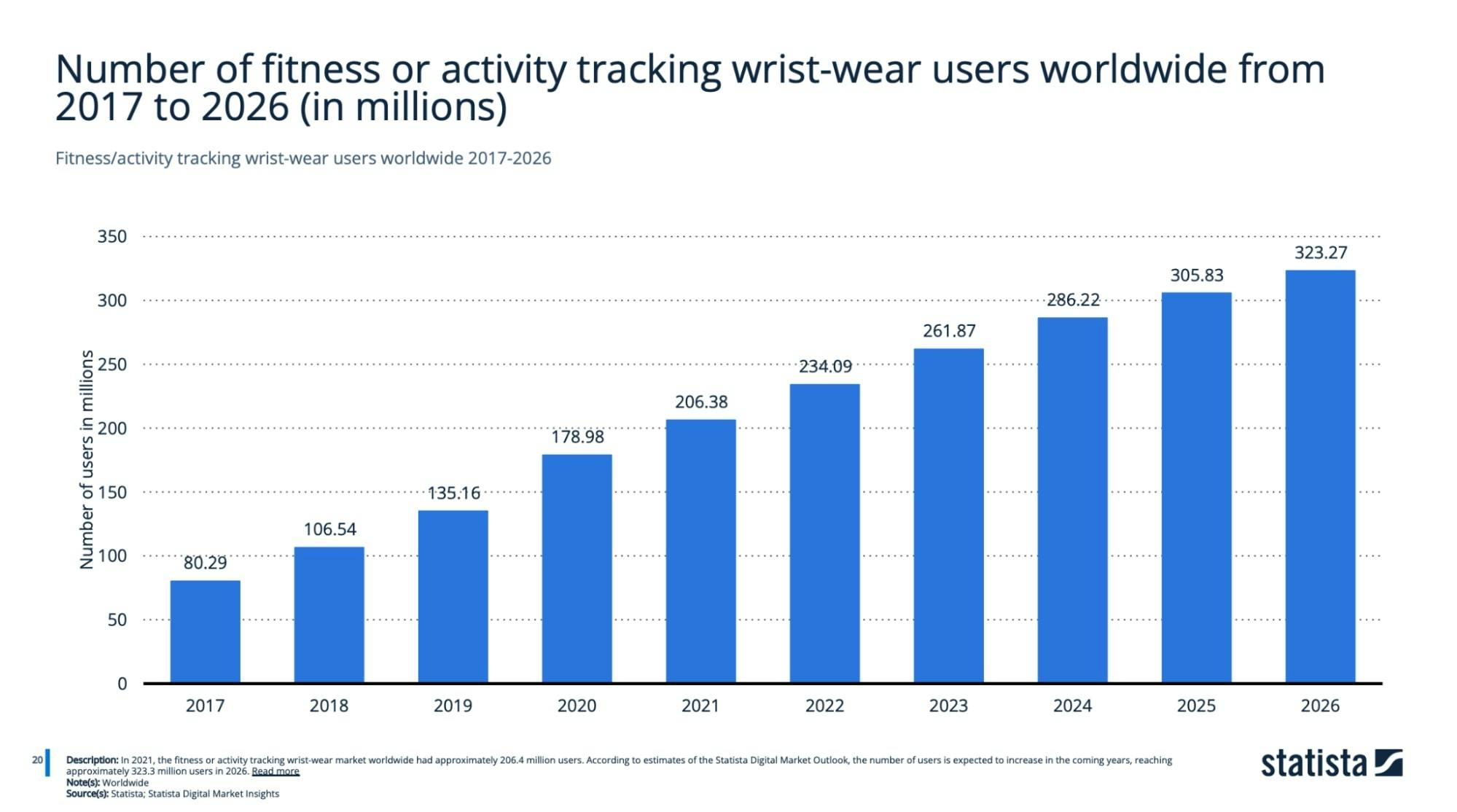 Similarly, 2020 saw a spike in the number of global users accessing fitness, meditation and nutrition apps. Demand is set to increase, with the global digital fitness and wellbeing segment predicted to experience an average growth of 20% per year.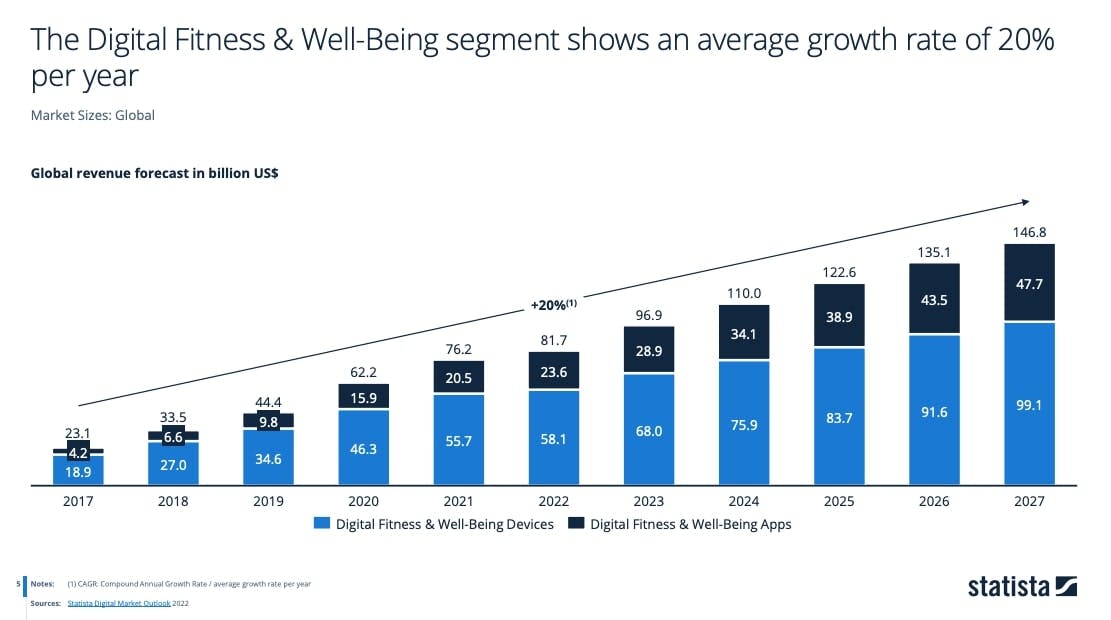 Over the next five years, Statista predicts these apps will continue to acquire millions of global users, as people remain focused on improving their fitness and well-being. However, as the growing 'digital detox' trend continues to drive the need to balance well-being with the negative impact of spending too much time on digital devices, brands will need to consider how they can support this balance.
Celebrating consumers' individuality, spiritual practices and moral beliefs will build engagement while showcasing how your products can fit into their new lifestyle.
Reinvent
With the rise of virtual technology, many consumers may begin to explore and experiment with how they express themselves in new worlds. In online environments such as the metaverse, they are taking the opportunity to develop unique identities and digital avatars to join new communities. As a result, individuals' identities will become fragmented, with different parts expressed online and offline.
Collaborating with influencers could be a key tactic for brands to enter and engage with consumers in the metaverse.
This includes working with virtual influencers, a market which is already growing and some brands have even launched their own virtual brand ambassadors.
With the idea of consumers switching up their identities and exploring new interests in both the real and virtual world, brands could potentially reach new audiences in a way that is highly engaging. From partnering on immersive experiences to generating revenue through tickets to exclusive events the virtual world provides brands and consumers with new, unexplored opportunities.
Consumer collaborations
Leading brands are powering innovation by turning consumers into co-creators, taking the idea of 'the customer always knowing best' to the next level.
Harnessing the creative spirit of their customers to bring new ideas, companies are leveraging external perspectives on their product development process. Ikea and H&M recently partnered to launch their 'idea factory', inviting creatives, designers and small-scale manufacturers to submit new product development ideas. This commitment to collaboration is also emphasised when brands introduce celebrities, influencers or even kids into creative positions within their organisation.
Beyond product development collaborations, expect to see more brands utilising a model where consumers can invest in the brand or vote to make changes. This move to invite customers to be more involved will enhance brand loyalty and advocacy.
At the end of 2022, Starbucks launched 'Starbucks Odyssey' – an innovative accessible Web3 community. Members have the ability to earn and buy digital collectable stamps (NFTs) that will unlock access to new, immersive coffee experiences.
While the novelty and original excitement around NFTs appear to be dropping, the way in which brands are beginning to use them to directly connect and engage with consumers is interesting.
Today, many consumers are not convinced about the value and purpose of NFTs compared to real goods.
But, if brands can turn them into usable assets that unlock new experiences or provide an entry point for consumers who want to invest and help shape their brand, that could be a powerful way to strengthen consumer loyalty and ensure their business continues to cater to their audience.

Demand for digital detoxing
This year, there will be growing demand for escapism, relaxation and reconnecting with our surroundings, communities and ourselves. Mental health will continue to lead the wellness trajectory, but consumers will also want to discover more about how to protect their minds and bodies. Curiosity for spiritual and ritual practices, as well as emerging wellness solutions, will also rise.
In response, the next few years may see developments in the relaxation and wellness space; retreats that offer digital detoxes, new wellness apps and opportunities to immerse yourself in nature.
For easing financial stress, brands will continue to offer solutions to manage costs and tap into consumer demand for escapism through collaborations and enabling new connections.
However, establishing boundaries will be crucial for all these developments. While the digital world and new technologies will continue to play a huge role in daily lives, the balance between the real and digital world will be important in helping consumers to 'cut through the noise' and form healthy connections with resources in the technology.
Exploring charitable initiatives and community collaborations that empower people to take control whilst building a positive outlook during financial adversity is one way to help establish these connections. Others could be focusing on personalisation and understanding the consumers' changing definition of wellness. Today, they view wellness across six dimensions: better health, better fitness, better nutrition, better appearance, better sleep and mindfulness. Brands that can provide support for these six dimensions could create an attractive offering.
Ultimately, brands that provide practical, convenient solutions and help to bring order to the increasing influx of information will succeed in winning over consumers.
International localism
Continuing economic uncertainties will drive consumers to protect and support local suppliers and businesses.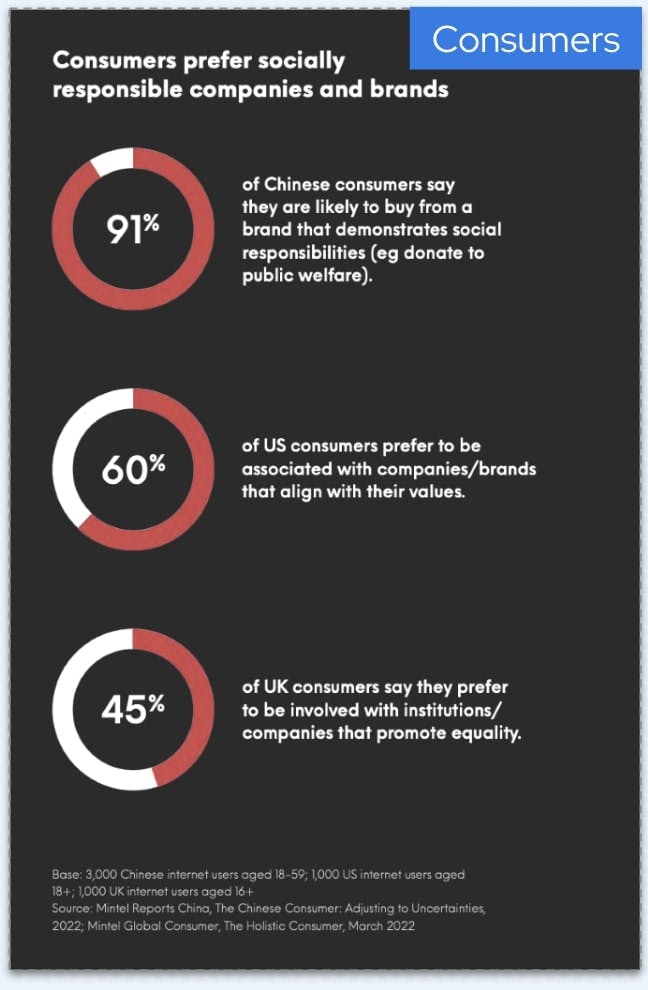 The pandemic saw a resurgence in the idea of 'buying locally' and this attitude is continuing into 2023 as consumers reevaluate what is important to them.
Buying locally will be a way for consumers to fulfil their desire to give back and be more sustainable. But buying locally will no longer mean supporting just the business on your local high street, 'Localism' will come to mean supporting the communities where products are manufactured, rather than where the consumer is located.
As a response,
2023 will see more brands increasingly link localism with sustainability and transparency, launching new products and innovations that support the 'local community'.
To be successful, brands will have to let local communities and creators participate and take charge of projects. Proof of ethical credentials will also be essential – seeing a rise in brands increasing content marketing efforts to share inspiring stories of those within the community and to provide transparency on the production of their products.
Last summer, McDonald's Spain launched 'The Burger That Could Not Be' to raise funds for farms destroyed by the summer wildfires. Available for just three weeks, this limited edition product was launched as part of McDonald's' wider 'Big Good' humanitarian initiative aimed at supporting the Spanish agricultural sector. The McDonald's Spain president, Luis Quintiliano, stated 'as a company, our duty is to be close to the communities we serve, and even more so in difficult times like this' and encouraged others to join the movement in solidarity.
Smaller brands are also making subtle but effective moves, such as launching new product ranges that use only locally sourced ingredients and printing QR codes on the packaging to provide further information on the product's source and background story.
Brands must remain conscious that in times of economic downturn, many consumers may consider cutting back and may be unable to afford locally manufactured goods. Tactically balancing product pricing with the cost of local support will be key to ensuring products are both affordable and accessible.
Sustainable shopping becoming a luxury
In 2022, more than 65% of the population in countries such as China, the USA, the UK and Germany cared more about sustainability than the previous year.
For some, sustainability will remain a core value. For others, due to the current climate, prioritising sustainable values when purchasing new products may become more of a challenge. That being said, with more consumers acquiring purpose-driven values there is a positive insight into the future attitudes towards supporting more sustainable brands that shouldn't be ignored.
With consumers being more protective over their spending, brands will have to couple their sustainability credentials with accountability and transparency.
Securing official certifications from leading businesses or charities such as B Corp or The Soil Association can be an effective way to shout about the ways in which you're using business as a force for good. Similarly, partnering with businesses such as Ecologi allows you and your customers to fund global climate projects. Here, not only is your business giving back, but you're giving your customers the opportunity to, too.
Communicate with your consumers about your sustainability commitments, be transparent, honest and open. Content marketing can be a tool for peeling back the layers of your business and showcasing your efforts 'behind the scenes'. A simple video series that talks a viewer through your production process or introduces your local suppliers could be a simple but effective piece of credible content.
If you're just getting started with sustainability, be clear on what you stand for, understand what your audience cares about, and review how your business lives up to this. This covers everything from your office, resources, partnerships, packing and the production process.
Be wary of greenwashing i.e. not matching your claims with your credentials. This is a dangerous game to play and many consumers will turn their backs on those who spend more resources on looking green than actually doing their bit.
Second-hand is stylish and sustainable
As a more cost-effective way to support sustainable values, consumer demand for second-hand items is going to boom in 2023 and beyond.
The clothing market will continue to lead the way, which is no surprise with the increasing popularity of apps such as Vinted and Depop. However, the share of second-hand luxury and premium goods is growing and is expected to account for 5.7% of the overall luxury goods market by 2027.
For luxury brands, sustainability will be a huge focus in 2023 as most consumers don't see them as particularly sustainable at present.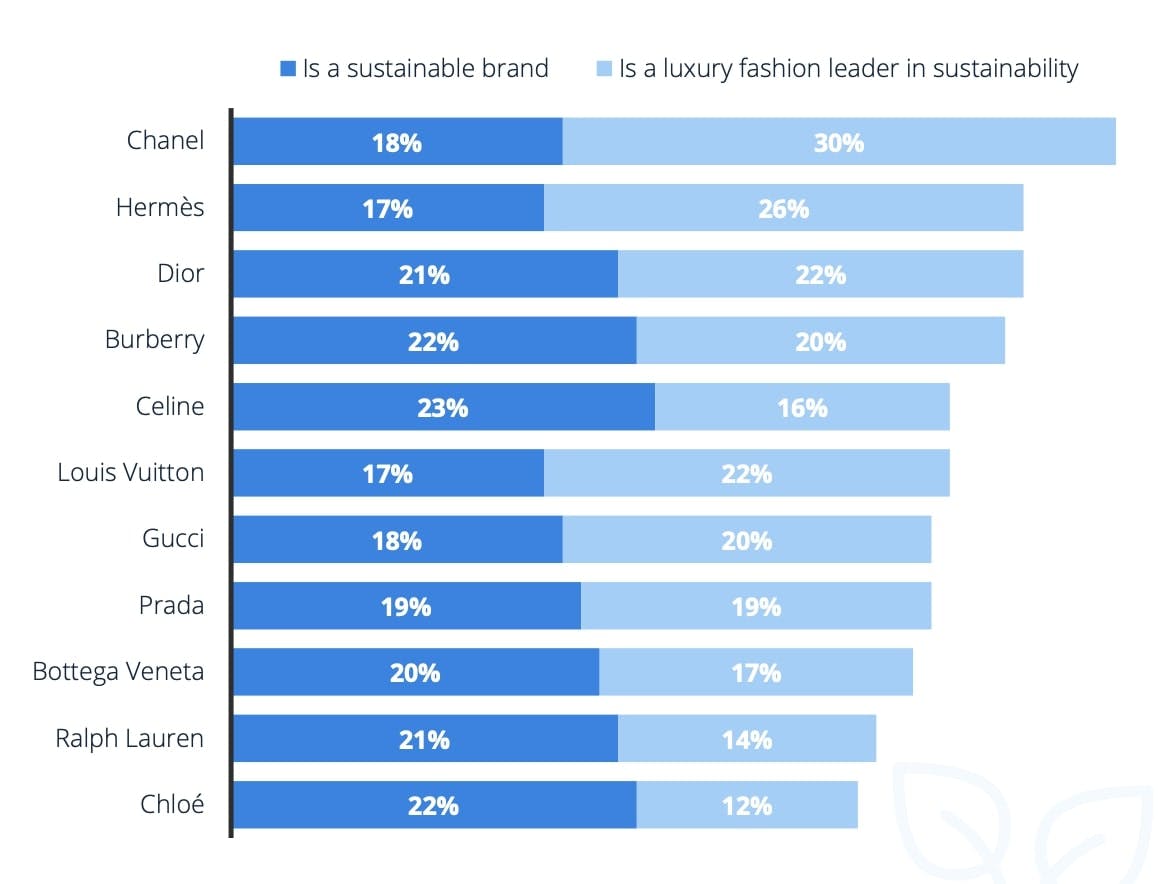 Last year, several major luxury brands launched their own second-hand selling programmes: Gucci Vault, Michael Kors Pre-Loved, Encore, Hugo Boss Pre-Loved and Valentino Vintage. Expect to see more luxury and high-end clothing brands follow suit.
Similarly, more businesses are expected to focus on moving towards a more circular business model in the next few years. With consumers searching for both sustainable and cheaper consumer goods, businesses are seeing how they can integrate circular aspects such as repair schemes, recycling points or second-hand marketplaces into their daily businesses. Alternatively, circular fashion businesses such as Thread up, Rent the Runway and Poshmark have entered the market and capitalise on consumers' changing attitudes to second-hand goods.
Consumers are also doing their bit to build a more circular economy. Many will continue to put more effort into saving products rather than discarding them and join online communities that inspire and share their repair ideas. Some are even forging their own side business by selling 'pre-loved' goods on popular second-hand shopping platforms.
By 2025, the worldwide revenue generated by second-hand, rental and refurbished consumer goods is forecast to reach approximately 712.74 billion U.S dollars, so it's definitely a trend to watch out for.
Help with the cost of living
Understandably, the majority (61%) of global consumers are extremely concerned about the cost of living crisis.
As a result, 73% of consumers surveyed said they will be making fewer impulse purchases and are re-evaluating which brands they are purchasing from, with many looking to own-label products as a cost-saving strategy.
Beyond controlling their own urges, consumers are expecting companies to help them through this difficult time. Seven out of 10 customers expect companies to make discounts on essential items, with larger discounts expected for loyal customers.
While this might cost retailers in the short-term, there is likely a long-term reward on the cards as 78% of consumers said they will be more loyal to brands in the future if they help them now.
But rewarding customers doesn't have to be just about discounts, and in the current climate, this could be a risky move for your business. Instead, consider the occasional free item or the launch of a loyalty scheme.
Historically, loyalty schemes have proven to be a successful tactic for businesses during an economic crisis. Between 2007 and 2009, their usage grew by 19% and during the pandemic, 62.1% of businesses said loyalty programmes kept their customers engaged.
So how can you give back to your consumers without discounting?
According to a recent report, some of the best loyalty programmes that go beyond financial rewards are:
Starbucks Rewards

Earn stars for every $1 spent and can be redeemed using one of their five reward categories. Each category has a different reward based on the number of stars the customer has. At the top is the 400-star signature Starbucks cup.
Receive a birthday treat and complimentary coffee and tea refills
Order ahead and customise drinks
Sephora Beauty

Members of the 'Beauty Insider' can share beauty advice, inspirations, and news and join challenges in real time
Birthday gifts, including gifts from coveted brands
Online and offline community events for top-tier members
Sephora flash (only available in the US) an annual 1-2 day shipping subscription
Amazon Prime

Free next-day delivery
Exclusive sale events
Unlimited access to streaming services within the Amazon ecosystem
Rewards for choosing 'no-rush shipping' where they are happy to wait up to 6 business days for an order
Emotional priming has been shown to create long-term growth and giving back to your customers in a time of need is likely to build positive emotions towards your business.
With the recession predicted to last for the whole of 2023, consumers will spend the majority of the year actively looking for brands that are providing them with more value.
While this will make the market competitive for retailers, those sharing the right offer, at the right time, could gain valuable customers for life.
Browse, discover, buy
Recent data released by Google suggests that consumers are using online channels to window shop. Generic search terms such as 'best couch' or 'dewy foundation' are reportedly growing faster than branded queries, indicating that brand loyalty is on the decline.
With access to more information across different channels, consumers have a growing desire to 'inspect before they buy'. Last year, there was a 40% increase in searches for YouTube videos containing the word 'review' and brands leveraged a combination of image, video and Google Search ads to build a 360 picture of their products.
But they aren't sticking to just one channel. Before heading in-store, data released by Google states that more than half of young people look to social media platforms such as TikTok and Instagram for inspiration and information.
To capture your customers as they browse and discover, omnichannel shopping experiences will be imperative to move them along their journey to buy.
New Year, new indulgences
The cost of living crisis will not stop consumers from treating themselves completely, their priorities will simply change.
Consumers will indulge in more budget-friendly rewards that still have a feel-good factor, like clothing and makeup, both products that saw sales increase during times of recession.
During the 2001 recession, Estée Lauder noticed an uptick in its lipstick sales which even reflected consumer behaviour during the Great Depression in 1929 – 1933. From this, the "lipstick index" was created and continues to correlate lipstick sales with the health of the economy.
According to GWI, we are expected to see a similar trend in 2023. Consumers are living up to the idea of 'looking good, feeling good' with health, personal care and clothing items amongst the top five treats for consumers across all generations.
Immersive and personalised shopping
For ecommerce stores, the 'try on' concept is becoming increasingly popular, allowing consumers to virtually try clothes on or see what a sofa would look like in the corner of their living room. For both brands and consumers, such features continue to help to remove barriers to making an online purchase, or even reduce feelings of purchase regret, both of which may result in a lower return rate.
The trend of using this technology also plays into the desire for experimentation. Consumers are excited by brands providing AI and VR-based experiences that support their drive to temporarily try something new.
However, as with anything that proves to be popular, brands must remain vigilant about AI apathy and the practicality of providing their customers with these immersive experiences.
When approaching AR, be sure that you always keep the 'why' in mind.
Don't feel the need to jump on this trend if you're not able to provide your customers with a practical, high-quality experience that is not only memorable but also something that they would want to experience again.
Ensuring the experience is high-quality could require significant resources in terms of time and money. Always keep in mind the goal you're trying to achieve and what impact it will have on your business growth.
Personalisation is also being driven by technology. Consumers are understanding the power of these technologies and are fast expecting retailers to know exactly what is best for them.
In the skincare industry, consumers want access to products that can enable at-home treatments specific to their needs. Major beauty brands are currently investing in technology that enables them to provide personalised products based on factors such as hormones, genes and skin conditions.
In the food and healthcare markets, personalised workout programs, food boxes or supplement packs that support dietary or nutritional needs are becoming increasingly desirable.
While personalised experience is essential for many, businesses should always carefully consider what level of personalisation is required in order to manage consumer expectations and resource investment. To achieve this, you have to go back to really understanding your customers, their journey and your overall goal.
Consumers are smart, and as buying power increases with the more digitally-driven generation, the expectation for an immersive and highly-personalised experience will only increase too.
---
If you have any questions about what is covered in our blog, feel free to get in touch! Or check out our other digital marketing blogs for more insights.
---