With SEO and CRO both being primarily involved in improving your website's performance, it can give you a real competitive advantage to understand why these two digital marketing practices are so complementary and why you should invest in them both for more impactful organic performance.
While both processes ultimately look to increase revenue from your owned media, how they accomplish this macro objective is different, with each having their own distinct set of KPIs. Interestingly though, once you unpack these, it's important to note how they can then align.
SEO vs CRO: different yet mutually beneficial
SEO increases your website's performance by acquiring organic traffic via search engines. It achieves this through SEO strategies rooted in on-site and off-site tactics. CRO then works to leverage this traffic. It tests customer journeys before proposing more optimal routes towards a conversion, thus increasing your revenue.
Let's break this down further.
SEO understands the needs of your audience, tailors content around this and uses this approach to influence KPIs such as visibility and click-through rate (CTR) from organic SERPs. An increase in revenue is therefore attributed to the subsequent increase in organic traffic and feeding this element of the mix through your conversion funnel.
Granted, SEO can indirectly improve other KPIs like conversion rate to influence revenue, from tactics rooted in content and page speed optimisation, for instance, but that isn't the practice's primary outcome. Instead, that's the job of CRO.
CRO uses the acquisition you have available to understand how audiences currently reach desired actions, typically associated with a product sale or a service enquiry. It then hypotheses, tests variants and learns from these iteratively to implement more optimal and conversion-centric pathways. Therefore, the core KPI is conversion rate, establishing a baseline for this before influencing its increase.
So, while SEO and CRO's core KPIs are quite different, the explanation above details how they're not actually conflicting towards your overarching objective. Instead, they can work in a mutually beneficial way.
Applying resources to both SEO and CRO, therefore, offers a more complete solution to maximising your organic revenue, where end-to-end KPIs are accounted for to reach your macro objective.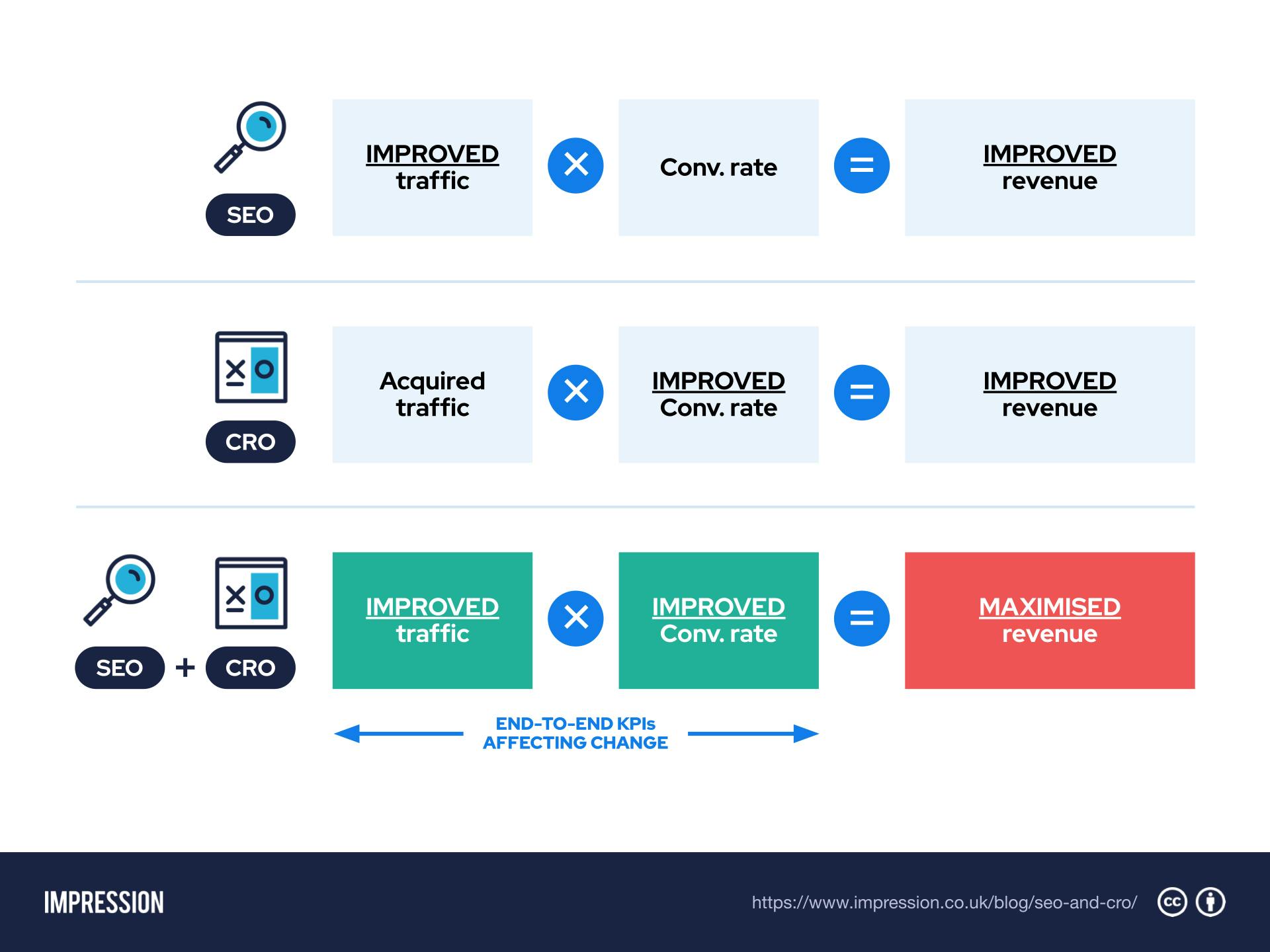 How do SEO and CRO work together?
Though CRO's relationship with SEO can also be applied to any other acquisition-based marketing activity, there are direct strategic benefits when conversion practices are coupled specifically with an organic growth strategy. These benefits are based on the search landscape and how Google has developed its search engine visually, algorithmically and strategically over the last few years.
By combining CRO with SEO, you can:
Offset the decline in organic SERP CTRs
Become more user-centric to align with Google's rankings systems
Validate changes to stakeholders with user data
Let's look to break these three considerations down.
---
Offset the decline in organic SERP CTRs
Google search has undoubtedly come a long way since the product was launched in 1998. From the creation of PageRank to its ranking algorithm now consisting of many AI-powered systems, Google has not only developed how to better understand and serve the intent of its users but also how to present this information via ever-evolving SERP features.
Though they're useful mechanisms for users to find the information they're looking for more quickly, it's largely accepted that these Google-owned properties, on aggregate, have distributed fewer clicks to publishers over time.
This is reinforced by analysing data from AWR's CTR study. By comparing 2022 to 2015, we can see how CTRs have decreased by ~4% across the first page of ranking results during that period.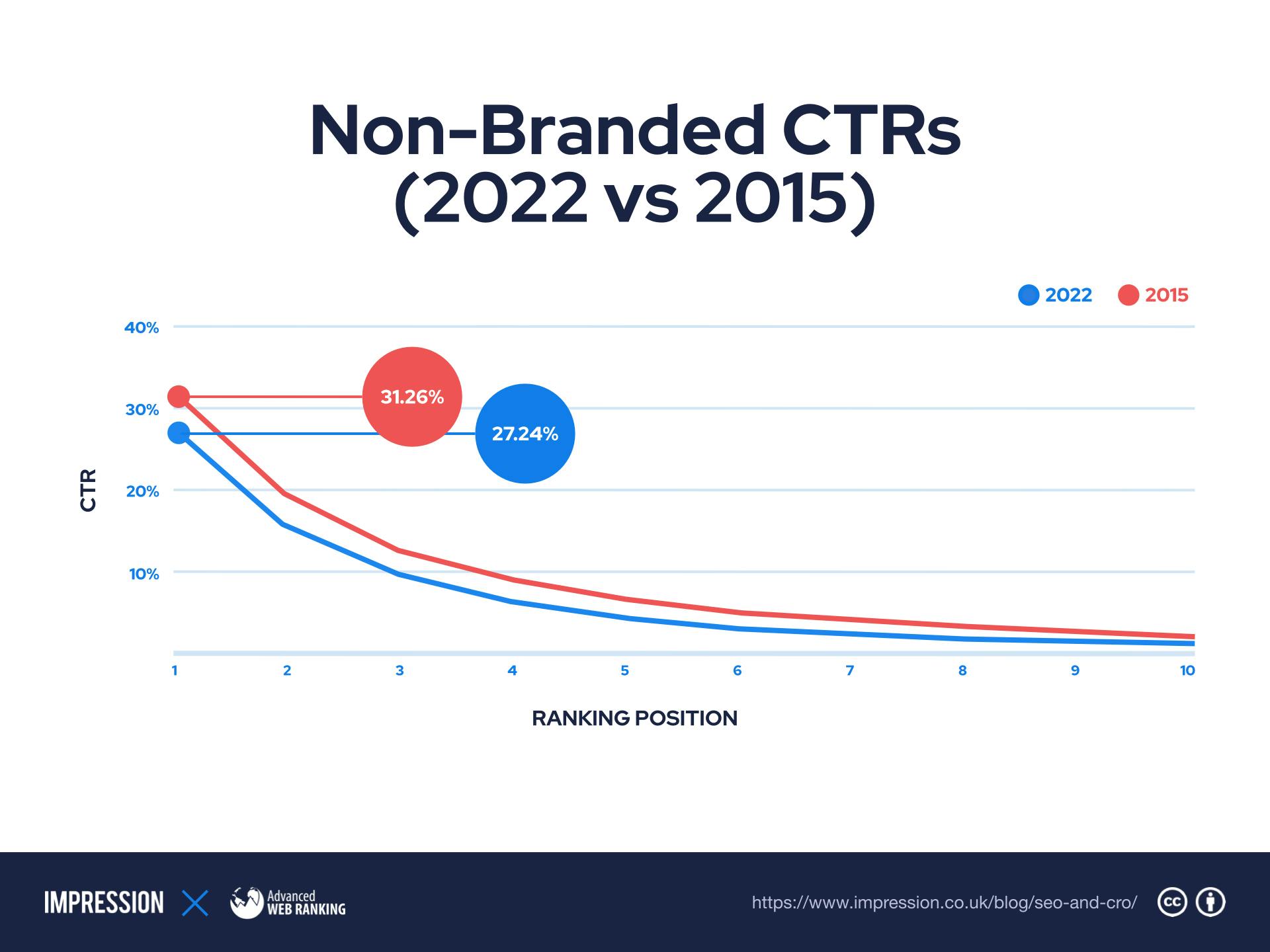 The solution? Businesses investing in SEO can use CRO to offset this decline in CTR. This will influence the subsequent traffic that is available, making it work harder to convert customers and reach your goals.
This strategic workaround is something that's supported by Will Reynolds. Catch him below, as part of Seer Interactive's Fireside Chat, where he discusses overcoming SERP 'distractions' with a CRO investment.
---
Become more user-centric to align with Google's rankings systems
Continuing on the theme of Google's development and how their search engine product has become more sophisticated, it's important to recognise its impact on SEO as a practice. Now, the accepted, modern approach to SEO is to tailor your strategy to your audience's needs rather than conducting the discipline to manipulate the search engine's algorithm.
This user-centric focus is supported across much of Google's documentation, including their Search Quality Evaluator Guidelines. Here, not only is the notion of 'user experience' explicitly referenced throughout the resource but how they refer to its importance when evaluating the quality of 'main content' is most telling.
Granted, the quality of your content's communication here is critical. There are also other tactics SEOs can adopt to improve page experience directly, such as those related to Core Web Vitals signals. However, improving user experience sits more within the camp of CRO & UX above all else, as these teams have access to the data to enable user-centricity.
CRO can support SEO by providing a treasure trove of helpful user information, especially in their research phases, to complement a user-focused on-page optimisation approach. This type of data can include:
Analytics reviews
Funnel tracking (to pinpoint drop-offs across the user journey)
Visual intelligence (via heat maps to understand how users are interacting with elements on a page)
Usability testing and surveying (to obtain qualitative and quantitative user insights through journeys; see types of user testing here)
Previous test data via A/B testing
Ultimately, believing your SEO efforts are user-focused without having access to user research to validate your claims is an inherently flawed belief. You need user research in your arsenal to fully consider the usability of your landing pages.
---
Validate SEO changes with user data
Some stakeholders, especially those less initiated to the intricacies of SEO, will care less about optimisations when the user and commercial implications aren't so clear – and that's okay. Communicating these benefits while accounting for SEO considerations can be a challenge, especially when long development queues and differing priorities are working against you, and this often requires experience to navigate.
Beyond forecasting and leaning on theory, experience and previous case studies, this is another area where CRO can help you. Leveraging their methodology to enable user experience insights is a helpful way to validate your SEO changes, helping you reinforce your proposals, secure buy-in from your stakeholders and demonstrate your strategy's overall impact and value.
To adopt this validation process internally, follow Impression's 5-step framework below: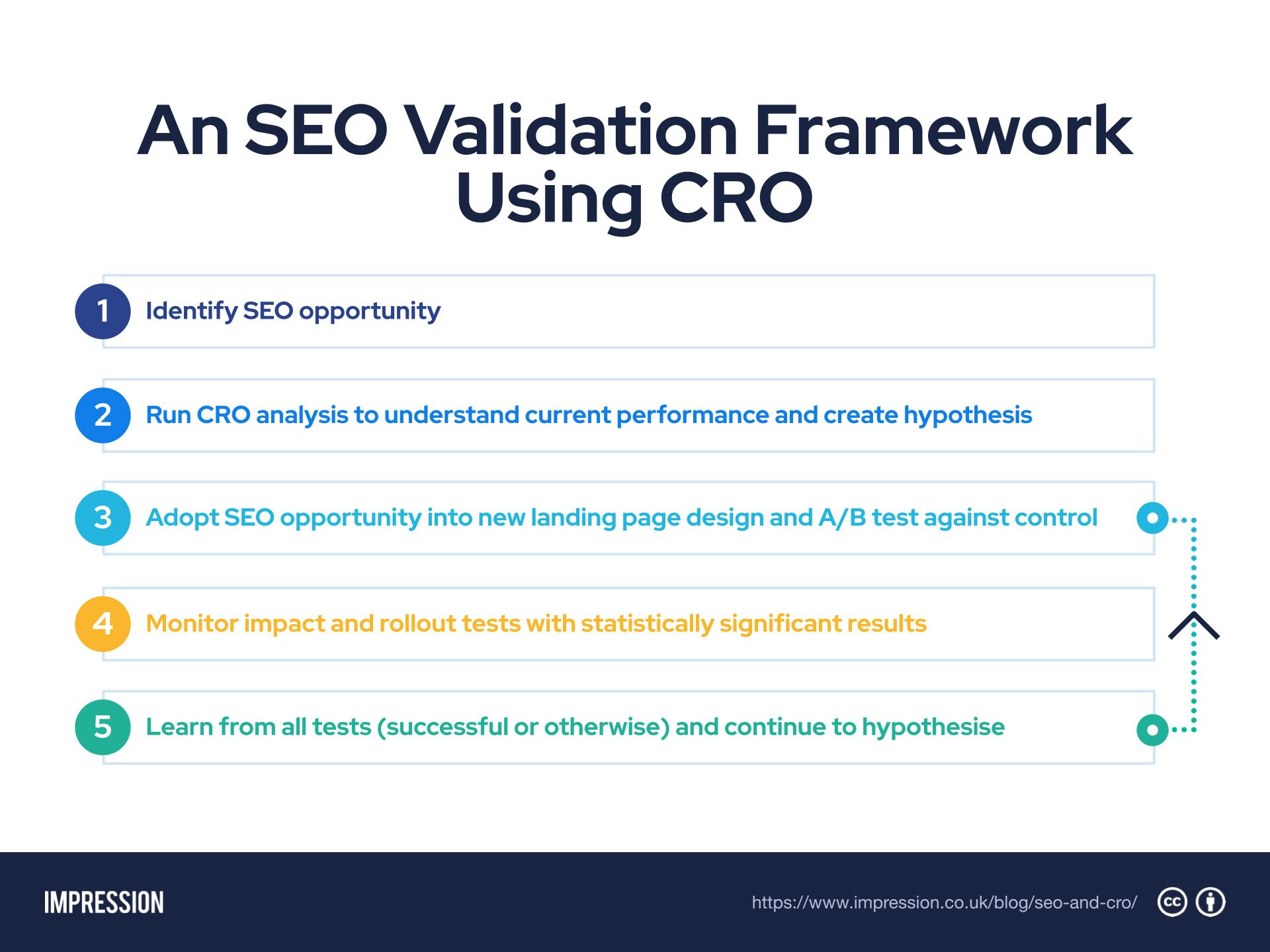 Though this doesn't work for technical SEO and metadata considerations (here, we'd recommend a solution like SearchPilot), it's certainly impactful for content improvements where almost any on-page element can be A/B tested:
Heading and subheadings
CTAs
Content layout and structure
Copy, video and images
Choices and journeys
Overall design
Final Thoughts (E-E-A-T)
As mentioned, utilising CRO as part of your SEO strategy matures your methodology and further rationalises the improvements you're looking to make – both for yourself as a digital marketer and for stakeholders. Above all else, it also makes your organic acquisition work harder amongst a competitive search landscape.
A final consideration that's arguably the most significant is the output you're looking to achieve and why SEOs do what they do. And that, right there, is the clincher: E-E-A-T.
Everything an SEO does needs to be underpinned with communicating experience, expertise, authority and trust, as these are the considerations most impactful to users and showcasing to search engines that your brand, business and site are worth their salt.
Though E-E-A-T isn't an explicit term shared with the CRO community, the essence of what it's looking to capture certainly is.
CRO inherently looks to surface these qualities across sites as it recognises their power in influencing audiences and conversion. Whether showcasing experience and expertise through evaluating value propositions, or authority through social proofing, reviews and testimonials, CRO, like SEO, also wants to communicate trust above all else.
With both practices hinged on showcasing E-E-A-T, having them work in tandem can be a powerful tool for your organic success.
How else does CRO complement SEO? Let me know your thoughts on LinkedIn or Twitter!
Images licensed under CC BY 4.0
---