How can your brand stand out amongst its competitors in the fast-paced social media environment?
It begins with developing a strong understanding of competitor activity and using these insights to inform and enhance your campaigns. In this blog, we'll be exploring which social listening tools you can leverage to analyse your competitor's ads, and why you should be using them to enhance your paid social activity.
---
---
Keeping on top of competitor activity
As marketers, we are faced with increasingly limited targeting options available on paid social platforms and there is likely an overlap between your target audiences and your competitors'. Identifying and leveraging trends via analysis tools can be crucial to making the most of these audiences and getting the upper hand.
Investigating competitor activity can appear overwhelming, and with hundreds of ads across a growing number of platforms, identifying where and what to look for may be dismissed as an inefficient use of time. However, with many monitoring tools available to help streamline the process, you can reap the benefits of competitor ad analysis with minimal effort.
What is social listening?
'Social listening' refers to the wider practice of cultivating an understanding of how a brand is positioned within the market based on ongoing analysis of data and conversation in online spaces. Since this is a very broad definition and can encompass many things, we'll focus on social listening for competitor analysis as part of a paid social strategy.
Different social listening tools
You don't need to look far to find social listening tools that can be incorporated into your paid social strategy. Platforms are offering an increasing number of native social listening solutions and transparency tools which can be accessed for free – examples include:
Meta in-feed transparency information
LinkedIn profile 'ads' filter
Ad Libraries
Native ad libraries allow you to search for ads by brand. Currently, both Meta and TikTok offer an ad library as part of their transparency tools. It's also possible to search using keywords, which makes these libraries useful for identifying who is prominent in your market.
Native ad libraries offer varying levels of detail about each ad:
TikTok
Provides a significant amount of information, such as age, gender and location targeting as well as target audience size and reach.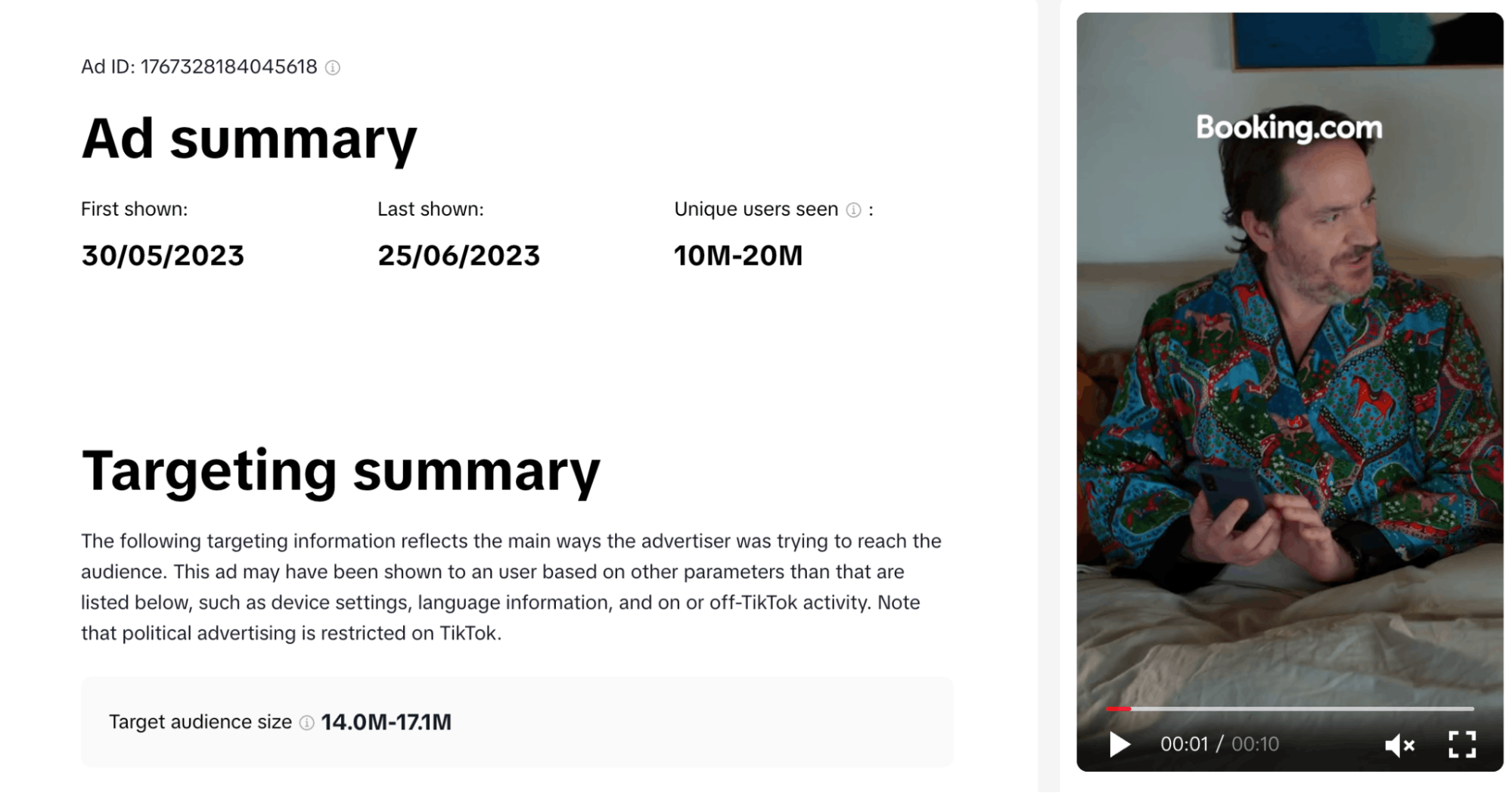 Meta
Provides less detail, but does allow filtering by active status, language, and media type for both Instagram and Facebook competitor ads.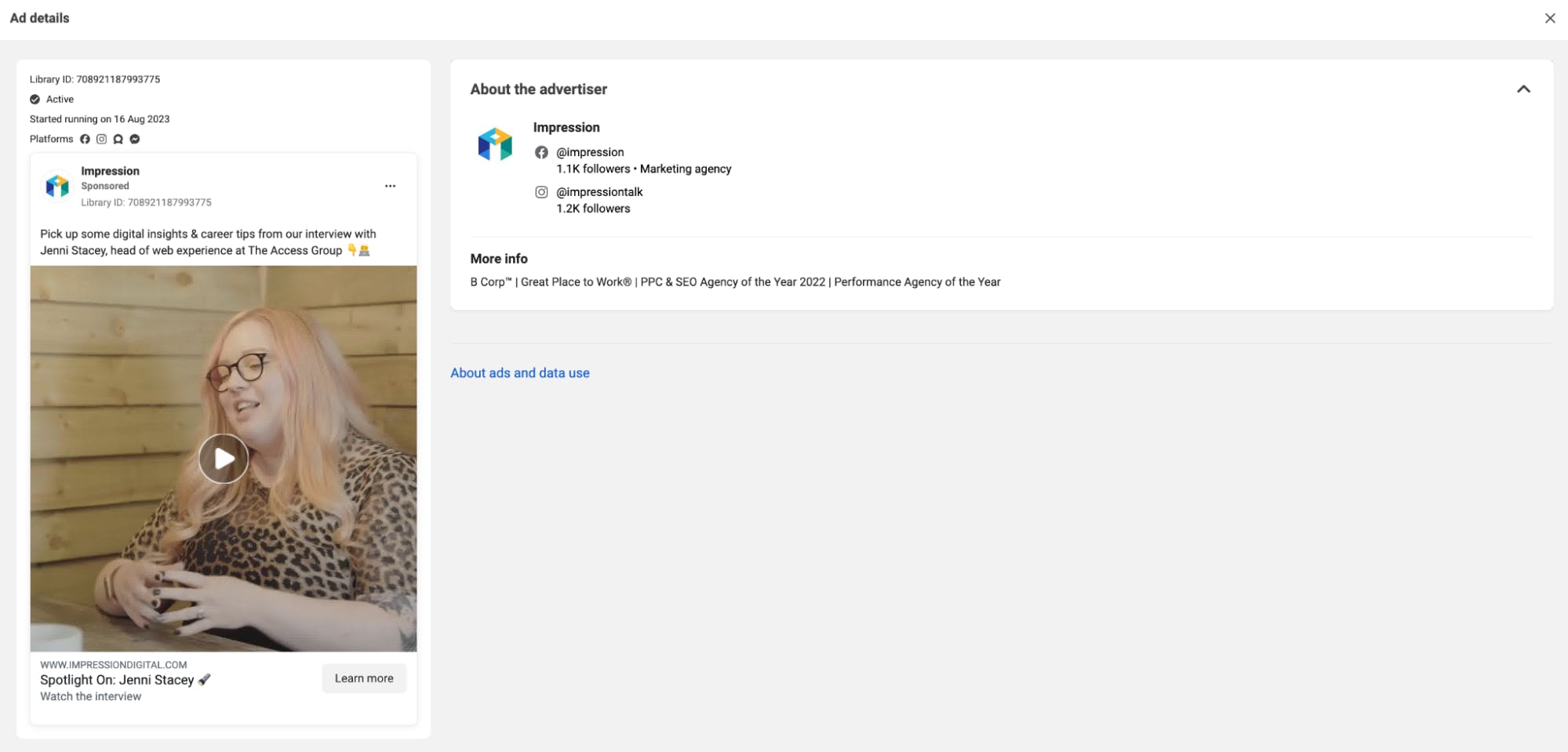 Whilst it does not provide a fully searchable library, LinkedIn also allows you to view others' ads, which can be enough to gather surface-level insights.
Many platforms also have additional in-feed transparency tools intended for users which can help draw insights. For instance, if you see a competitor's ad on your Meta feed, by clicking 'Why am I seeing this ad?' you can uncover more information about competitor targeting from within their audiences, however, this isn't available when searching in Ads Library.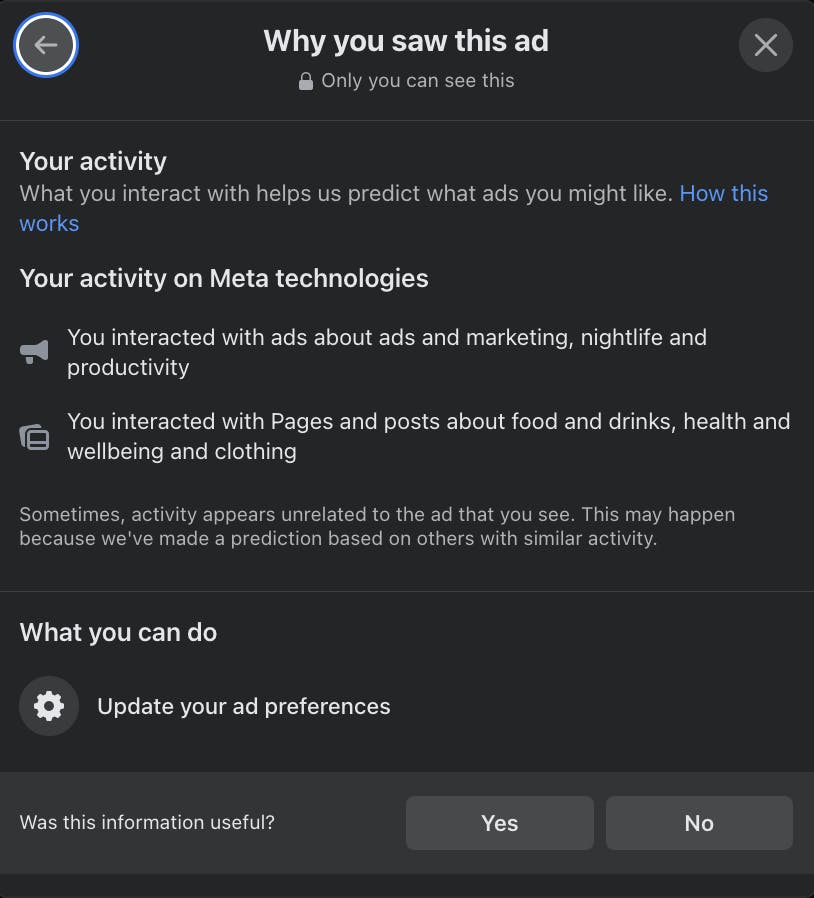 How can this information be helpful?
A quick search across these in-platform libraries and transparency tools may not reveal in-depth data or statistics, however, in most cases, it's enough to get an overview of what kind of creative and messaging is performing the best for your competitors. You can also see the offers they are promoting, and in some cases which funnel stages or audiences they're targeting.
The information which is provided, such as creative, reach, CTA, and audience targeting can help you gather a reasonable level of detail about your competitor's strategy.
Putting together a simple document listing competitors' ads and any available details you can uncover goes a long way towards having a bank of insights and ideas – which can then assist you and your team when creating paid social activity.
Alternative tools
If the information offered by the platforms themselves feels too limited, there are a variety of third-party tools you can leverage to build on the data you've already collected, such as:
PowerAdSpy – offering visibility and breakdowns of competitor ads across a range of platforms including Facebook, Instagram and Youtube
Similarweb – breaks down the sources of social media traffic to a site, allowing marketers to build a picture of which platforms competitors could be running paid ads on
External social listening tools can come as both free and paid services, and can often offer a greater level of detail than native transparency tools. They can also offer cross-platform data which saves research time and build a broader picture of competitor paid social activity.
Putting your analysis into action
Once you have used these listening tools to build a picture of your competitor's strategy, you can start determining how you can apply your findings to enhance your activity.
Consider where you can take advantage of trends in campaign structure and creative design and where there are gaps that your brand can fill. Recognise what target audiences respond to the best. 
Develop a strong sense of what is and isn't working within your market, put your learnings into action and begin testing your competitor's findings against your strategy, whether that means designing new creative or implementing a new campaign structure.
Lastly, keep in mind that competitors don't always get it right, so exercise caution and implement split tests – you're looking to learn from their successes without inheriting their mistakes.
For more insights into how to level up your paid social strategy, check out our other paid social blogs or talk with one of our team.
---