March saw the rollout of another core algorithm update, which has now officially been completed. In this article, we've covered the impact of this latest update, as well as the winners and losers. Amongst this major update, we've also covered other topics such as new improved search features, the countdown to GA4 and guidance on nesting structured data.
Our traffic light system will help guide you to the articles that need your greatest attention. Watch out for red light updates as they are major changes that need you to take action, whereas amber updates are certainly worth knowing, but aren't as urgent as red updates. And finally, green light updates which are great for your SEO and site knowledge but are less significant than others.
Keen to know more about any of these changes and what they mean for your SEO? Get in touch or visit our SEO agency page to find out how we can help.
---
Google rolls out March 2023 core algorithm update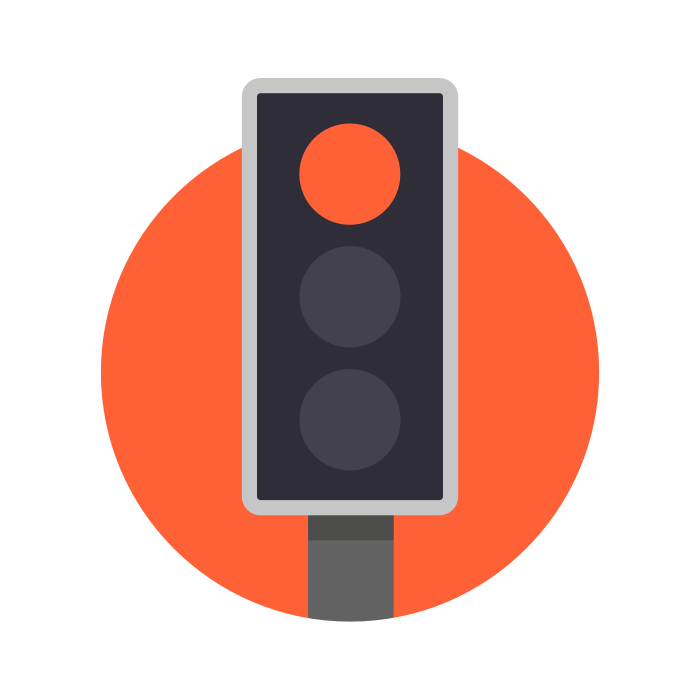 Google's Core update was a key algorithm event in March, with the update starting on the 15th and completed 13 days later on the 28th. Core updates can lead to critical changes in the organic visibility and performance of sites, which can in turn impact traffic, conversions and revenue.
Who was impacted?
The table below from Similarweb shows how primary and secondary categories of domains have been impacted by this latest algorithm update.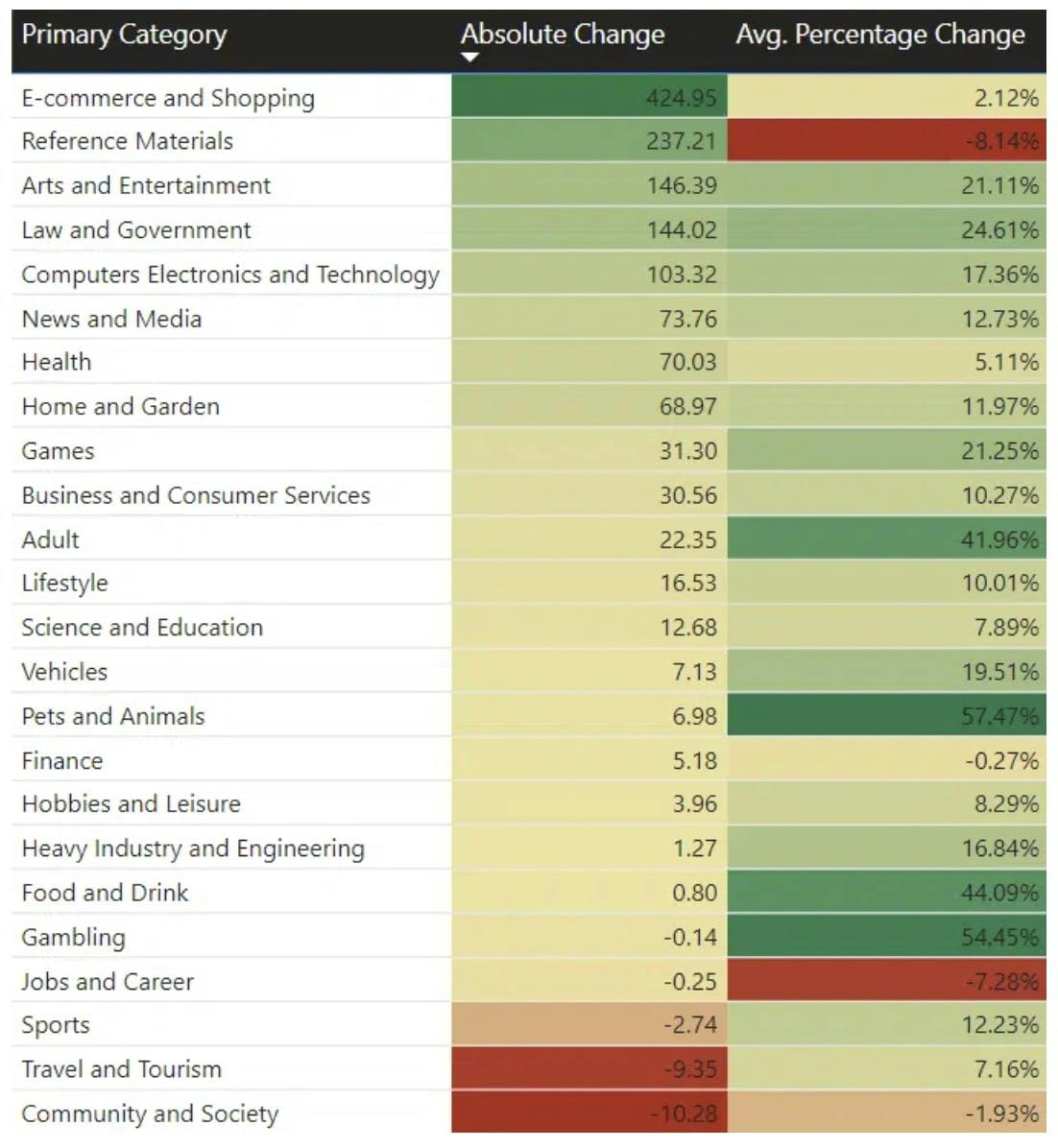 As you can see, ecommerce and shopping organisations saw the most absolute change, due to huge players like Amazon and eBay seeing large improvements in visibility. However, food and drink, along with pets and animals, saw large average improvements across the board.
When are you most likely to see changes?
With Core updates it's likely you'll see ranking fluctuations throughout their durations and shortly after they've been completed, as Google recrawls and reranks sites based on these changes.
The below graph from Semrush shows how volatile the SERPs were over the period of the update. As you can see, there was a spike in volatility on March 16th which then began to normalise by March 18th. If you have noticed traffic fluctuations during this period, the volatility from the algorithm update is a likely culprit.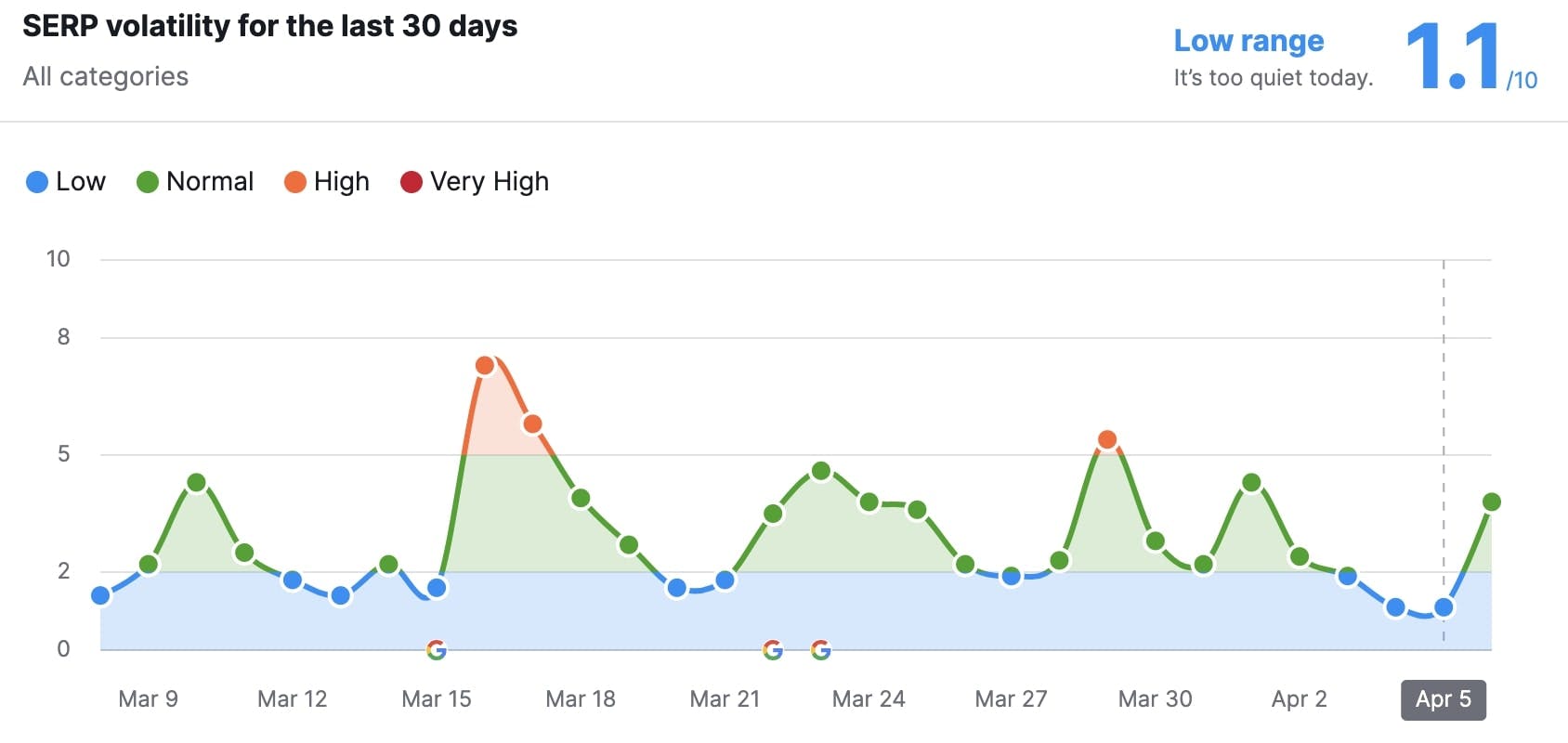 As Google further focuses on E-E-A-T, business owners, copywriters, SEOs and bloggers like us need to bring our attention to satisfying all the elements when creating content, especially when it comes to trying to avoid impact from algorithm updates. Those elements are:
Experience: Content produced from real-life experience e.g. information about a country from someone who has been there.
Expertise: Knowledge of the subject that is easy for the reader to understand.
Authoritativeness: Authority on the topic and a good reputable source.
Trustworthiness: The legitimacy and transparency of the content and site.
For more information and guidance, check out our guide on how to boost E-E-A-T.
---
Google rolled out new site names, favicon and featured snippets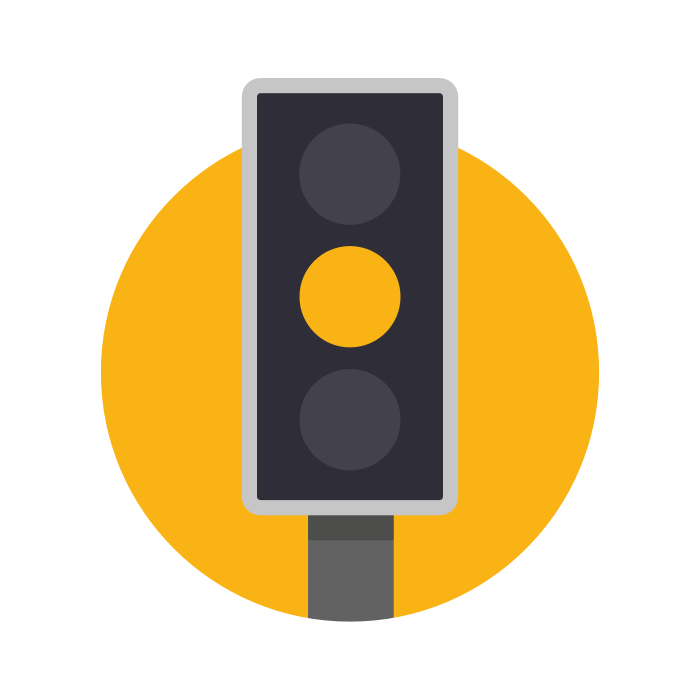 Google has rolled out new site names, favicons and featured snippets on desktop search after introducing these features on mobile search in October 2022. Google experimented with the desktop adaptation from last November, onwards, and now it's available officially on desktop and mobile search.
New site names & favicon
The first change to the appearance of desktop search results is that the site name and icon (favicon) now appear at the top of each result card, giving users a better sense of the source of the information they're seeing.
For the favicon, Google has created some favicon documentation that may be useful to get the best out of your favicons in search. Google is now also suggesting you provide an icon that's at least 48 pixels and follows the existing one.
Read our guide on last year's changes to favicons for more.
Featured snippets
This month, we saw the addition of blue highlighted text to featured snippets. According to Google, the blue highlight will only appear on the text that matches the user's search query, and it won't change the ranking of the featured snippets.
It's an effort to help users understand the context of the featured snippet and make it clear that it is an algorithmically generated answer, rather than an editorial or authoritative source. However, this is currently available only in English language searches on desktop and mobile devices, and it won't change the ranking of the featured snippets.
What does this mean for me?
It's important to evaluate how the changes in Google Search and design affect people's search results clicks, as reflected by click-through rate.
Check out Google Search Console and figure out if altering your site name/favicon can bring an improvement to the rate. These are modifications that have been offered on mobiles for a while and yet when it works it positively affects desktop research too.
---
Countdown to GA4: The switch is on it's way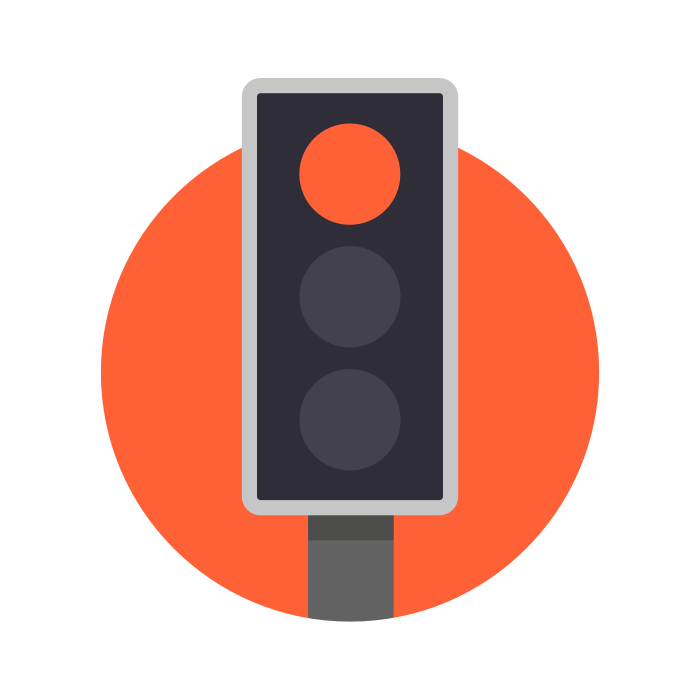 If you didn't know already, there are now less than 90 days until the launch of Google Analytics 4 (GA4) on July 1st 2023. The current version of Google Analytics, Universal Analytics (UA), is being phased out, and businesses need to switch to GA4 to continue to receive support and updates.
GA4 offers new features such as:
Cross-device tracking – built for web and app
Enhanced reporting capabilities
More powerful data modelling
Machine learning capabilities
By making the switch, businesses can take advantage of these features and gain deeper insights into their customers and their behaviour.
Making the change to GA4 may take some time and effort, as businesses will need to update their tracking codes, configure new settings, and potentially adjust their data collection and reporting strategies.
Why is it important to make the move now?
There are a few important reasons to make the move as soon as possible, including:
Get comfortable with GA4: It is a completely new platform with different tools and capabilities. It will take time to become familiar with them so businesses should set up their properties as soon as possible.
Having historical and comparative data: having this data between analytics is also crucial to the success of business.
Establishing two ways of analysing data: by running one property in UA and the other via GA4 is insightful, especially in cases where the former method was utilised previously in great detail.
We have a blog discussing all things GA4, including why it's changing, differences between the interface and what this means for marketers, all to prepare you for the launch. If you have any further questions about GA4 and how we can support you, get in touch!
---
Google explains why sites should combine structured data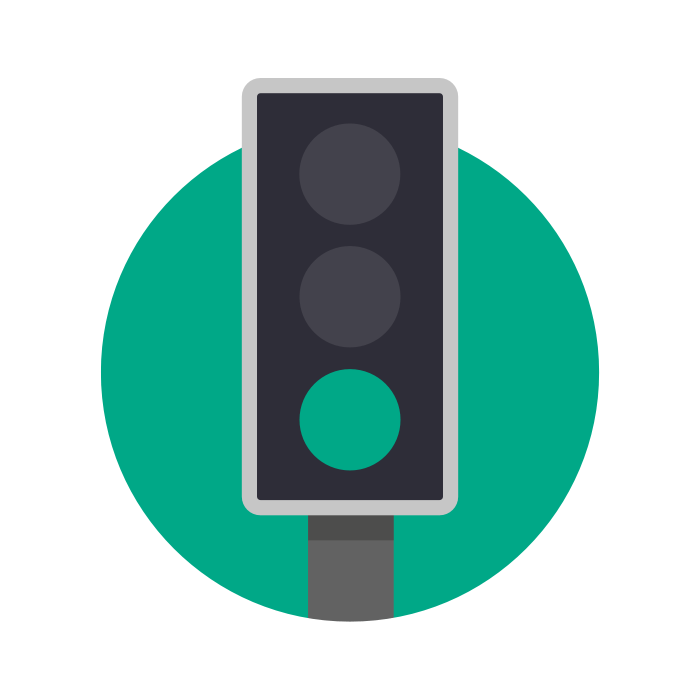 Structured data is the standardised way that we classify information on a webpage, also known as schema markup. This month, in a Google SEO Office hours session, Lizzi Sassman answered whether or not it's okay to combine different structured data types, and if it's better to combine them.
The answer is yes, you can. In Search Engine Journal's article about this, they highlight that combining structured data is called nesting, and it can be beneficial to nest two pieces of structured data together.
What is nesting structured data?
On a webpage, structured data begins by stating what the main structured data for the page is. With nesting, you can add other structured data types within this main type, helping to give a better classification of the page.
Lizzi Sassman gave a good example of why this might help Google get a better understanding of the page:
"Yep. Nesting your structure data can help us understand what the main focus of the page is. For example, if you put recipe and review at the same level, it's not as clear as telling us that the page is a recipe with a nested review. This means that the primary purpose of the page would be a recipe and that the review is a smaller component of that."
By combining the structured data, it makes it easier for Google to 'focus' on what the webpage is about, rather than seeing two separate pieces of structured data.
What does this mean for me?
If the page you're wanting to optimise with structured data has two or more schema markup types, such as Product and Review schema, it's recommended that you nest them to better communicate the purpose of the web page to search engines, making it easier for them to crawl and index the page.
When working with a developer to optimise a site's structured data, you may want to tell them that you'd like to nest the structured data, and why this would be more beneficial to the site than keeping them separate. If you want to hear the original discussion about nesting structured data, listen to the SEO Office Hours session from the 14:58 mark.
---
Five new ways to verify info with Google Search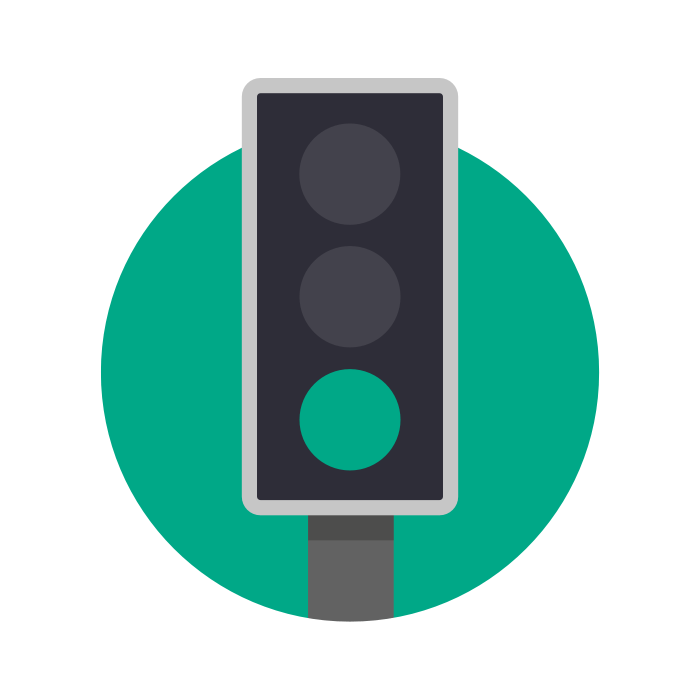 From releasing a Helpful Content Update last August, to updating their E-E-A-T guidance at the end of last year, we know that Google is improving the way that they deliver high-quality, valuable information to users.
In this latest Google blog, they highlight that verifying and fact checking the vast amount of information on the web can be overwhelming. But they also highlight that there are many different ways to verify the information you find on search engines, including some of Google's own specially built features to do this.
How can we better verify information in search?
In the article, they discuss five beneficial ways to verify information within search, including:
About this result: By clicking on the three dots next to a search result, users will be able to see a pop up that helps them learn more about where the information is from, and how Google determined it would be helpful to the users.
Perspectives on Top Stories: With Top Stories, Google has launched a new feature called Perspectives; it's a carousel that gives insights from a range of experts, journalists and other complimentary trustworthy sources.
About this author: Within the 'About this' result discussed above, Google has added in an 'About this author' section, which gives readers more information about the background and experience of the author of the result.
About this organisation: When it comes to searching organisations, Google has made it easier to see their information. When users type an organisation's URL into the search bar, information from the 'About this' result will populate at the top of search.
Spotting gaps with content advisories: Google have recently launched 'Content advisories', a pop up at the top of the results that triggers when Google doesn't have high confidence in the quality of the results they're delivering.
What does this mean for me?
Although this doesn't directly impact how SEOs optimise content for search engines, it does call attention to how Google is changing the way it delivers results to users. You may want to think more about how the content you or your client is creating offers valuable, trustworthy information to users.
For example, including a widget on the authorship of the page, structured data on the Authorship of the page, and having a detailed and up to date About Us page are all great ways to show that your information is trustworthy.
---
Keep up-to-date with our dedicated algorithm and search industry round-ups. For any further information about these posts – or to learn how we can support your SEO – get in touch today.
---