Whilst SEO (search engine optimisation) is an ever-evolving, complex field, it's an essential element of a fintech marketing strategy. To help your brand increase its organic visibility, long-term attention should be paid to optimising your website's content, structure, and on-page elements like titles, metatags, and anchor text, as well as developing off-page SEO tactics like link building and social media engagement.
How do SEO strategies for fintech companies differ from other strategies?
SEO can help fintech businesses meet the following KPIs:
1. Increase traffic to the website
2. Help rank higher in search engine results
3. Increase the visibility of the brand
4. Help generate leads and sales
Much of Fintech SEO overlaps with ordinary SEO strategies; however, there is often heavy investment in content strategies that tackle the pain points of the business' target customers.
It's not reinventing the wheel, but like any industry we need to deploy the strategies and tactics that best help meet the required KPIs.
It is also worth noting that fintech website will be subject to high quality rating standards due to being in a YMYL industry.
What does YMYL mean?
YMYL is an acronym that stands for "Your Money or Your Life." It is a description of the type of content that influences a decision relating to someone's money or their life. Google has high Page Quality rating standards for businesses operating in YMYL industries because of the potential negative impact of low quality or misleading content.
Businesses operating in health, insurance or general finance are subject to YMYL quality rating standards, hence why it is a consideration for fintech companies.
Tips for building SEO strategies for fintech
1. Research your keywords
Before you can optimise your website for specific keywords, you need to first identify which keywords are most relevant to your business. This can be done through keyword research, which involves using tools like Google Ad Keyword Planner and Google Trends to identify popular keywords that are relevant to your business.
This is a crucial part to any fintech SEO strategy, as it will dictate the direction of the strategy and the success it will bring. For more information on keyword research, my colleague Jonathan has written an in-depth guide to keyword research for SEO.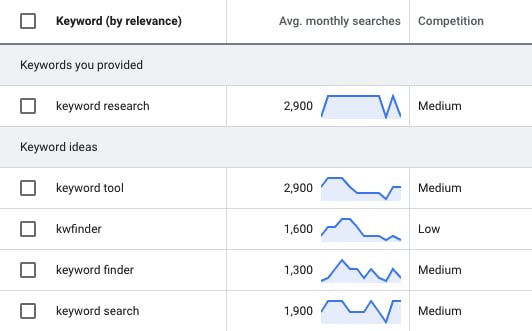 2. Create a keyword targeting map
The next step is creating a keyword targeting map that can be shared with key stakeholders so that everyone has visibility on how keywords will be targeted across the conversion funnel. Group your keywords into categories, where each category of keyword has a landing page attached to it.
3. Create a content strategy tackling user pain points
Fintech SEO strategies should include a top-of-funnel content strategy to tackle the pain points of your target customers. The goal of this content should be to drive traffic, but more importantly you need to build trust. The goal shouldn't be to drive low-intent traffic for generic queries such as 'what are prepaid debit cards', but rather provide a solution to their complex problems to encourage them to enquire with your products and services.
Carry out customer research by either speaking directly to them or speaking to customer-facing members of the team. Understand who your customers are, their pain points, the different ways your product or service can help them and how it differs from the competition.
Use this information to work out which queries your audience would use to find solutions to their problems, and carry out competitor research to understand how you can provide the best answer to acquire them as customers.
4. Optimise your content
Now that you've laid the foundations for SEO success, it's time to optimise the site. Produce well-researched and structured landing pages that satisfy user intent while promoting your USPs. Optimise your metadata, invest in your image SEO and build top-of-funnel content that grows brand awareness and converts visitors into customers.
For more information on SEO optimisation, my colleague Ben has created an excellent beginner's guide to SEO.
5.Implement schema markup
Schema markup is a type of structured data involving code written in a specific format. Schema is used by search engines to gain a better understand of the data provided in a webpage, which can enhance its understanding of the site as a whole and sometime encourage it to display 'rich' listings, such as review stars or FAQs.

The most common schema markups include FAQ, Reviews and Organisations. However, there are specific markups to finance businesses, including:
https://schema.org/FinancialProduct
https://schema.org/BankAccount
https://schema.org/CurrencyConversionService
https://schema.org/InvestmentOrDeposit
https://schema.org/LoanOrCredit
https://schema.org/PaymentCard
It is also worth marking up the authors of your articles with SameAs schema, especially if they are well-known figures that are listed elsewhere. This can help the website satisfy the high quality standards of YMYL sites.
6. Promote your content
Good content will often rank and drive traffic and conversions by itself. However, it is always a good idea to promote your content to maximise its reach. Work with your internal team to create a distribution plan, which can often include social media posts, email marketing and PR campaigns. Try to create a plan for each quarter that aligns with the production timelines of your content so you have a regular stream of articles and guides to promote to your growing audience.
7. Build backlinks
Building backlinks is as important as ever. Though the success of your fintech site does not rely on links, a solid link acquisition strategy certainly helps fast-track growth. Take time to build relationships with journalists and outreach to them to see if they would consider featuring your business or publishing a piece of content you've recently written.
8. Measure your content
Finally, it is important to measure the impact of your on-site and off-site work to see what works and what doesn't. Test different approaches and regularly update key stakeholders on your findings. Don't be afraid to restructure your site or re-optimise a page if hasn't started gaining traction after several months. The key thing is to always be learning and applying what you've learned to other areas of the site so you can see exponential growth.
---
Want to stay up-to-date with the world of SEO? Head over to our blog where we regularly publish updates on announcements, news and strategies that are shaking up the industry.
If you have any further questions about fintech SEO, you can always get in touch, we'll be glad to answer any questions!
---