Subscribe to RankUp on Spotify | Apple Podcasts | Google Podcasts | RSS
Mental health is a vital conversation topic in any industry, especially given the challenges thrown at us by COVID-19. SEO is no different, with imposter syndrome, performance expectations and the stresses of remote work just some of the strains commonly felt by people working in our industry.
Ryan Darani, our guest on this episode, is keen to keep people in SEO talking about mental wellbeing and working proactively as a community to make our workplaces and working lives healthier.
Join us as we talk to him about SEO's unique challenges, share some of our own experience about mental wellbeing in the industry, and discuss some of our thoughts as regular SEO workers (not medical professionals!) on ways we've found of protecting our mental wellbeing when things get tough.
As always, you can listen to the interview right here on this page or on any podcast player of your choice. Or, if you want to see a few key points, keep reading for highlights of the interview. You can also follow all of us on the podcast on Twitter, at @SearchForRyan, @EddJTW and @BenJGarry, or find out more about Ryan's freelance work at ryandarani.com.
Introducing Ryan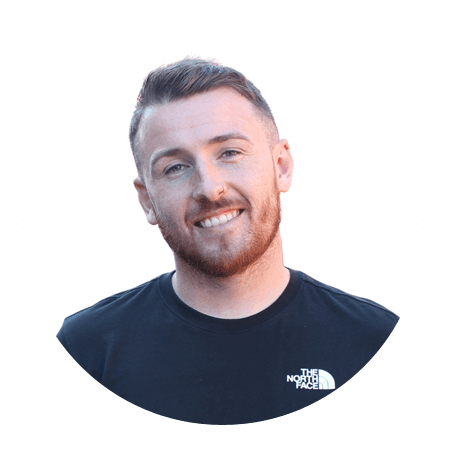 Ben: How did you get to where you are in SEO today?
Ryan: The first introduction I had to anything digital marketing related was the Google Squared course, back in 2014/15. It wasn't SEO specific by any means, but it gave me an insight into how businesses cope online. I did that course while I was employed in-house at an insurance company.
And initially, it was very much, "Okay, you've done this course, let's do some paid advertising." So I was going that for a year or so and during that time I was learning very quickly, because back then it was quite easy to earn these things. And I was like, "I needed a different challenge."
I knew I wanted to stay in that realm, so I dipped my toe into the water of SEO, knowing nothing about it. I kind of blagged my way into the position in-house, and I fell completely in love with it. I was utterly obsessed. And through pure obsession I earned as much as I humanly could within 6 to 12 months, which allowed me to move into quite a well known agency.
Within the agency I was promoted quite quickly, and I stayed for two and a half years. Then I thought, "You know what, I enjoy doing this for businesses and I love what I do. Let me see if I can do it my myself." And…I started my consultancy back in September 2020, and it's been a complete whirlwind ever since.
Why should we be talking about mental health in SEO?
Ryan: For me, personally, it's something I'm very passionate abound, and have been affected by for a long, long time. In the early stages of trying to understand and manage my mental heath as a whole, I found that being able to feel comfortable enough to talk about it actually helped me out a lot.
Initially, I talked to my friends and my family. And then I thought I'd open it up on Twitter, engaging with people and learning about their experiences. It was something that, in SEO, I didn't see a lot of. People would touch on it a little bit, but I don't know if people were just uncomfortable or if there was an anxiousness about being fully open.
I'm not afraid of doing that sort of thing because I'm so used to it by now. I'm not saying I'm completely in control all of the time, but I wanted people to feel open and comfortabe. So if I can do it, and I'm not afraid of doing it, then it might propel people to do the same thing.
Ben: Is mental health something that you think is particularly important for us to talk about in the SEO industry?
Ryan: The thing I found when I first joined the industry was that there are so many smart people who know a lot more than you do. When I first started to be public about what I was doing in the industry, I always felt an element of imposter syndrome, which was also common at the agency I worked at.
Everyone has their own pressures, but I think because of how quickly this industry moves and how talented some of the people are, it can sometimes feel like you're behind. And it can become overwhelming over time if you're not confident enough to speak out and say, "I need help, can you please give me a little bit of time to speak through or learn some of this stuff?"
Ben: There always seems to be the perception that there are people out there in SEO who are more successful, and who have it all together. Even after being in the industry for several years, that thought rings true for me.
Edd, I'm interested to get your perspective from your career so far. What's been your experience of conversations around mental health emerging as a topic in the industry?
Edd: It's definitely a more recent thing. I've worked in SEO for over 10 years and at the start it wasn't really touched upon…but then, it was rarely touched upon in wider society. I've noticed a more open discussion about it recently, but I still think that it's smaller in comparison to some industries.
As Ryan mentioned in terms of the pressure to learn and understand SEO, there's no defined process. There are just the typical answers of 'it depends,' or 'SEO never sleeps.' When you get more senior, it's easy to become obsessed with performance and your clients. Even at weekends, you might check rankings or check client traffic. And when Google tweets algorithm updates at 9pm on a Friday, it's definitey going to ruin your weekend!
Mental health needs to be highlighted in the SEO industry especially because of all the fluctuations and uncertainty we see. Also, even as someone with 10 years' experience, I get imposter syndrome because there are people who have been doing it for 20 years! It probably impacts everyone to a certain degree.
Ultimately, you can't control everything that goes on in SEO, so I think everyone needs to be aware of that fact and then try to handle it in the healthiest way possible. There's only so much that you can do.
What are some ideas that might help people's mental wellbeing?
Ryan: It's important to understand that you can feel mentally drained, or low, and that sometimes you'll be working and it'll hit you hard. You need to be able to go and take 10 minutes, or 30 minutes and recoup. We need that flexibility, especially from an employer standpoint, to allow for that to happen.
If people do need 10 or 15 minutes to capture their thoughts, or even take half a day off, they need to know they're not going to be judged for it, or penalised for doing it. It's important that the conversation is open and you respect the fact that everybody's situation is different.
For me personally, there are a few other things that work. If you haven't tried the Headspace app, I highly recommend it. If you feel stressed, pop that on for 10/15 minutes and interrupt your train of thought. I also exercise almost daily. If I can't go to the gym, I'll take a walk and get some vitamin D.
I also use a five minute journal and, every morning and every evening, I write down five things that I'm thankful for, even if they're just tiny things, like you didn't want to get out of bed, but you did. And when you reflect on seven days of that, it can be a real confidence booster. It definitely helps to realise that, even if you have negative thoughts a lot of the time, there are still things to celebrate and things to talk about with friends and family that are all good things.
I would say that the more good things you can find, no matter how big or small, celebrate them and take them wherever you can.
Edd: The biggest two things for me is that, when I wake up in the morning, I now allow myself some time before working. I make a coffee, chill out for a bit with the cat, and stuff like that, then maybe read some of my favourite blogs to get the mind working.
When I worked previously, I used to have lunch as my only real break. Now I try to take breaks throughout the day and get away from my computer and mobile. I use the Pomodoro timer, which gives you a five minute break after every 25 minutes. It allows me to focus on tasks. Ineed to do, then actively encourages breaks throughout the day.
I just don't think humans are designed to work non-stop from 9 to 5 on a long term basis. If you do that for a long period of time, you'll struggle, so I think it's important to take breaks and get out there – it all makes your day easier.
Ben: And a final thing I wanted to mention is for employers to look into a Mental Health First Aid course for the workplace, which is something that we've run a couple of times that Impression now. I think we've done it through the St Johns Ambulance.
There's a short course you can do for a day and there's a two day version. Both of them essentially train people to be Mental Health First Aiders in the same way that you would have physical health First Aiders – training people to respond to crises in the most effective way and make it possible to then get the right people involved, whether that's signposting people to the NHS, or other services they might need. It also equips people with reliable info that they can share in regular conversations with their colleagues.
I've done the course myself and I found it incredibly helpful simply as as an education, but also to then equip me better for conversations I've had since with others in the company. As an employer, it also shows your employees that you are kind of committed to doing things properly, and really equipping people with the knowledge to help the whole of your sort of workforce when it comes to mental health challenges that they might be facing.
Join the conversation
To hear all of the content from Ryan's interview, listen to the podcast episode at the top of this page, or find the RankUp SEO Podcast channel on your podcast app of choice.
Edd and Ben will be back soon with a new episode of the RankUp podcast. In the meantime, you can find us on Twitter at @BenJGarry and @EddJTW.
If you're interested in being a guest on the show, please reach out to us on Twitter or via email.