Organic Cost Per Action or Acquisition (CPA) is a challenging concept that search marketers may not have to manage regularly. This is due to CPA being almost exclusively used as a metric for calculating the ROI of paid digital advertising campaigns, rather than organic campaigns – and for good reason.
PPC and paid social media ads have a clear CPA in that you can see exactly how much your campaign has cost, including how many conversions (actions) or leads (acquisitions) the campaign has directly generated.
However, calculating this metric is much more difficult with SEO, but it's not as impossible as you may think.
In this blog, we are going to explain the factors that should be considered when calculating organic search CPA, take a look at the different methods of working it out, and compare it to paid media CPA.
Things to consider when calculating organic CPA
Unlike CPA calculation for PPC, there are a few different factors to consider when calculating the CPA of your SEO and organic search marketing campaigns.
Brand vs Non-Brand
One of the biggest influences on traffic levels, particularly for more well-known brands, is how much of their organic search traffic is coming from queries containing their brand name(s).
This is known as "branded traffic" and, depending on the website and brand, typical SEO activity (outside of digital PR) has a limited ability to influence how many people are searching for a given brand, especially in the short term.
It's also difficult to accurately measure the impact of SEO activity on branded traffic. There are many questions to answer, such as:
Does your website drive enough non-branded traffic to influence the amount of people searching specifically for your brand at a later time?
How much of a branded traffic uplift can be attributed to SEO activity?
How can it be separated from other marketing activities?
These are all questions that are difficult to answer definitively. This leads marketers to conclude that branded traffic should be removed from any organic CPA calculations, as typically their SEO campaigns focus primarily on capturing non-branded traffic.
However, many brands have to fight for their branded search traffic. For example, tefal.co.uk does not currently rank #1 for the term "Tefal Ultra Fry" – B&M Stores does. SEO activity will be required to capture organic search traffic for their products, meaning branded traffic, in this instance, should be included in any organic CPA calculation. Branded organic traffic will also have to fight for their clicks against potential competitor paid search ads.
It is possible to adjust organic CPA for non-branded traffic, as we'll discuss later in the article.
Attribution models
One of the biggest changes to attribution models in GA4 is that data-driven attribution modelling is now the default. This is instead of the last-click attribution setup that Universal Analytics deployed as standard.
Last-click attribution is still available in GA4, but it's recommended to use data-driven attribution as it more accurately reflects the impact of all channels on conversions.
An understanding of attribution models is particularly important in evaluating the performance of organic search, especially when looking to calculate organic CPA. Organic search often isn't the last interaction a user has with the site before converting, and if attribution isn't considered, you are potentially under or overvaluing your SEO work.
GA4 provides reports comparing the different possible attribution models, as well as information on the user journeys taken prior to conversion. These reports can be very useful to analyse to identify which models might be more appropriate.
Market trends
Market trends and macroeconomic factors should be considered after the organic CPA figure has been calculated.
Though a strong SEO strategy can shield businesses from economic or market downturns to a degree, organic conversions are likely to decrease overall.
SEO is often referred to as a demand capture channel, rather than a means of demand generation. SEO can only seek to capture the biggest portion of the available searches. If overall demand is trending downward, then there are going to be fewer searches for certain products and services.
With this in mind, a 10% decline in organic conversions in a market that has declined by 20% may be a positive result for SEO. The increased Organic CPA should therefore be used in the context of overall business and market performance.
Paid Media CPA vs Organic Search CPA
Management fees and media spend
Paid media CPA is an easy calculation to do. It's channel spend divided by the total number of conversions. Conversions can be leads or transactions, depending on the type of website and/or business that you're working with.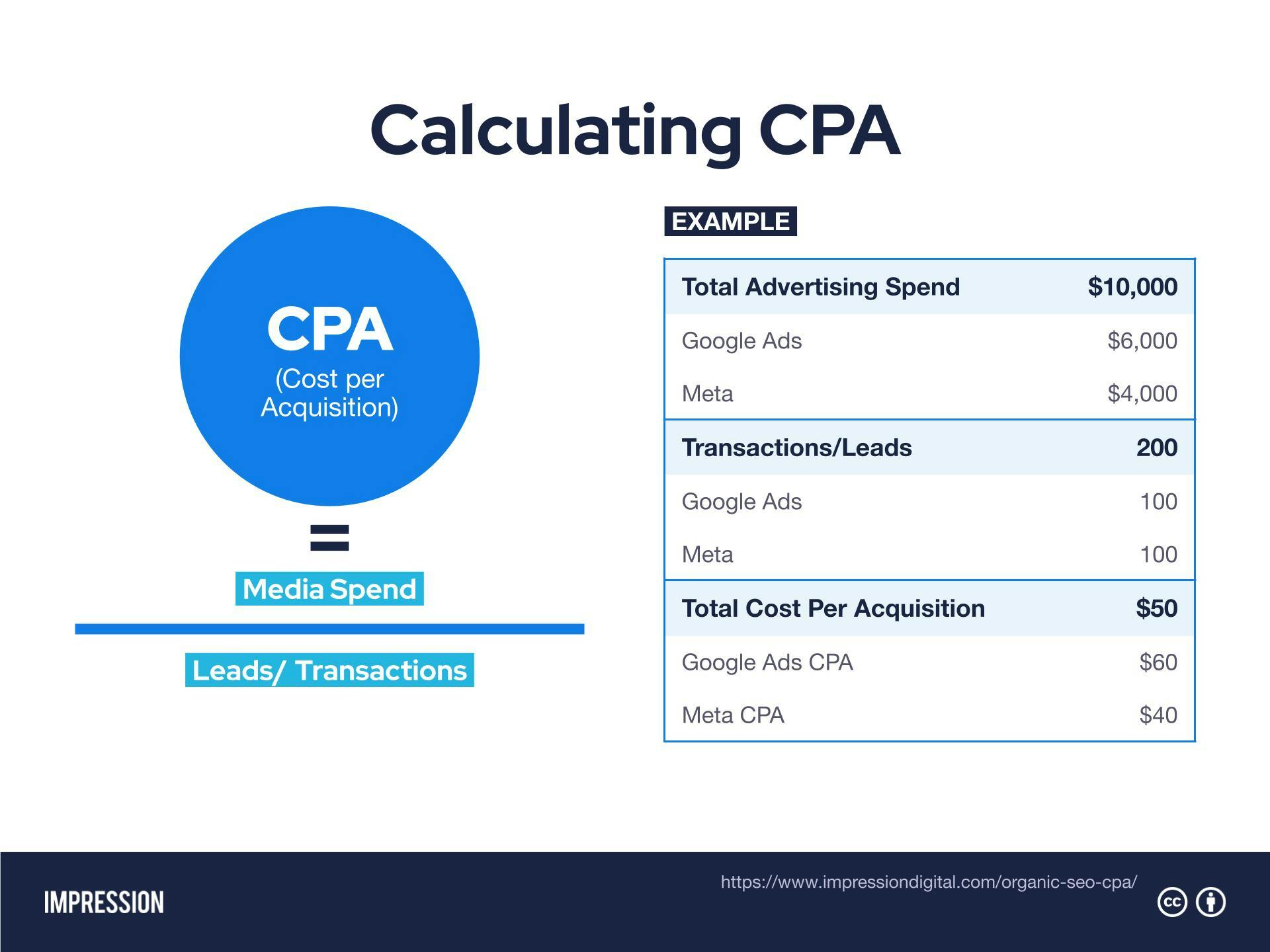 When working with a PPC agency, the management fee is typically not included in any CPA calculations, in addition to the media fee. Some stakeholders prefer to see the CPA figure both with and without the management fee, to monitor exactly how their advertising budget is performing.
When it comes to organic search activity, there is no media spend to factor into the equation. It only has a management fee, and the only available figure to use is the agency's retainer cost.
Timeframes
Initiating PPC activity can generate almost instant results, with ads being pushed out as quickly as they can be created and generating leads/sales immediately.
With SEO, it can take longer to see the impact of the work you are doing. Content that is created or optimised today may take 3-6 months to generate peak incremental conversions. But those conversions will keep coming for the next 6 months and beyond, often even without additional investment or work.
It's therefore recommended when calculating organic CPA that you look at trends over a much longer timeframe, say 6-12 months, rather than looking on a weekly or monthly basis.
How to calculate organic CPA
There are two primary methods of calculating organic CPA. We've labelled them as:
Simple Organic CPA
Incremental Organic CPA
With both of these methods, we can apply a model based on excluding branded traffic from conversions, if that's relevant for your business.
But first, let's take a look at the two different approaches in isolation.
Simple Organic CPA Calculation
The clue is in the name of this one, and this is the quickest and most stripped-back way to calculate organic CPA.
It's very similar to paid media CPA, but, as discussed, can only be worked out using agency management fees as there is no media spend to take into account.
Very simply, it's your Organic Search Management Fee (agency retainer) divided by the number of leads and transactions.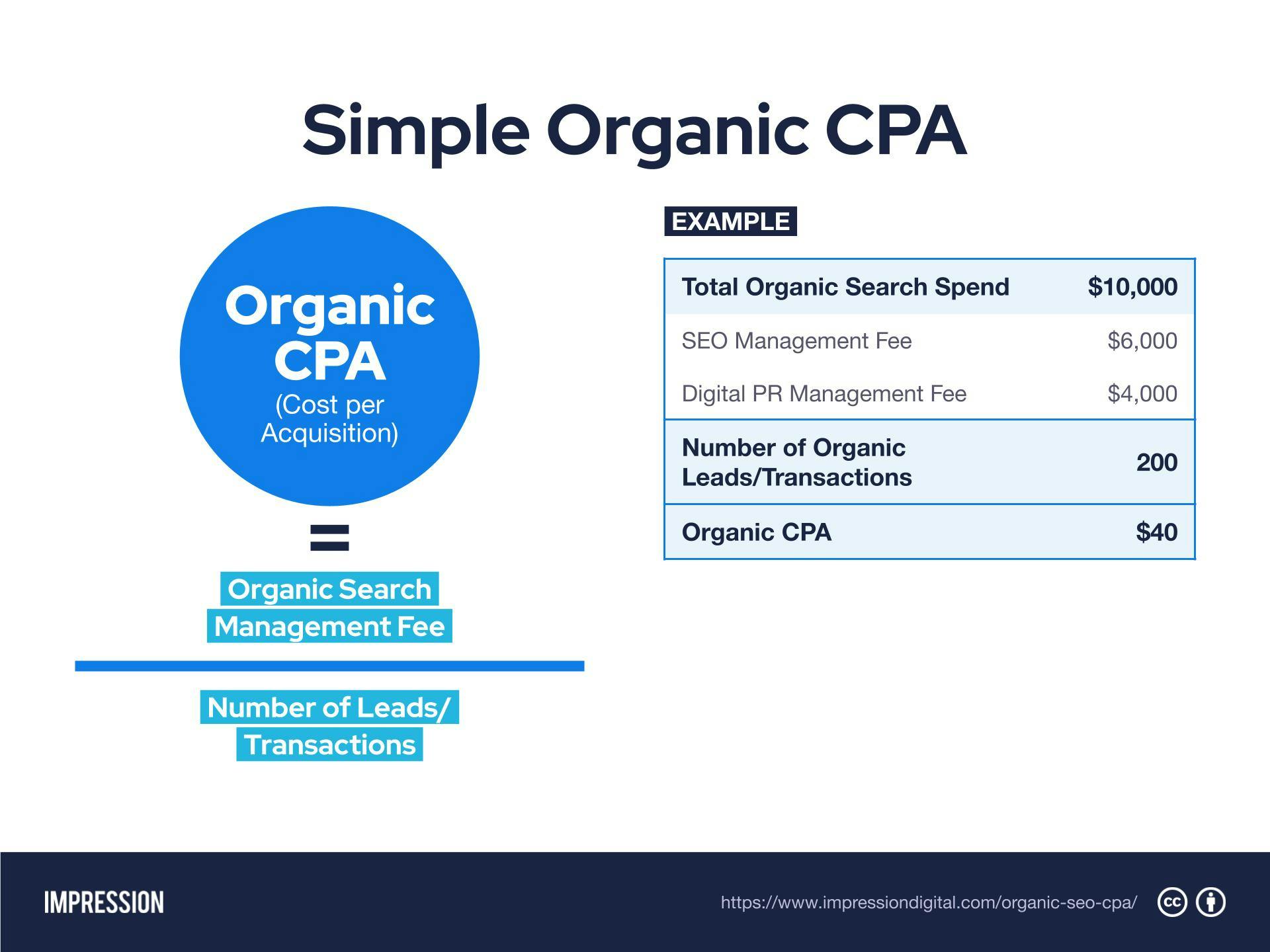 This approach has the benefit of being easy to calculate, and it can be useful in emphasising just how valuable organic search (and SEO activity) is to your business.
The downside of this method is that if the website is fairly established anyway, there would always be a certain level of organic sessions, leads and transactions. On the other hand, if the website is new, organic traffic will typically be slow to build. Organic CPA would appear to be very high initially, but the work carried out will influence results for many months to come. That's where the second approach comes in.
Incremental Organic CPA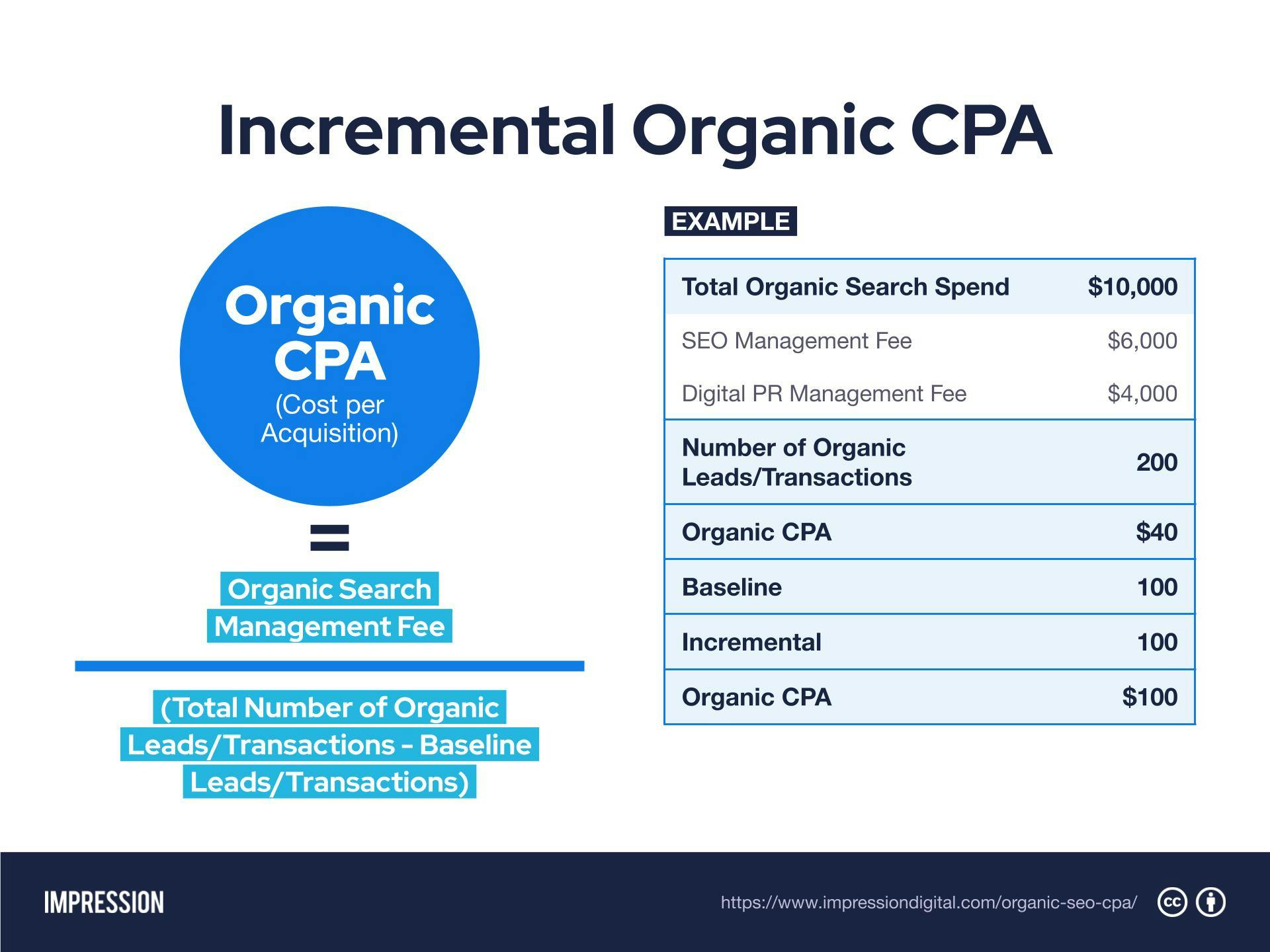 An incremental approach to working out organic CPA is perhaps most beneficial for businesses that already have a relatively established presence in organic search.
The idea is to take an average baseline of organic leads/transactions and assess the value of your agency retainer fees against the incremental conversions that are generated as a result of new SEO activity.
There are downsides to this approach, too. While SEO activity very often aims at growing the number of conversions from your website, many external factors can affect traffic levels from organic search. As discussed earlier, a decline in conversions from organic search may be a positive result in a market that has declined by a greater margin.
It also doesn't take into account the likelihood that traffic and conversions would decrease over time without any SEO work being undertaken whatsoever.
Adjusting organic CPA for non-branded traffic
Many SEO campaigns focus primarily on capturing non-branded organic search traffic by targeting keywords that are commercially relevant to the brand.
Because of this, non-branded clicks are often a core KPI for SEO campaigns. This is a logical and correct approach in many cases and can be calculated by removing branded search terms from Google Search Console click data.
Once you have the branded clicks figure, you can then work out the percentage split between branded and non-branded traffic.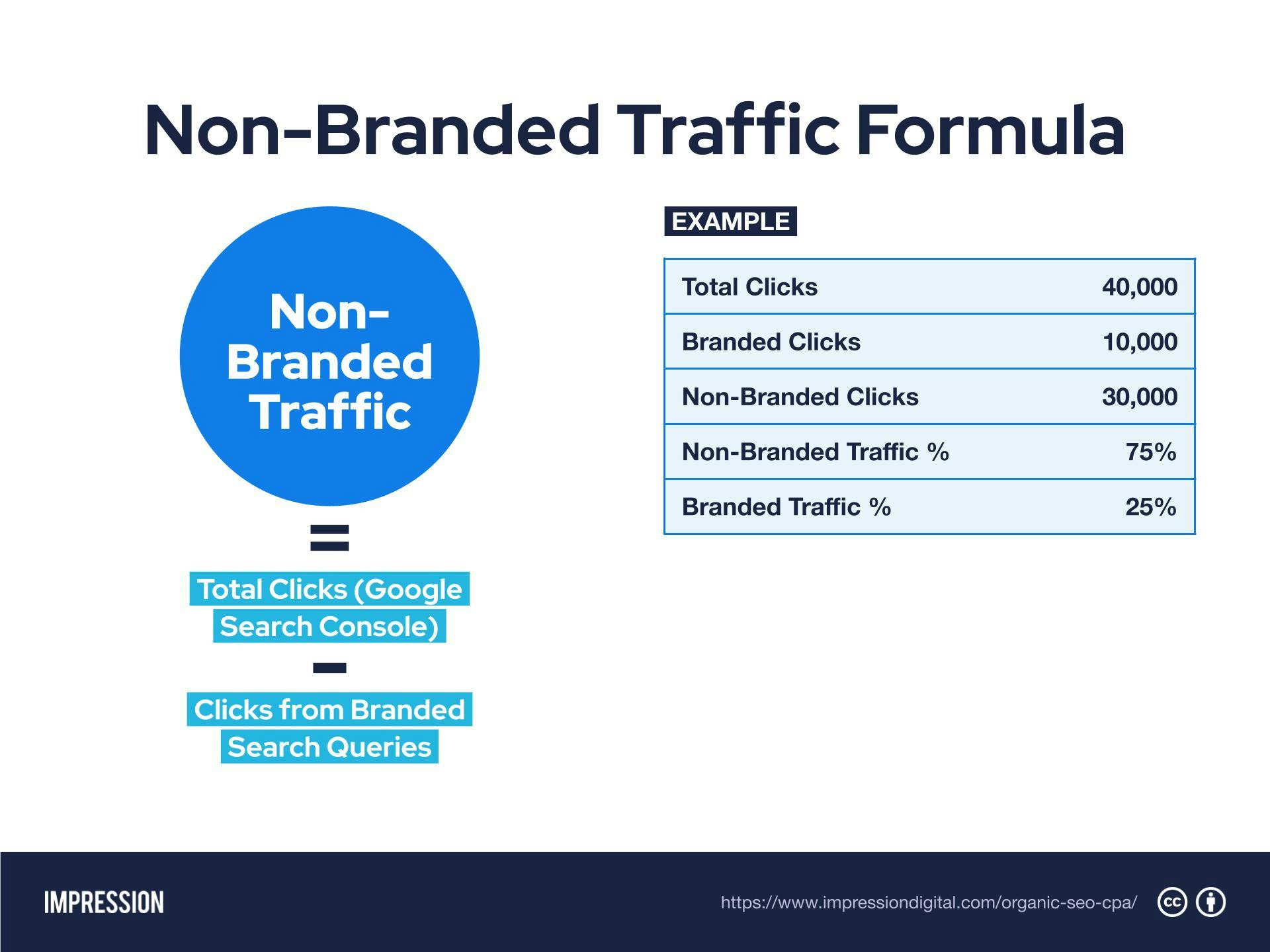 Once you have the percentage split for non-branded traffic, you can downweight the total number of conversions by that same percentage.
In the example above, if you had 100 conversions to begin with, the non-branded conversions would be 75 after excluding the 25% of branded traffic. This would therefore be the conversion figure that you use in either the simple or incremental organic CPA calculation detailed above.
There is a final caveat here in that branded traffic often converts better than non-branded traffic. This is because customers searching for a particular brand often already have an affiliation with the website. The "proxy" figure for adjusted branded conversions should therefore be viewed as an estimate, rather than a concrete number.
Measure your SEO success with organic CPA
When used in the right context, organic CPA can prove to be a valuable measurement of how your SEO campaigns are performing. Tracking this monthly over time is recommended because a successful SEO strategy will deliver increased value per dollar spent as your cross-section of ranking keywords expands, justifying the business case for increased investment in this part of a wider digital marketing strategy.
At Impression, we believe in true transparency when it comes to evaluating the success of an SEO campaign. We deliver tailored reports and interactive dashboards to all of our SEO clients, providing them with the insights and metrics they need to make valuable business decisions on their marketing spend.
To find out more about our SEO reporting process, or to learn more about our award-winning SEO services, simply get in touch with a member of our team.
---