In 2022, as COVID-19 restrictions eased some sense of normalcy was supposed to return. However, the aftermath of the pandemic still lingers and this year we have seen the impact of the war in Ukraine, the cost of living crisis, and the recession continues to affect people's lives on both personal and professional levels.
However, in reaction to this, we have taken strides to support our people, our planet, and our community more than ever before. At Impression, we're proud to have grown a collaborative, creative, and inclusive culture and we're lucky to employ a workforce passionate about giving back. We've created this blog to share exactly how we've been living up to one of our key values: using business as a force for good.
February – Policy updates
To better support our people's well-being both inside and outside of work, we updated a range of our internal policies. We published four booklets, highlighting policies, processes, and initiatives that are accessible to everyone at Impression. Examples of a few of our new, inclusive policies include bank holiday swaps (the option for employees to work on bank holidays and then honour that bank holiday for an alternative day. This may be due to a variety of reasons such as an employee's belief), parental leave, life leave, menopause policy, and bullying & harassment policies.
You can learn more about our enhanced and updated internal policies here.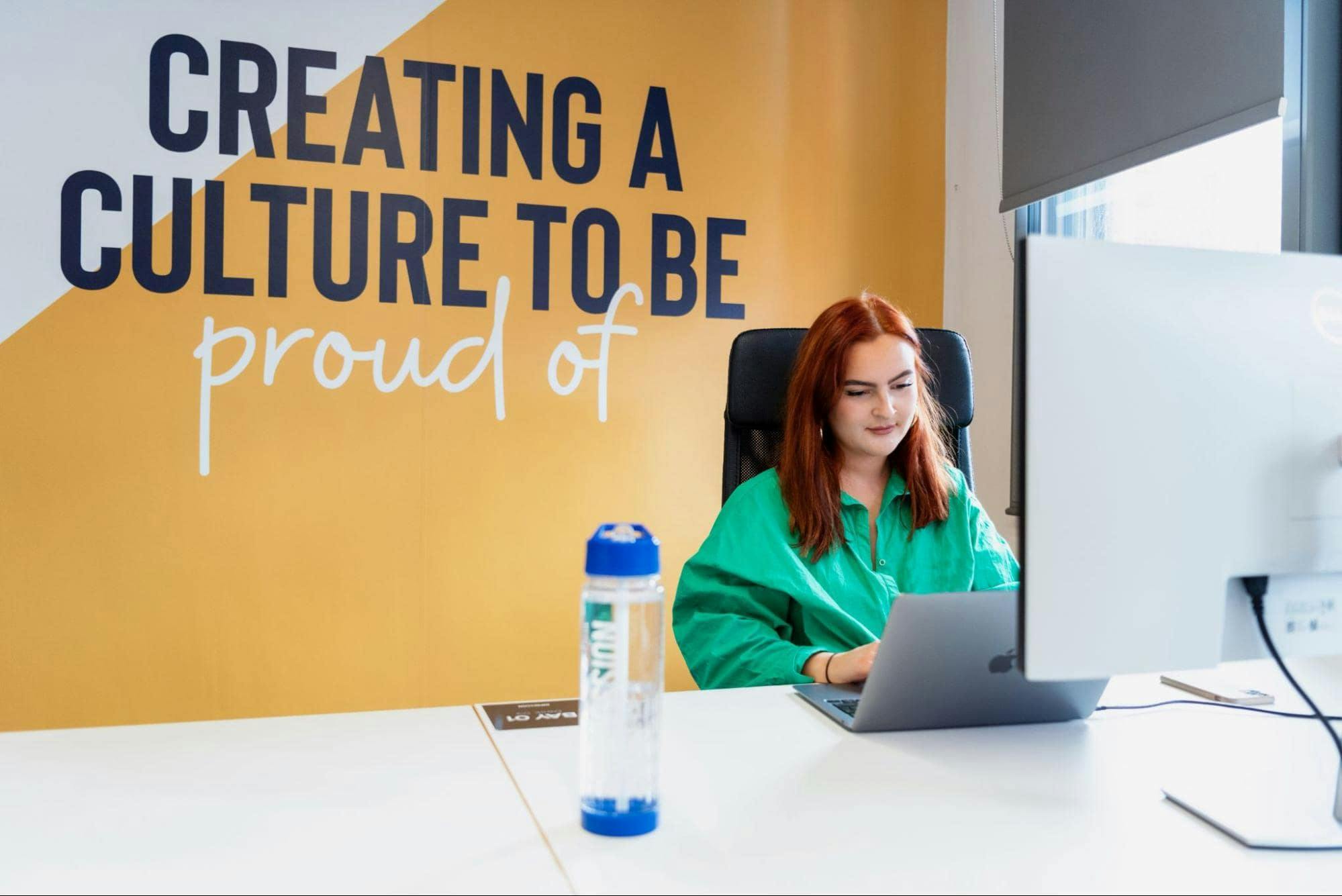 March – Women's health brunch
We hosted a Women's health brunch in conjunction with International Women's Day. During the brunch, our Impact team shared statistics and facts about women's health. Not only was the session educational, it also provided people with the opportunity to share their own experiences and suggest ways in which Impression could better support women in the workplace.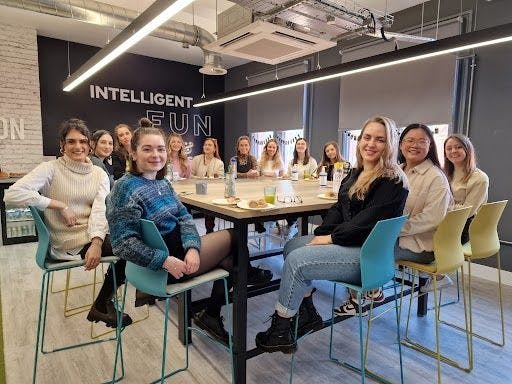 As a result of this brunch, we now have eco-friendly menstrual products in our bathrooms and we launched a menstrual policy to go alongside our menopause policy. We are committed to running these sessions annually to provide a platform for open conversations about women's health.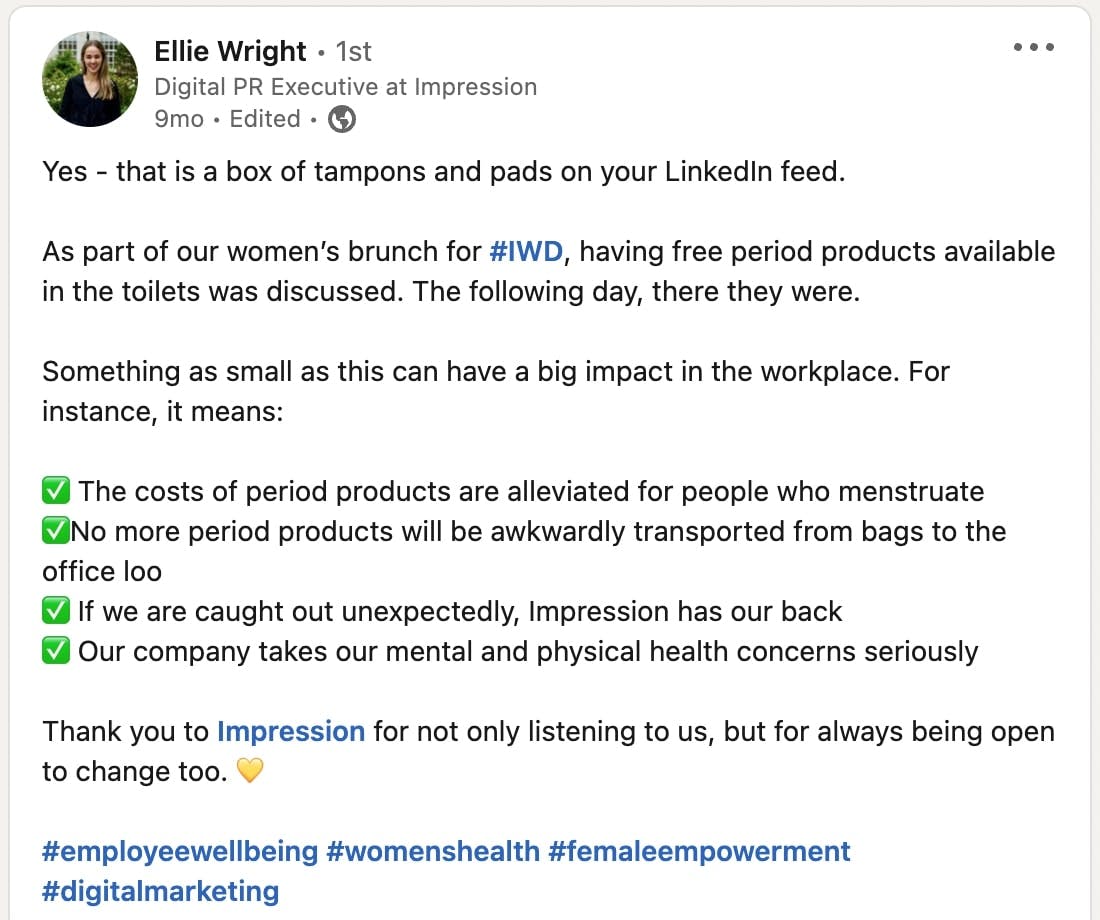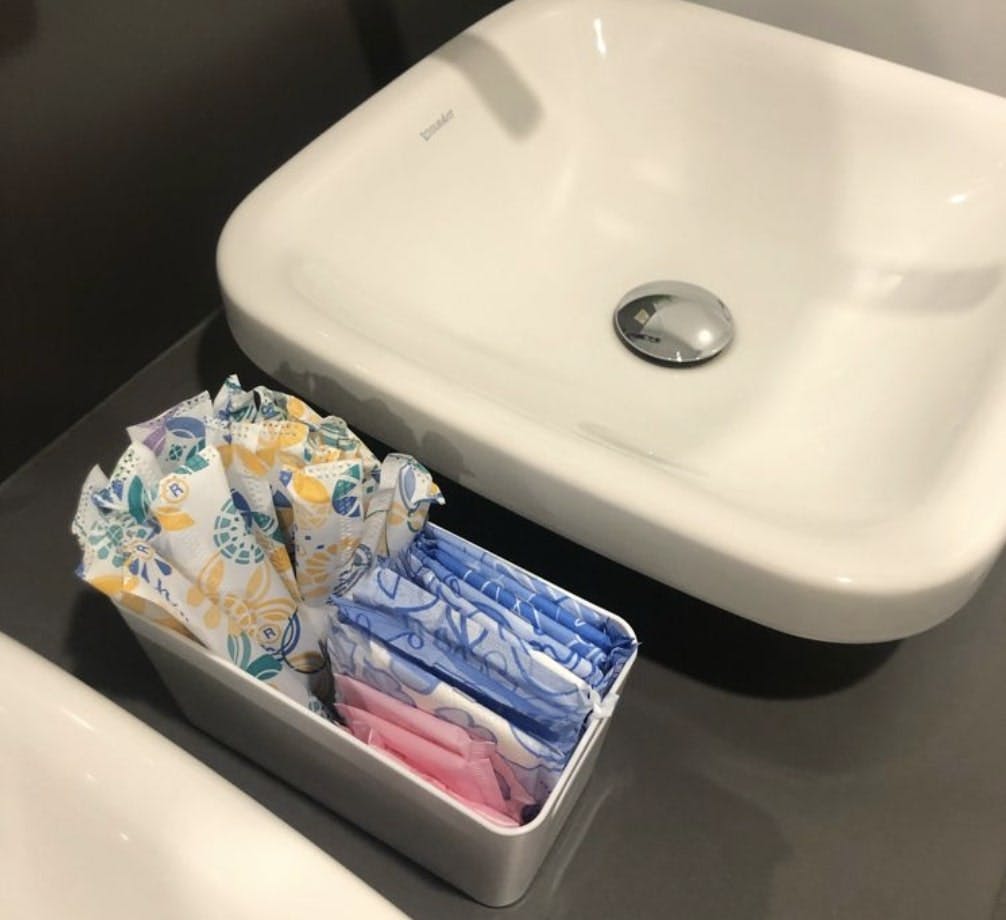 Founding Director of Beehive Performance, Liz Clayton-Jones, hosted an internal training session on women's health. Liz discussed menstrual cycles and menopause and how these can impact productivity at work.
April – Stress awareness session
In conjunction with stress awareness month, Senior Paid Media Specialist, Katie Walton led a session where she highlighted how stress can affect us at work and how to spot signs of stress and combat it. This talk was followed by an organised walk to Nottingham Arboretum which encouraged staff to unwind and chat with friends out in the fresh air.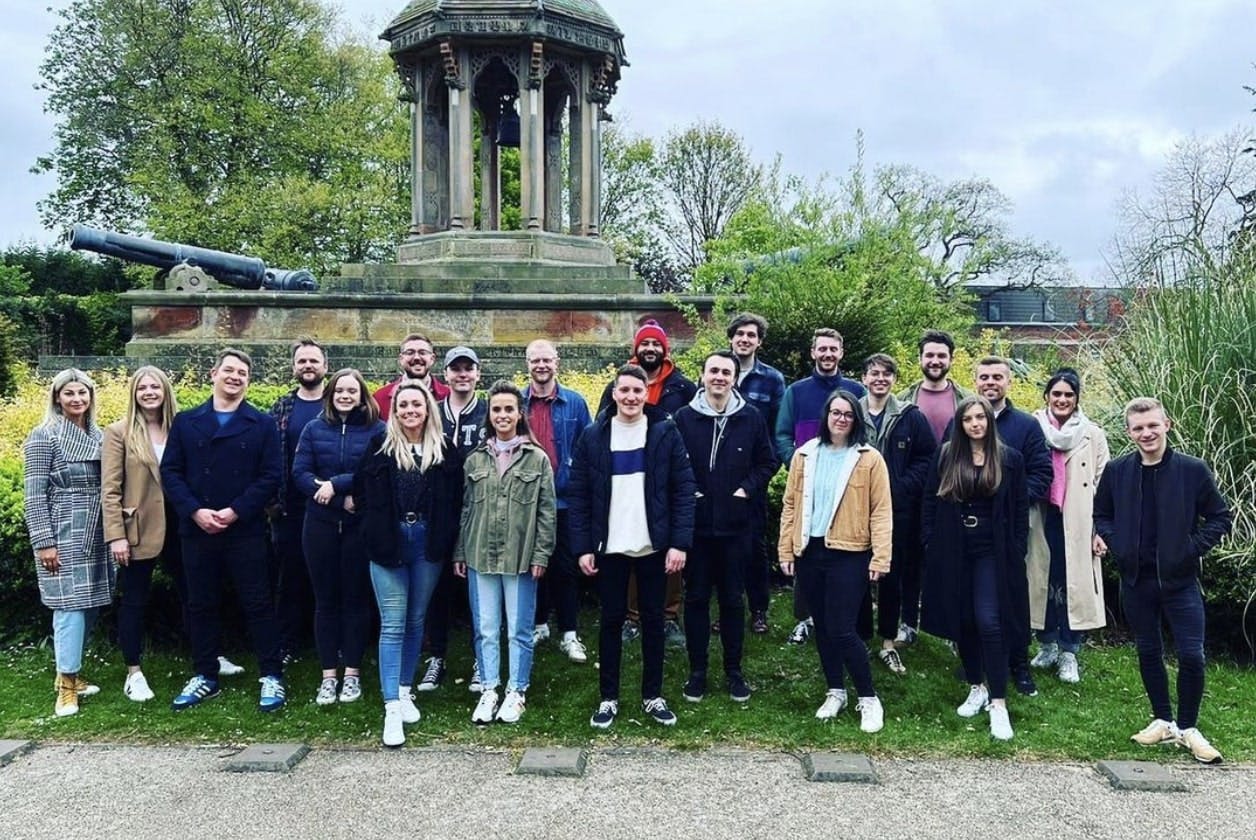 May – Recycling & invisible conditions
In May, our Impact team led an educational session on recycling, covering what can and can't be recycled, instances where you may want to reuse instead of recycle, and the benefits of clothes swaps. Off the back of this, we introduced battery recycling in the office and clearly labelled our bins to encourage recycling.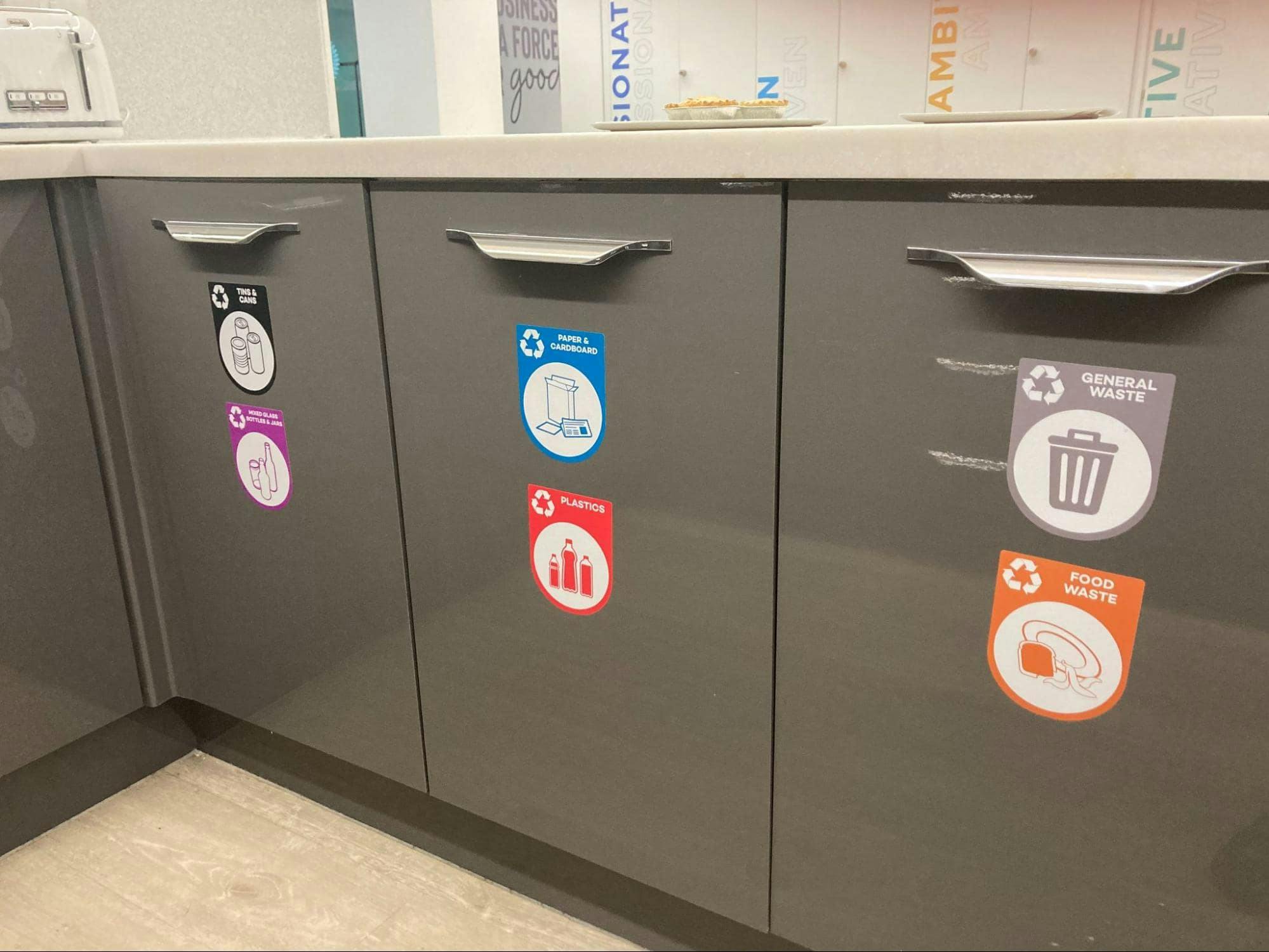 Also in May, we surveyed the team to hear from those who may be living with invisible mental or physical conditions. This helped us to identify the ways that we could improve our recruitment process to be more accessible. For example, introducing the candidate guide which includes information on reasonable adjustments and states that we don't expect people to have their cameras on during virtual interviews if they aren't comfortable doing so.
June – Training from YourD&I
External guest Chris Allan from YourD+I hosted a company-wide session on 'banter in the workplace'. This reinforced the need to be considerate of the language that we use in the workplace and how 'banter' can be perceived differently by different people. It was a thought-provoking session that encouraged some difficult conversations and as a result, had a big impact on everyone across the agency.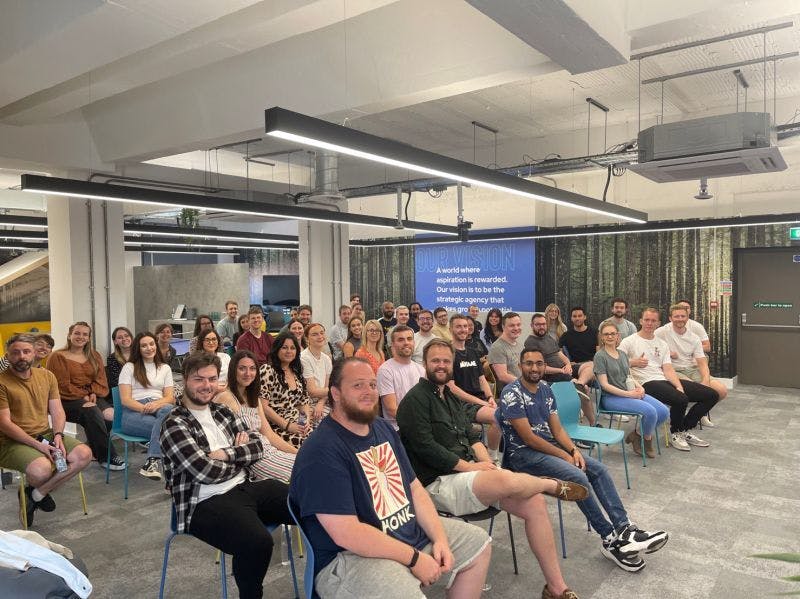 Our summer party saw the introduction of our Clothes Swap, where staff can bring in items of clothing that they no longer wear, and swap them with colleagues. Due to its success, it has now become a permanent fixture in our Nottingham office.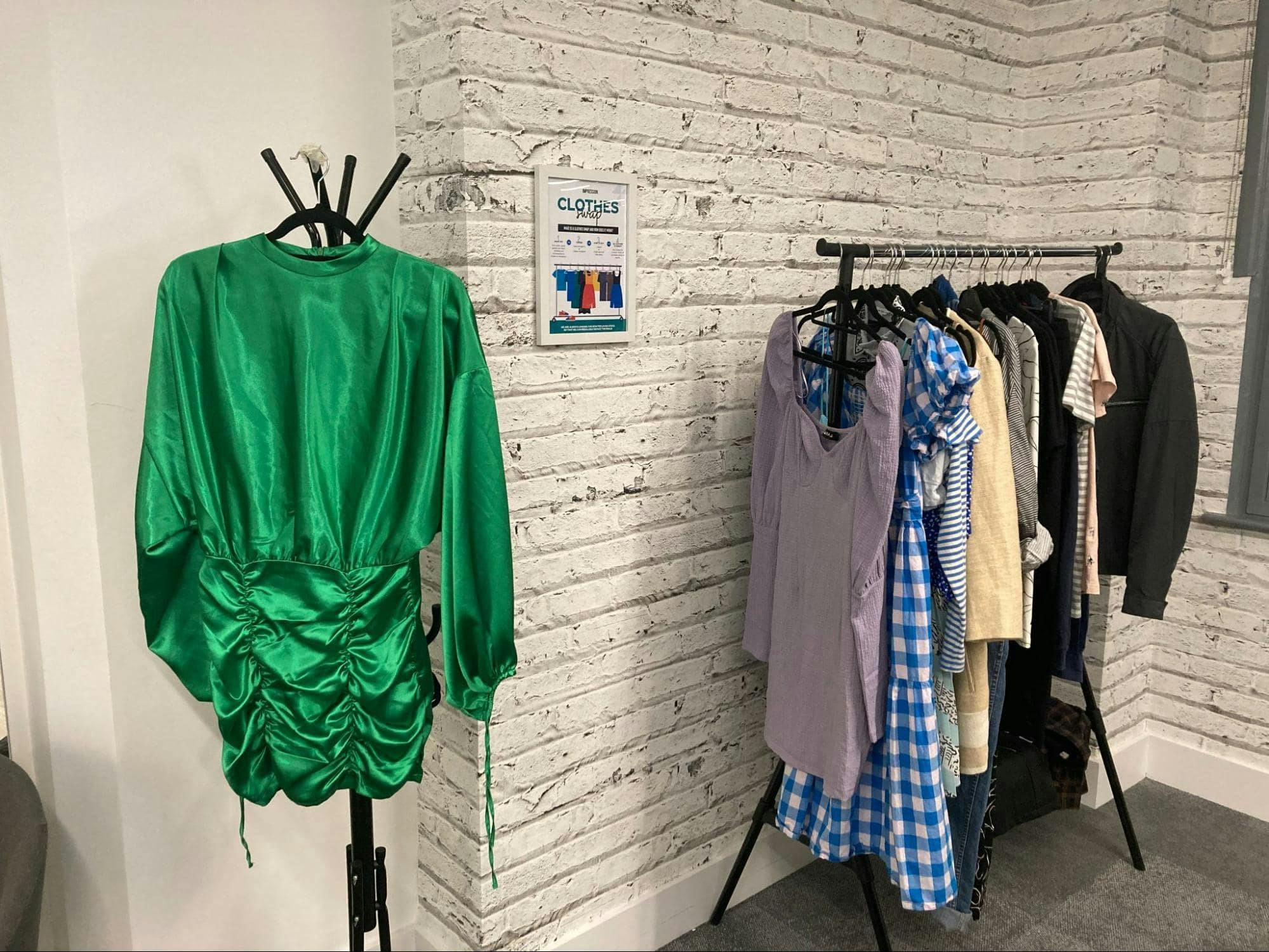 July – New recruitment processes & Diversity roadshow
We updated our recruitment and interview process to help diverse talent succeed during the interview process and to eliminate unconscious bias. We developed an internal candidate guide to help interviewees learn more about our interview process to help ease nerves and set expectations. The guide also covers how candidates can prepare and how Impression can support them.
We also hosted YourD+I's first Diversity & Inclusion roadshow at our Notts HQ. We learned from some of the best minds in D&I, including our very own Zoë Ogden!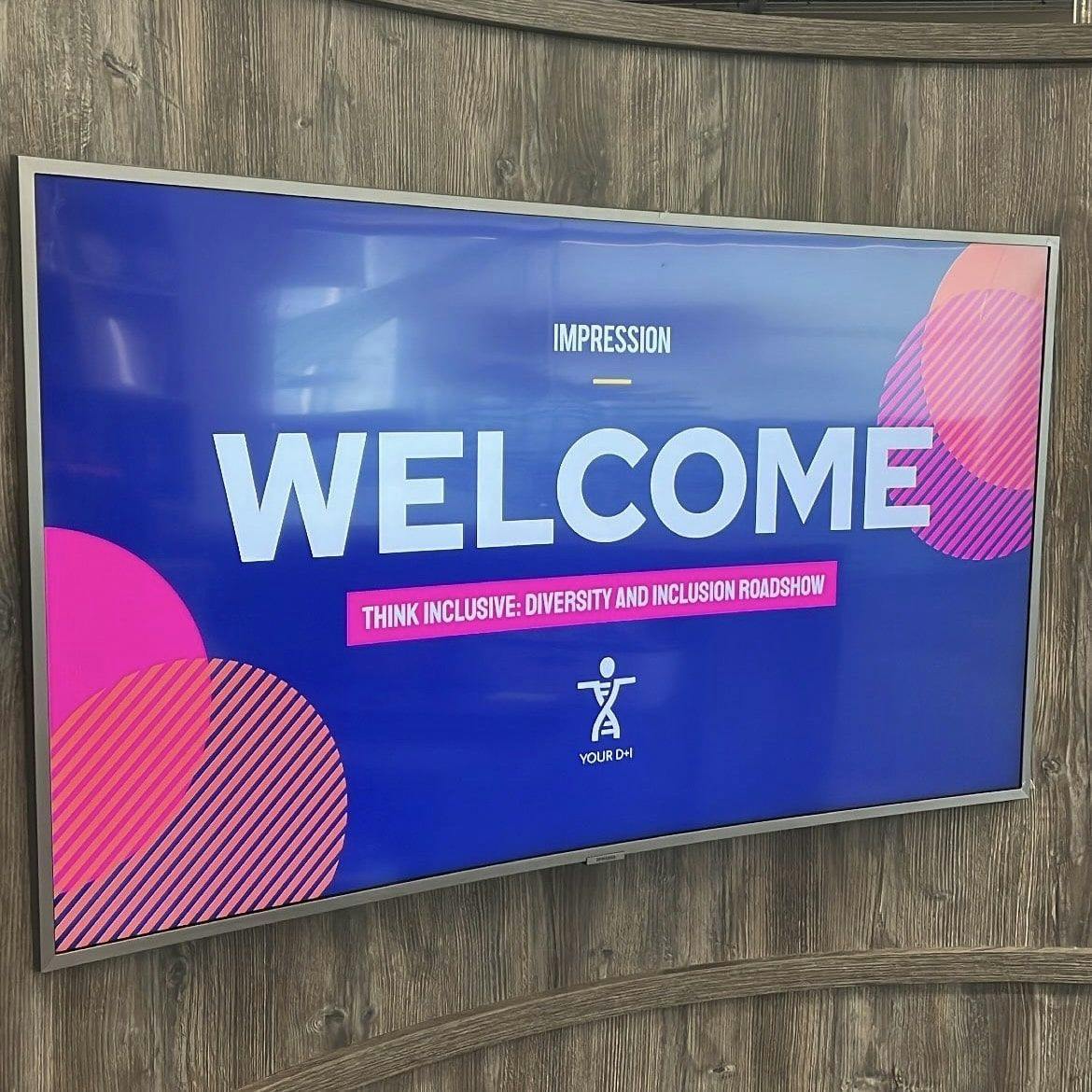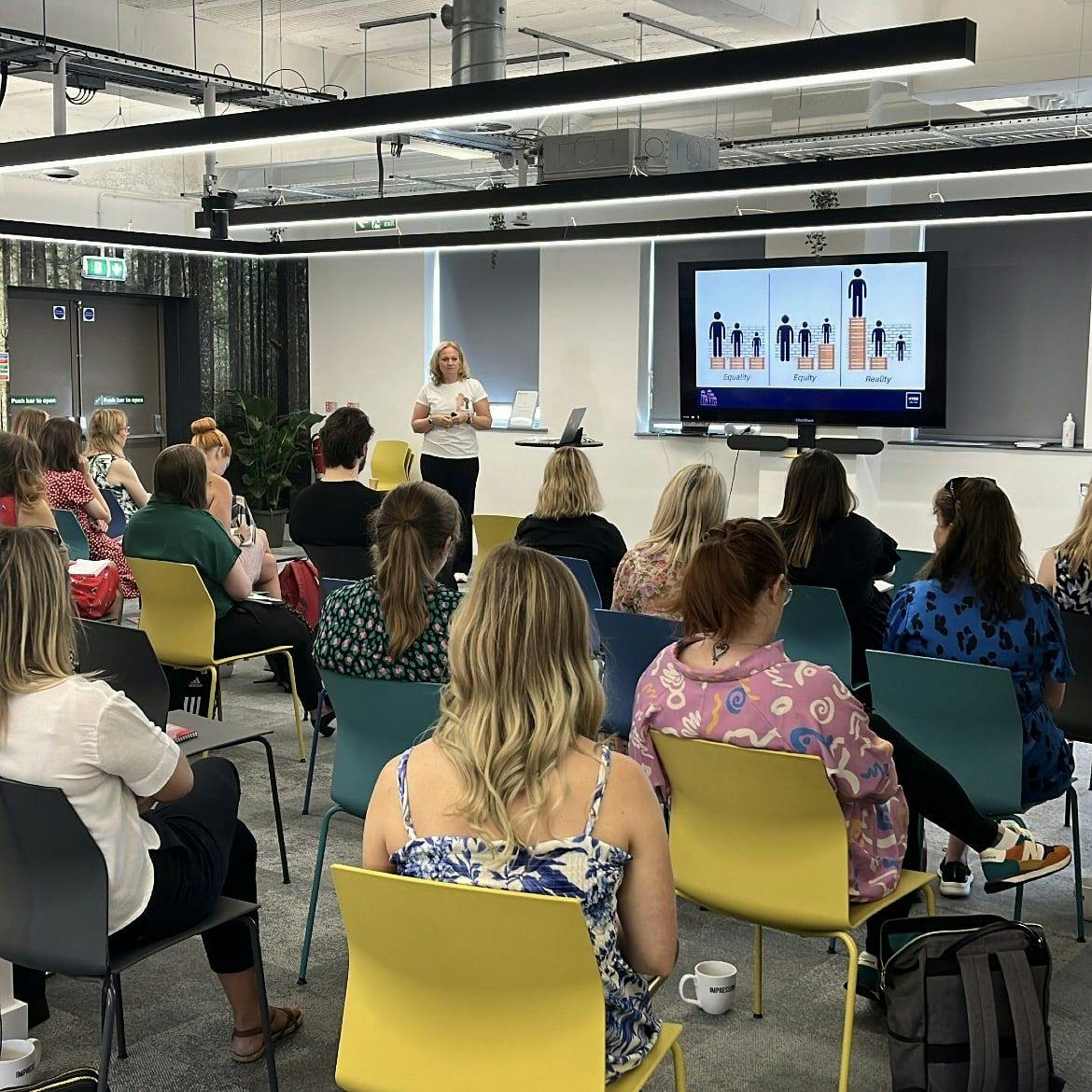 August – Men's mental health & Early careers
This month, we focused on men's mental health. External mental health expert, Harry Corin from Corin & Co, hosted a session for our team, sharing his personal experiences with grief and depression. We learned more about spotting the signs of grief and depression in others and how we might be able to support them.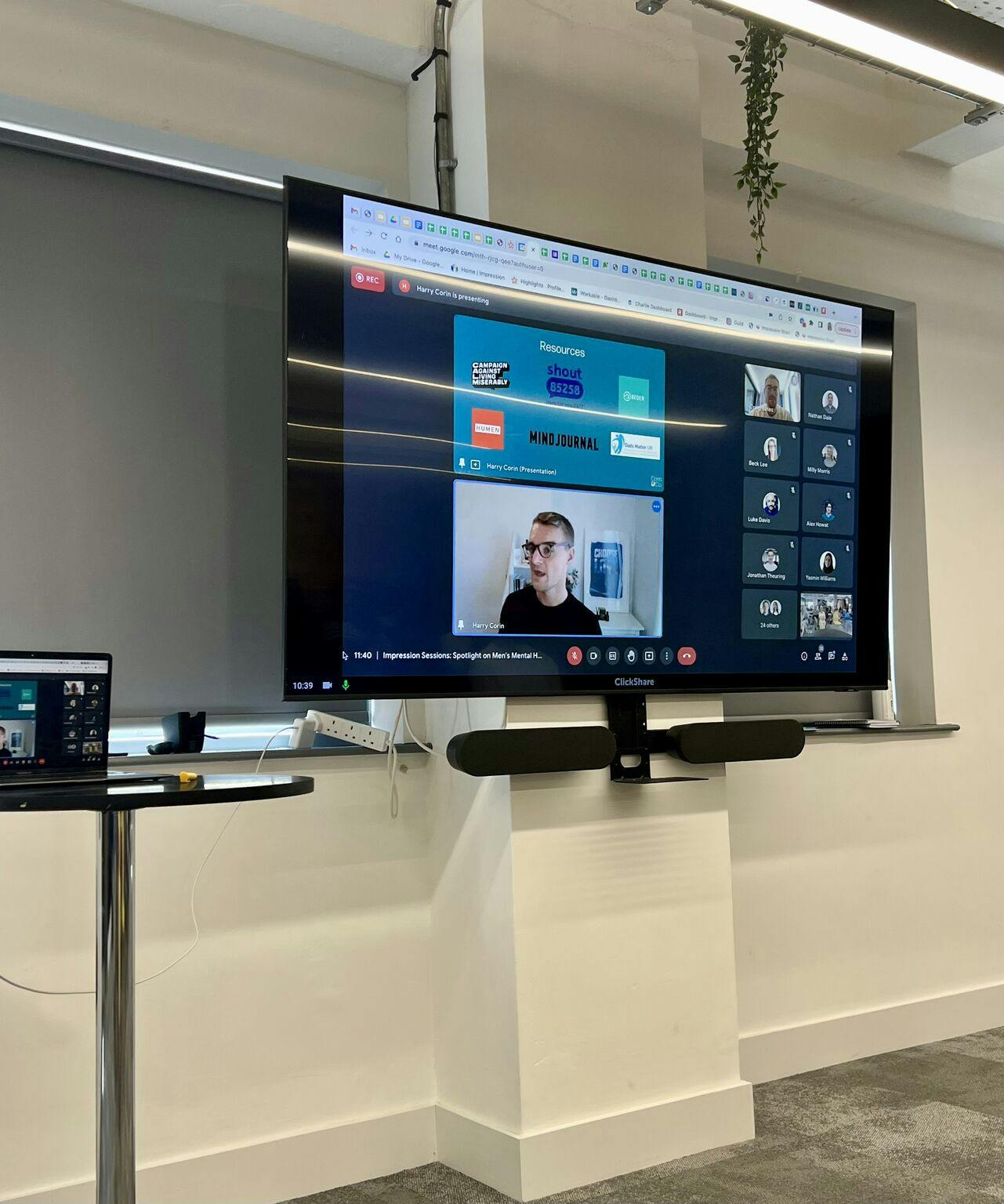 Afterward, we held men's mental health brunches in our Notts and London office, following a similar format to our women's brunch. This involved educating attendees on men's mental health & suicide, and sharing experiences and suggestions for how Impression can offer support.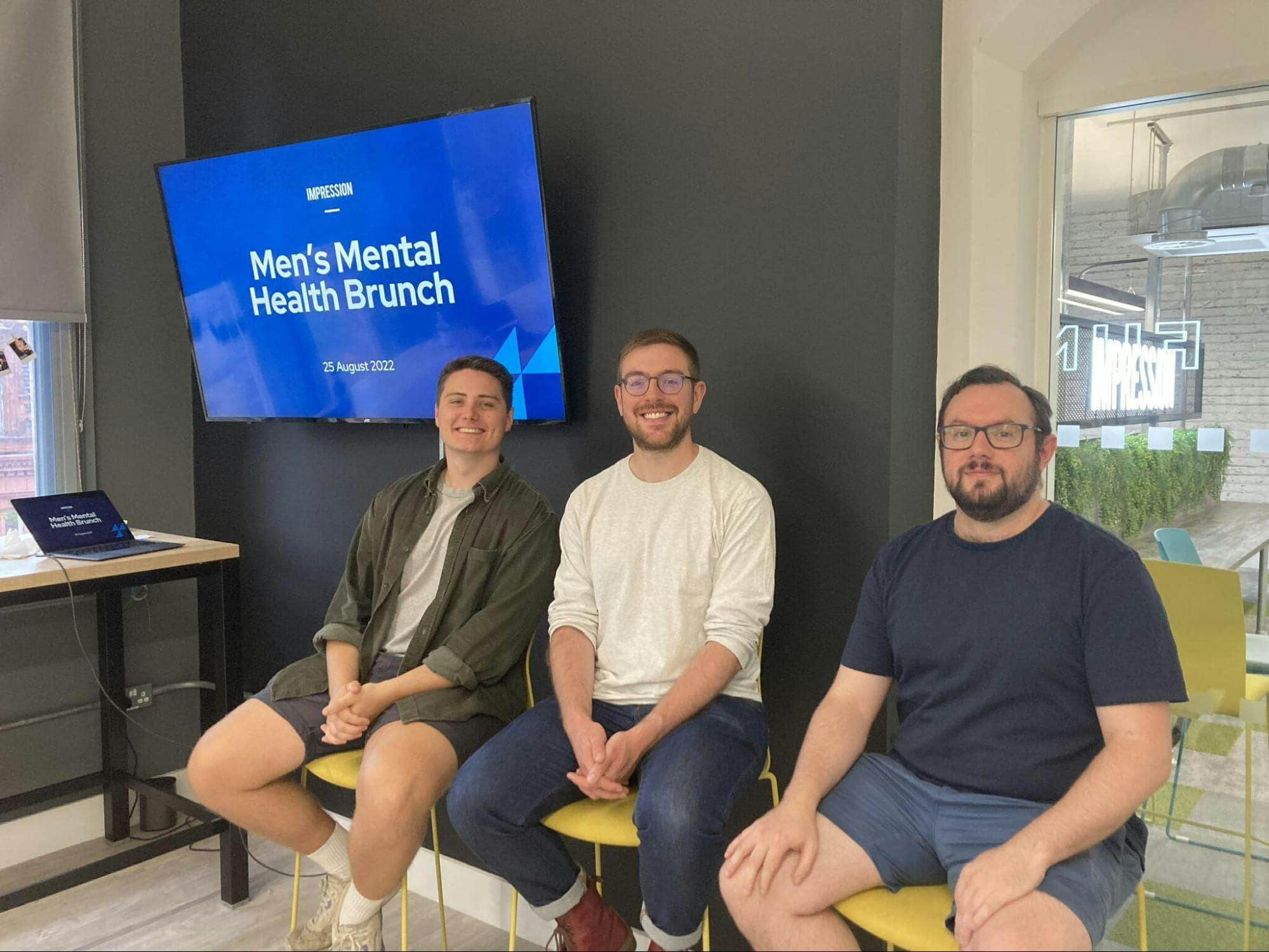 We started our partnership with The Early Careers Foundation, a social mobility charity. 22 volunteers across Impression, including directors, are mentoring 16-19-year-olds to help them achieve their career aspirations.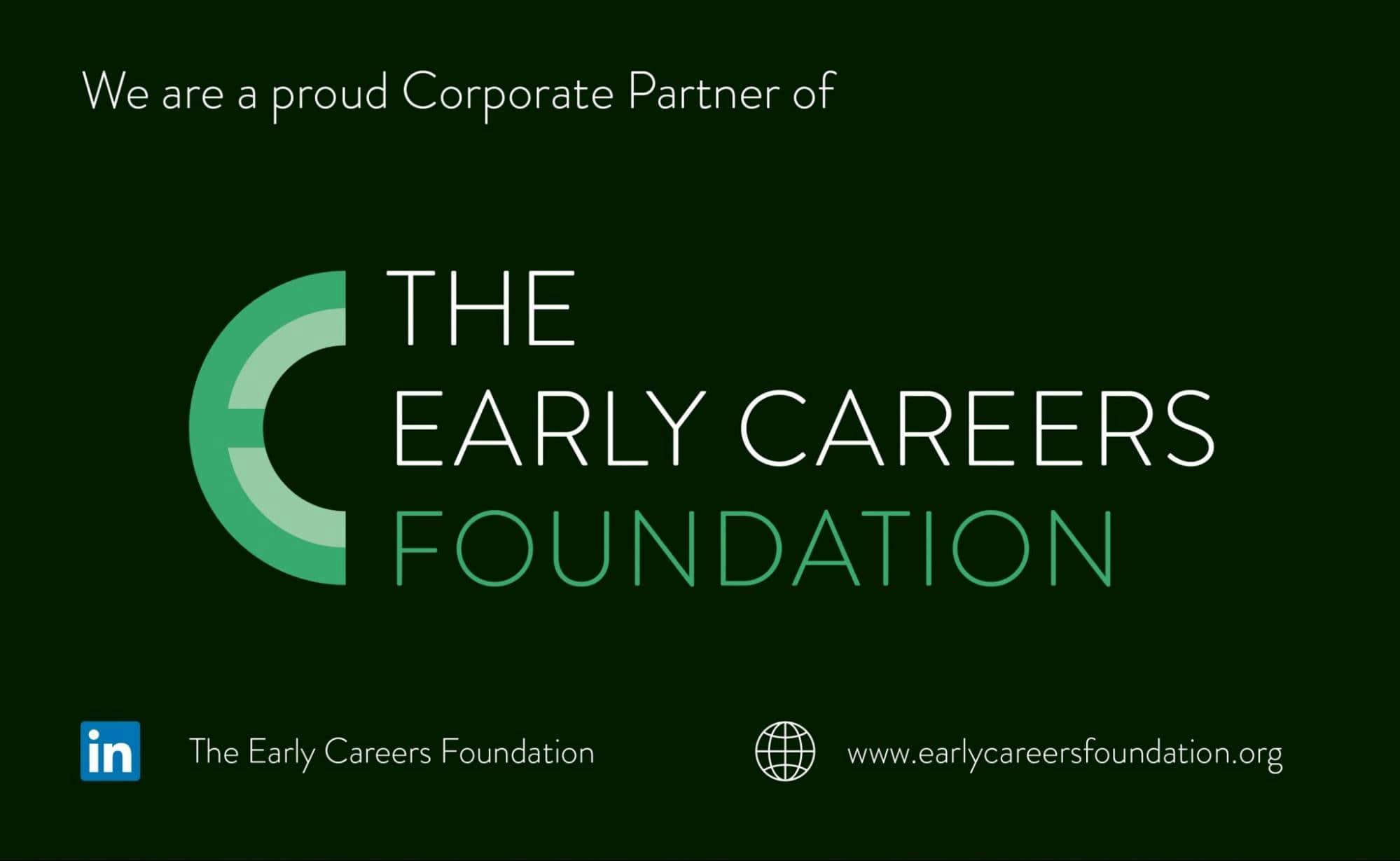 September – Broxtowe Women's Project & Flexa industry awards
In September, we were proud to partner with Broxtowe Women's Project, a domestic abuse charity located in Nottingham. We worked with the charity to develop our internal domestic abuse policy and they hosted a session on recognising and reporting domestic abuse.

We were also featured in the Flexa industry awards which recognises agencies that have truly flexible and inclusive working approaches. We were delighted to rank 13th out of 31 consultancies and agencies and would like to say a huge congrats to everyone else listed! Learn more about the award and Flexa over on our profile.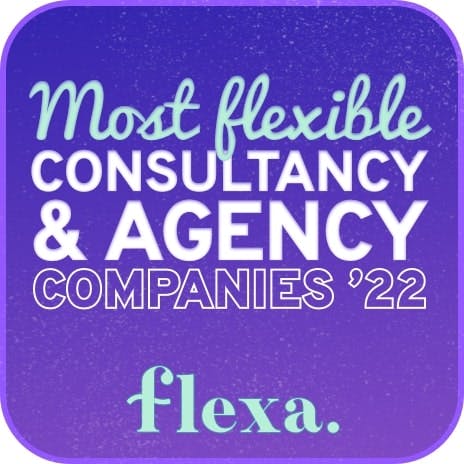 Benefits focus group
We conducted a company-wide focus group to determine which staff benefits are the most important to our people. We want to involve everyone in the conversation, as we are conscious that it is not a one size fits all approach and we want to be as inclusive as possible. We had 30 volunteers contribute to the focus groups which has helped us shape our benefits package for 2023.
October – Sponsoring B-Digital & B Corp certification™
October marked our partnership with B-Digital, a social platform created for Black people to highlight roles within marketing & advertising. We were proud sponsors of their upcoming networking event.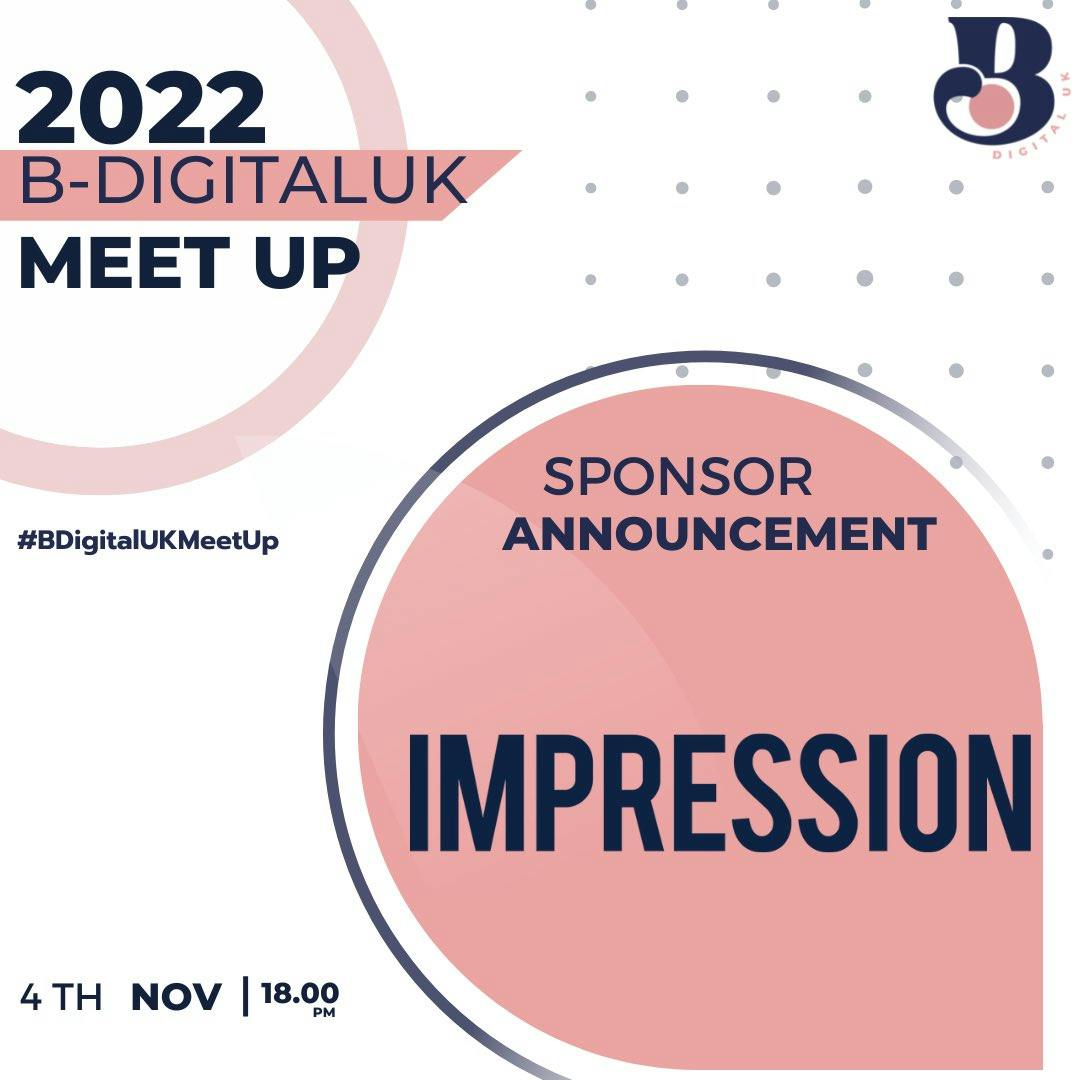 We also introduced our reverse mentoring scheme. This initiative will allow more junior members of Impression with varying backgrounds to mentor senior leadership on topics that they are particularly passionate about, for example, inclusivity, mental health, environmentalism, and disability.
Amid the cost of living crisis, to better support our people, we invited the founder of This Girl Talks Money, Ellie Austin-Williams, to host an internal session focusing on financial well-being. Ellie provided advice on budgeting, saving, where to gain financial support, and general tips to help us feel on top of our finances.
We had some very important news as we were proud to announce that Impression became B Corp™ certified and was certified as a Great Place to Work for a second year running! Over the last few years, we've worked hard to create a culture that we're proud of, championing the use of business as a force for good. These two certifications show that our hard work truly paid off. As a B Corp™ certified agency, we're now a part of a wider community of businesses pursuing purpose as well as profit. View our B Corp and Great Place to Work pages for more information.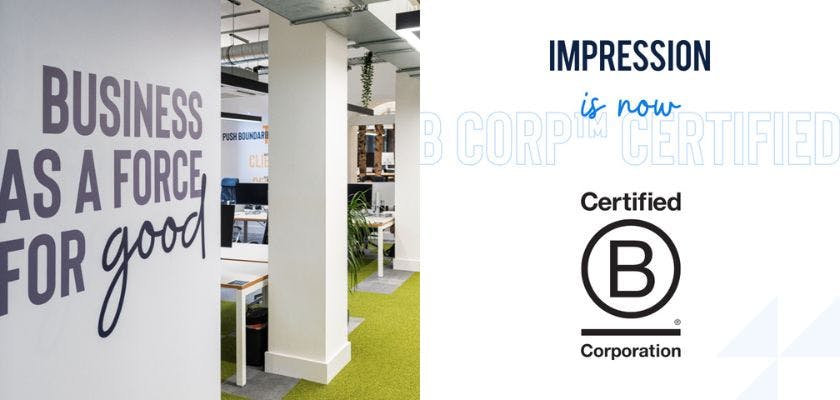 In October, we also hit the two-year anniversary of our partnership with Ecologi. Through Ecologi we have been able to give back to the planet through initiatives such as offsetting carbon emissions and funding tree planting. As of December, we have offset 1,366.73t of carbon emissions and planted over 22,800 trees. Visit our virtual forest and join us here.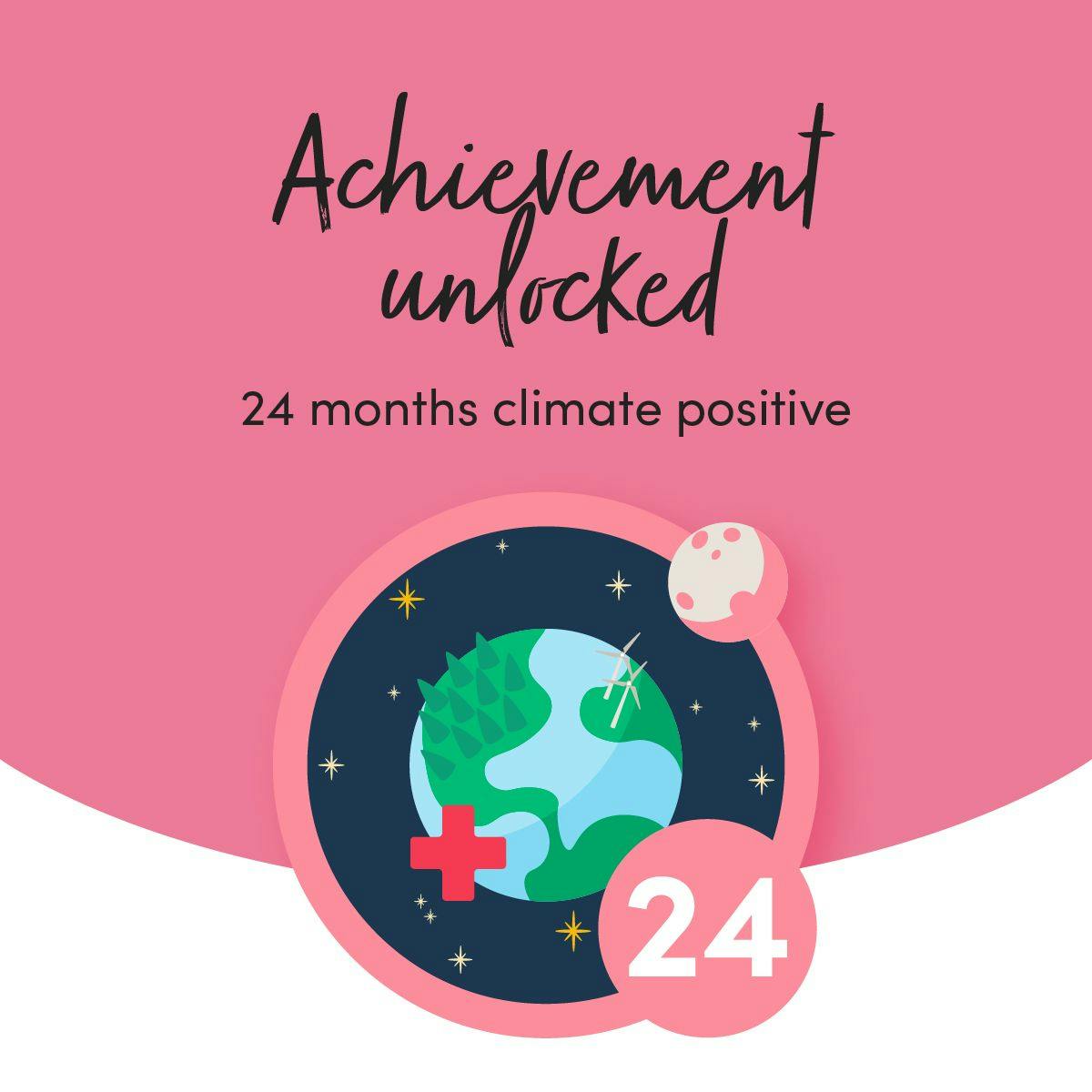 November – Fundraising & Mental health training
In November we ran our quarterly social as a fundraising night for Broxtowe Women's project, raising awareness for the charity and White Ribbon Week. But, at Impression, we always do something with a bit of a twist, and that twist was a bingo night!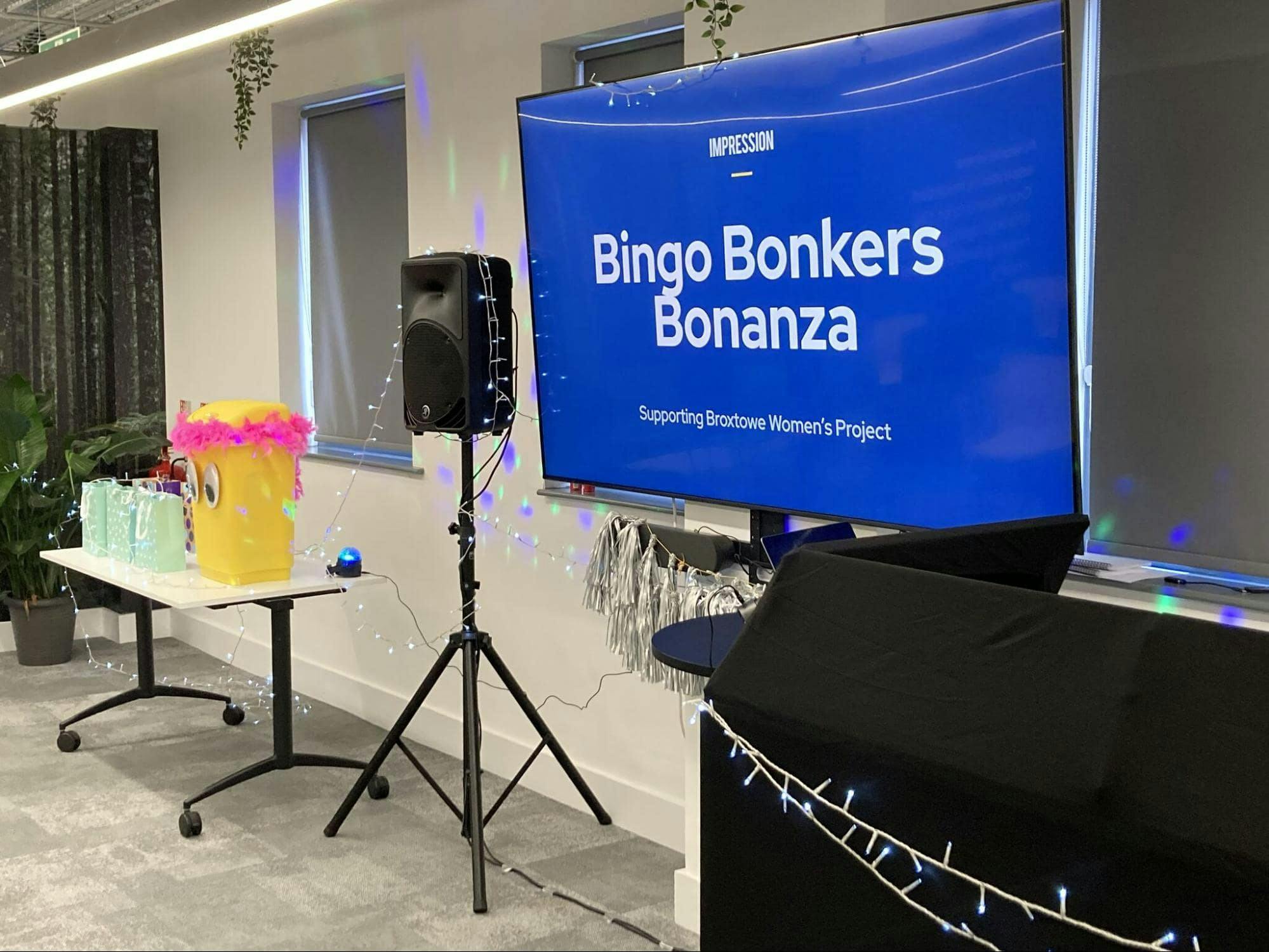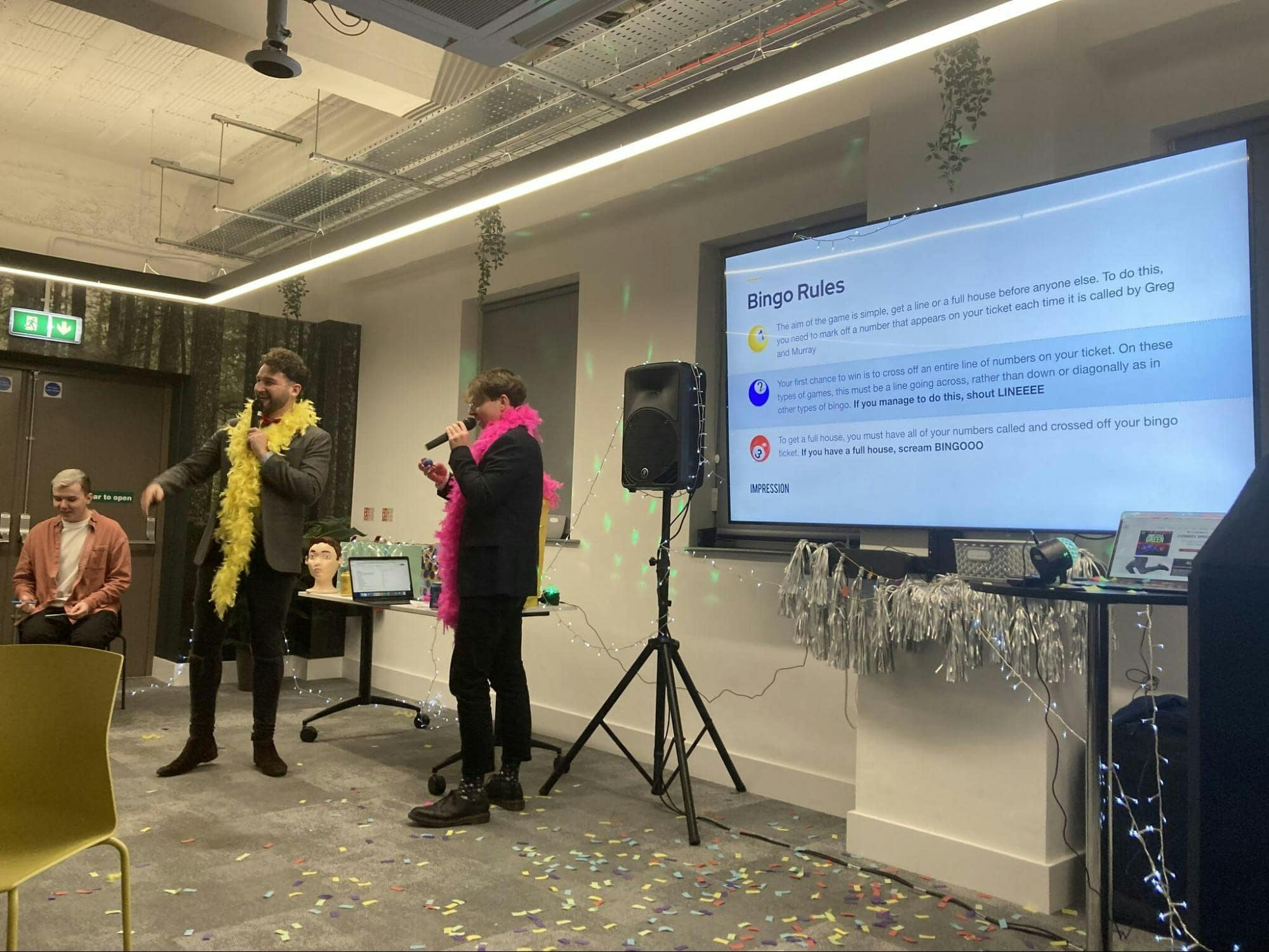 The event raised over £600, donated by people across Impression, and doubled by the leadership team. Not only were we delighted to support via donations, but we were also pleased to help raise awareness of such a crucial cause.
Also in November, 16 team members undertook two days of training with MHFA to become mental health first aiders. This was organised to help widen the net of employees that are trained to give support to those experiencing poor mental health. This was followed by a company-wide session delivered by HelloSelf on supporting others with mental health conditions.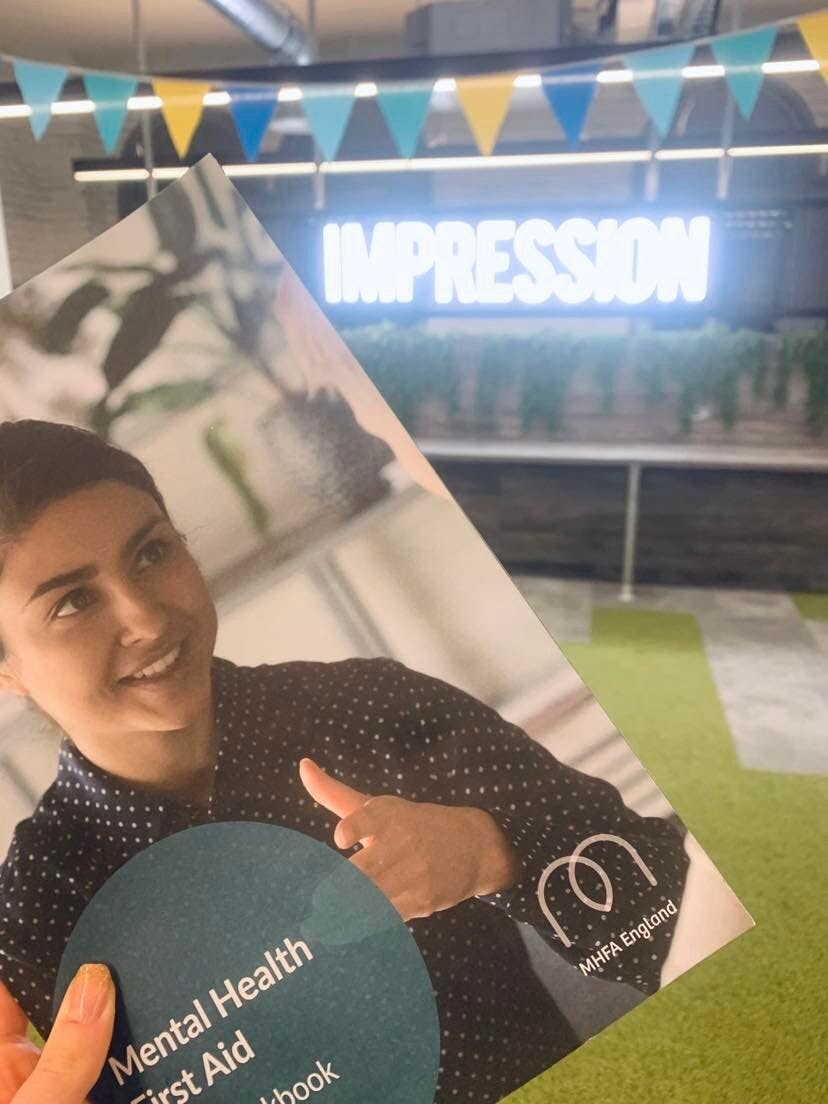 We also ran our own internal bake-off day to not only coincide with the finale of The Great British Bake Off but to also raise awareness and money in support of Movember.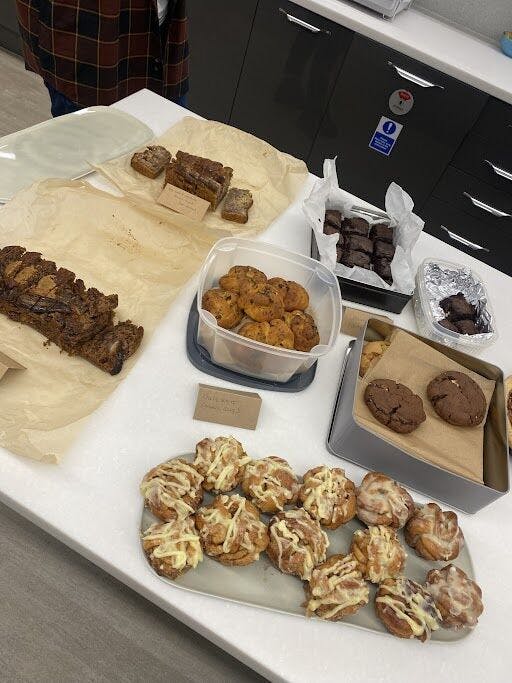 To round-up November, we introduced an updated onboarding system for new starters. The aim is to make the process less daunting, more efficient, and more engaging. This has been introduced to support those who find situations like this anxiety-inducing.
As we plan for 2023 and beyond, we will continue to support a wide variety of causes that align with our values, and we will regularly review and improve our processes to maintain Impression as a great place to work.
---